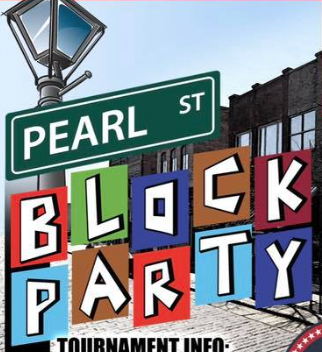 Roma's Italian Bistro and UnderDawgs Sports Bar will be hosting their second ever Pearl Street Block Party this Saturday. The event will feature a car exhibition, cornhole tournament, as well as live music during the evening.
"Saturday will be a fun-filled day at the Pearl Street Block Party. Starting with a corn hole tournament and car exhibit from local collectors, and with an evening of live music by Megan & Justin Armstrong opening for What The Funk band, we are providing a family-friendly outing; join us in downtown Minden for this fun event," said Claudine Thomas, Manager of UnderDawgs.
Mike Sewell, manager of Roma's Italian Bistro, shared his thoughts on what inspired them and UnderDawgs to collaborate on such an event. To hear him tell it, he has known Rick and Claudine Thomas, owners and operators of UnderDawgs, since they were kids. "We've known each other forever. Rick and I even played high school ball against each other," said Sewell.
Given their friendly relationship, when UnderDawgs opened up right across the street from them, they didn't see each other as competing businesses, but rather wanted to help one another out. They eventually decided to throw a block party because they thought it would be something that could benefit both businesses while giving the community here in Minden a fun outing for the weekend.
"When they opened up, they were kinda new to it, so we helped each other. We don't look at it as competition," said Sewell. "The more people we can bring downtown, the more people will visit either place. We got the street right in the middle of us, so we thought why not block the street off, have a party, get people out, and maybe they'll come back!"
The event will kick off at 11 a.m. with the Car Exhibition that will take place in the Civic Center's parking lot across the street. The exhibit will feature local car owners and the interesting vehicles they have either collected or fixed up.
Registration for the cornhole tournament starts at 11 a.m. as well, with bags set to fly at noon. The tournament will be run by the Arklatex Cornhole Alliance. The format will be doubles with a $40 entry fee. Participants are to bring their own partner, and the competitors who earn the top placements will receive a share of 80% of the entry fees as payout.
Later that evening there will be live music starting at 5 p.m. with Megan and Justin Armstrong opening for the band "What the Funk" who will start at 6 p.m. and play until the event ends at 11 p.m. It should be noted that no ice chests are to be brought into the event.
Tables will be set up along Pearl Street after the Cornhole Tournament so people can come out and enjoy the music as well as food and drinks from either UnderDawgs or Roma's who will, of course, be open throughout the duration of the event.
"We're trying to build up and highlight Minden. We want to show off what we have here in town. We want everyone to have fun, have a good time, come out, and enjoy y'all selves," said Sewell.