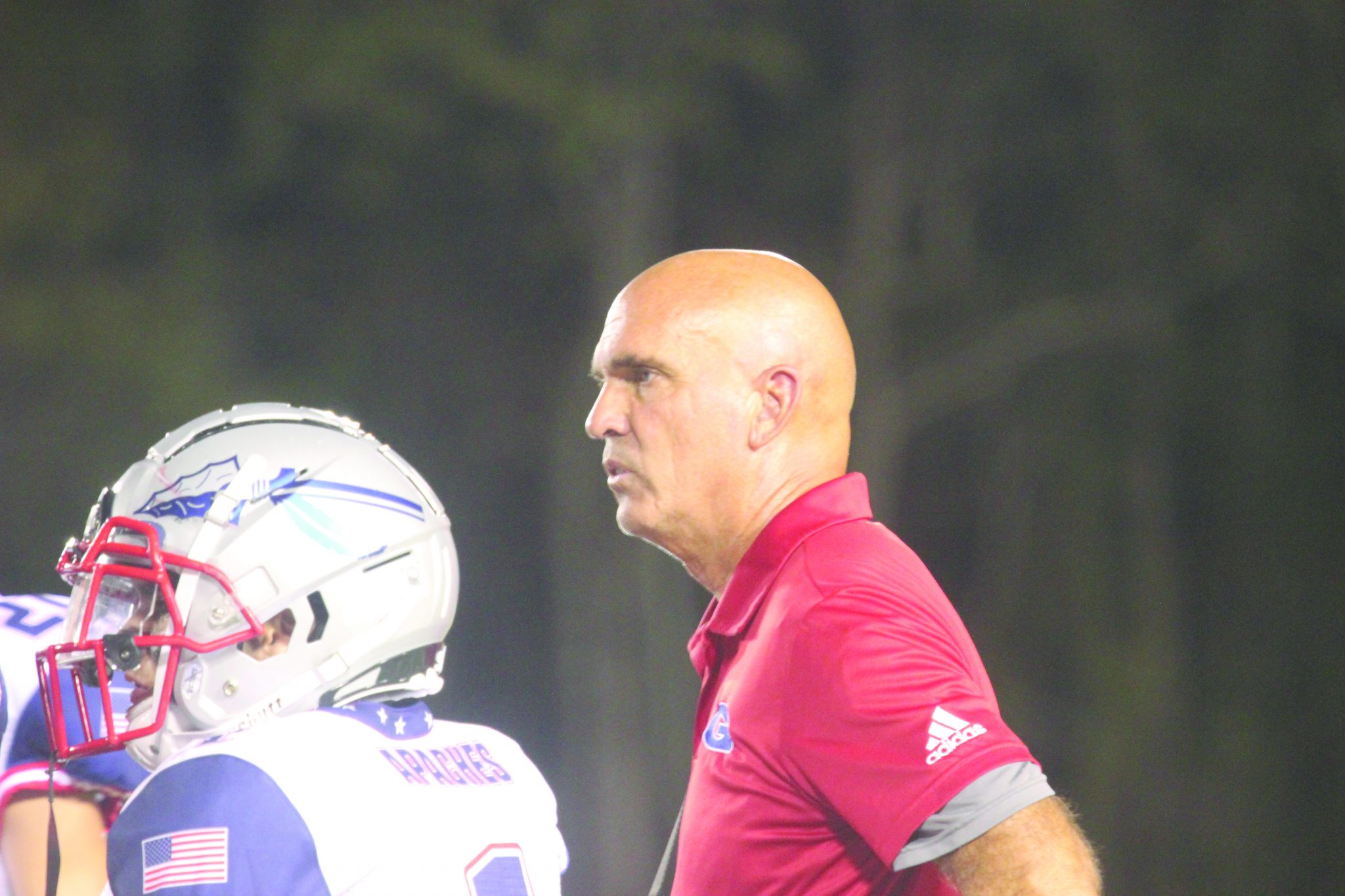 Glenbrook coach David Feaster knew his Apaches were facing a tough task Friday night against the high-octane offense of the Homer Pelicans.
But it was the defenses that dominated early before the game got offensive in the second half with the Pelicans, ranked No. 6 in the Louisiana Sports Writers Class 1A poll, ending up on the winning side of a 36-21 final score.
Homer led 12-0 at intermission thanks to an 18-yard scoring strike from Takeviuntae Kidd to Devante Champ before Kidd hit Champ again, this time on another 18-yard touchdown pass with 10:53 remaining in the first half.
"We felt like we were in it the whole time," Coach Feaster said. "Our defense was playing well. Everything was hard on offense early on. Homer is just so big and physical up front, and their secondary is so good. They just covered us man to man and made everything we tried to do on offense hard.
"But we still didn't feel bad and knew we were in it. Our defense had bent some but didn't break, and we knew if we could get anything going on offense we could get right back into it."
The Apaches recovered an onsides kick to open the second half and scored two plays later as quarterback Ty Fester hit Cason Clemons in stride down the right sideline to cut the Pelicans' lead to 12-6 after a failed point after touchdown kick.
But Homer countered at the 7:12 mark of the third quarter on an eight-yard scoring scamper by Andravious Buggs that pushed the Pelicans' lead to 20-6 after a successful two-point conversion run by Kidd.
Glenbrook was marching toward the Homer red zone late in the third quarter before turning it over on a fumble the Pelicans took full advantage of, marking 64 yards on eight plays with Buggs putting them on top 28-6 on a 19-yard scoring scamper followed by another two-point conversion run by Buggs.
But the Apaches didn't quit, driving 81 yards on nine 9 plays with Ty Feaster firing an eight-yard strike to Turner Mclelland before hitting Cason Clemons on a two-point conversion pass to cut the lead to 28-14 with 2:42 remaining.
Then the Apaches followed with their second successful onsides kick of the night to take over at the Homer 44-yard line before using a little "trickeration," with Mclelland catching a backwards pass from Feaster before firing a 32-yard scoring strike to a wide open DJ Carter, who raced down the sideline score to cut the Pelicans' lead to 28-21 with 1:51 remaining.
"It was a great job of not quitting at that stage and finally making some plays against some really good personnel and a well-coached team," Coach Fester said.
Glenbrook then tried another onsides kick, but this time the Pelicans recovered and drove for another score, with a successful two point conversion giving them the 36-21 advantage.
"I'm proud of our effort overall," Coach Feaster said. "We had this game circle on our calendar coming in. We circled it a long time ago and knew it was going to be a tough one. We would have shocked the world by beating Homer and we nearly pulled it off."
Glenbook (2-2), hits the road next week to face the Magnolia School of Excellence (1-3) in Shreveport.