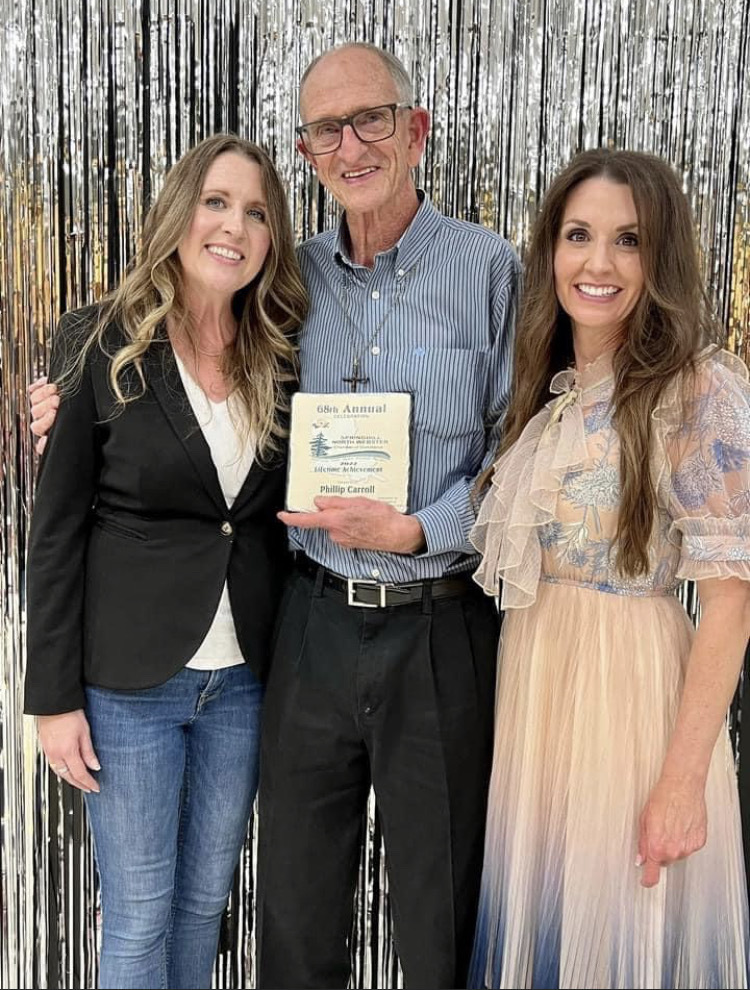 Phillip Carroll recently received the Lifetime Achievement Award from the Springhill-North Webster Chamber of Commerce. This award is presented to people whose exceptional contributions and leadership have significantly improved their communities.
Carroll has spent over half of his life serving the north end of the parish as a school teacher, guidance counselor, and pastor. He was also a veteran of the Vietnam war.
"He's spent 40 years in the public school system as a teacher and then as a guidance counselor up in Springhill," said his daughter Sara McDaniel. "His name is Phillip Carroll, but everybody's kids called him PCarroll in school, so those kids who went to high school in the '70s, late '80s, and early '90s knew him as PCarroll. He was very active in student council and doing extra-curricular activities and, again, just loving those students so well and pouring into them so that they would be able to succeed in life — helping them to get into college or taking the vocational track — then pushing them toward where they needed to be."
Carroll's work as a guidance counselor also contributed greatly to his community. He helped many students to deal with family issues as well as educational issues, providing guidance and the direction needed to work through the circumstances. "He just wants you to succeed," said McDaniel. "And he just wants you to know the love of Christ. That's it. There's no other underlying agenda. So he was that sounding board — and is that sounding board — for so many people over the years."
"He has also always been a bi-vocational pastor, so he's always been an actual pastor or a youth pastor," McDaniel continued. "He's 76 this year, and he's still a youth pastor. He'll stay up till midnight playing volleyball with these kids. He just has a servant's heart and just continues to serve and serve and serve. He blesses the community. He is so well-loved, and he loves others as well. His whole life he's given himself to the ministry and service work — telling people about Jesus and how much he loves Him and how much Jesus loves us. He's just given his whole life to service."
The anonymous nomination letter stated, "Phillip has spent his career and life supporting, teaching, leading, and guiding countless numbers of children and youth not only in the right career path but also the path toward salvation. I believe his dedication and continued service to our towns, communities and kids deserves this recognition."
Receiving this award came as a surprise to Mr. Carroll. His daughter Sara McDaniel was scheduled to be the keynote speaker at the event, and Carroll had been told that his other daughter, Lori Cline, was coming to town to support her sister at the event. Unbeknownst to him, Lori was actually there to present him with this award. His son, Steven Carroll, was unable to attend but provided a video for the presentation. Carroll's family are delighted to see him receive this recognition for all the work he has done over the decades.