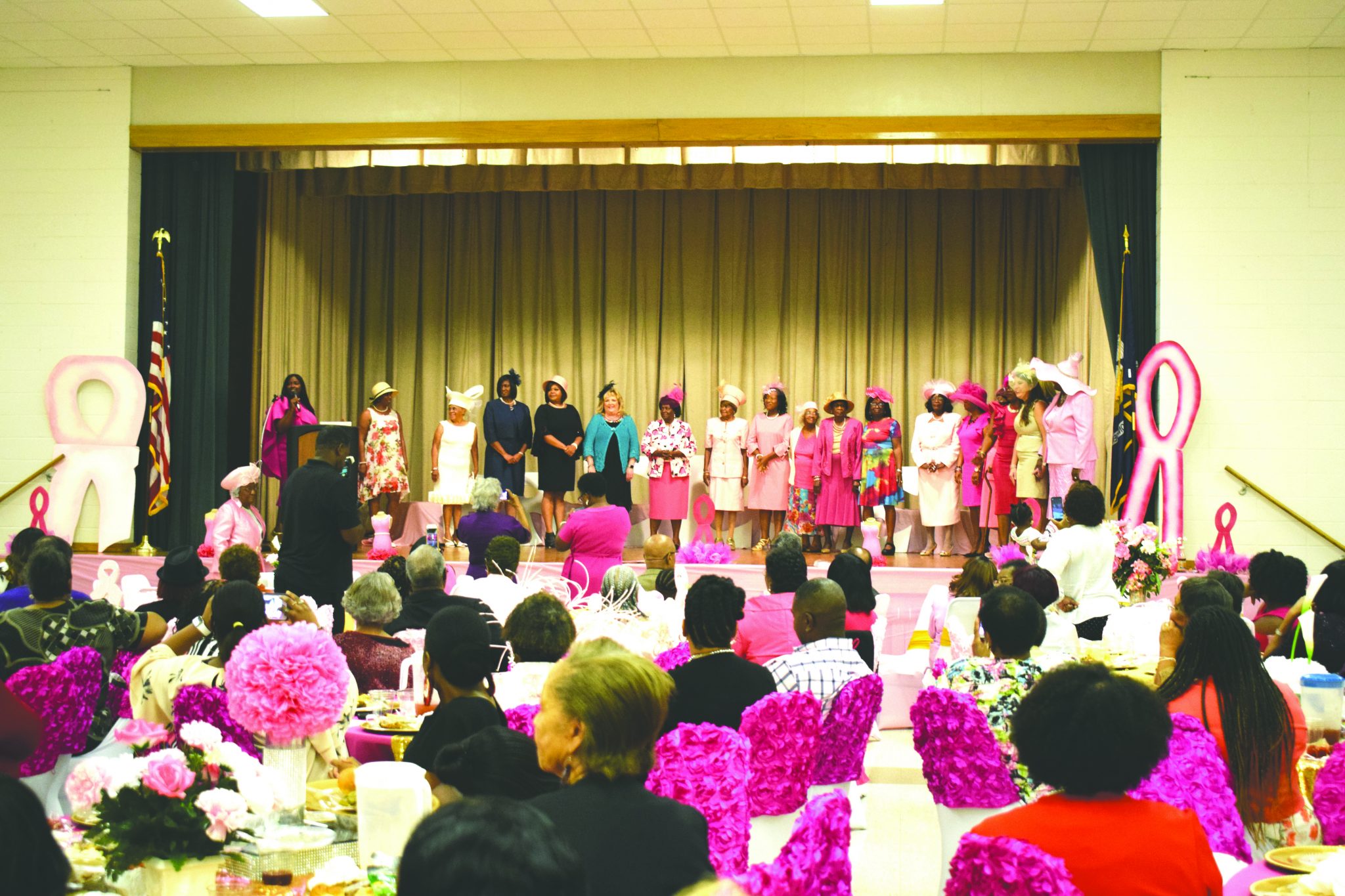 Saturday afternoon the Minden Civic Center was very, very pink, on account of the annual Pink Pearl Tea event taking place. The event was put on by the Anna Pink Ribbon Cancer Foundation. Their mission is "to empower our community, raise awareness, and help those affected by breast cancer through education, outreach, and support services," according to their handout.
The night hosted a variety of entertainment, including guest speakers, singers, a Hat Parade, and music played by Mr. Ray and the Remix Band.
The sponsors for the event were Webster Parish Tourism, Mr. and Mrs. Norma Wilson, Anna Pink Ribbon Support Group, Pink Pratique, State Home Health, Delta Sigma Theta, Ms. Pearlie Winzer, State Farm (Logan McConathy), Mt. Comfort Baptist Church, Mt. Pilgrim Baptist Church, Meadowview Health and Rehab, Minden Floral Shop, Dr. Melinda Willis, MT. Zion CME, Town & Country Rehab, Alpha Kappa Alpha, Jason Parker for Webster Sheriff, C. Wright Project, Mr. & Mrs. Travis Critton, b1 Bank, State Farm (Katrina Early), Harper Motors, and Western Auto.
The guest speaker/entertainer for the event was one Nita Whitaker, who has starred in drama/thriller "The Bodyguard" and the hit television show Grey's Anatomy. She was also the first African-American woman to become Miss Louisiana. She is an actress, singer, non-profit founder, mother, nurse, wife, the list goes on.
When asked how she came to be the guest speaker for the event, Whitaker said, "I am a dear friend of Angie Hadnot. She thought it would be nice for me to come back, so here I am. Cancer has touched everybody's lives. I've lost a girlfriend who was younger than me, and my two friends, one who passed this last December, so I've been in the trenches with cancer. I know how it can devastate but also how you can survive, and I want to pay homage to my friends who have been in the struggle, Mrs. Angie being one of them."
Whitaker has started a non-profit called "In a World With Books" after her late husband, Don LaFontaine, passed in 2008. The goal of the non-profit is to give books to children, a goal that was chosen in order to honor her mother who was a librarian and her husband who was an avid reader. "When my husband was young he couldn't buy books. My mother would go into the rural areas with her bookmobile and give books to kids. So I thought of a way to honor them both was to give books to underserved children." So far the non-profit has given out 7,740 books.
Near the end of the event those who came out with their best head wear could enter into the Hat Parade. Many women took the stage, but after choosing who stayed and went by a round of applause, only three remained. Third Place went to Octavia Thomas, Second Place went to Martha Grigsby, and First Place went to Linda Kenzie.