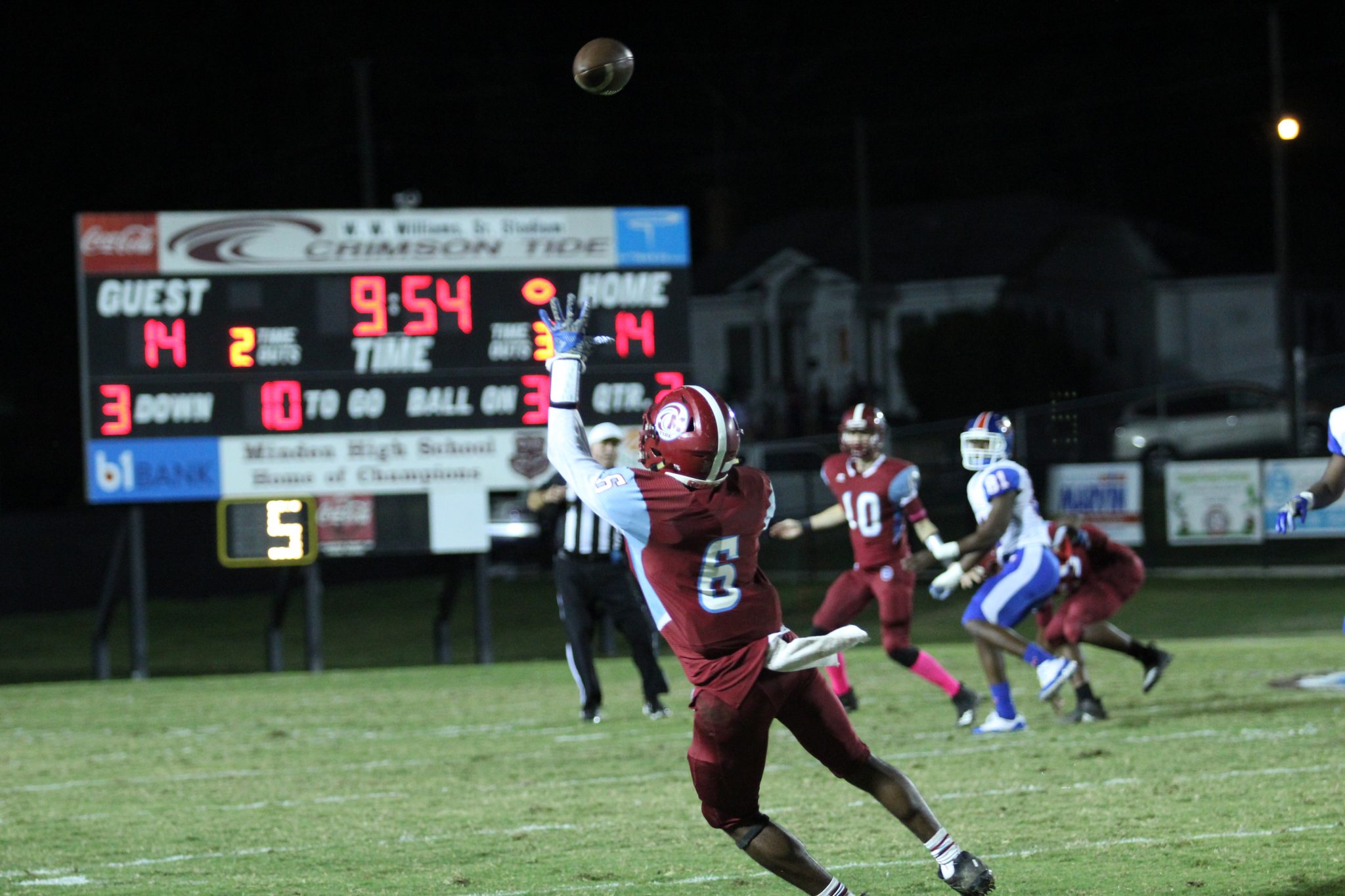 With only three weeks remaining in the regular season, it's not a stretch to imagine a postseason with all four Webster Parish football teams playing.
The first team to book their ticket to the playoffs was Glenbrook last week after their dismantling of Porter's Chapel.
Lakeside and North Webster both sit comfortably in the top-15 in the 2A and 3A power rankings, and both should be relative locks to be in the playoffs. Both Lakeside and the Knights could even see a home playoff game if they play their cards right to finish the season.
But the game of the week is at The Pit, where the Tide will play host to undefeated Northwood as they fight for their playoff lives.
Northwood has been dominant all season. The only real test for the Falcons this season was when Benton came back from down 20 in the fourth quarter to nearly knock off Northwood.
Benton beat the Tide earlier in the season, but Minden could have (read: should have) won that game.
The big win for Northwood was when they drilled North DeSoto in Stonewall a few weeks ago, 43-28.
"We just have to play a clean game," Minden head coach Spencer Heard said about Northwood. "It's not impossible. If we play to our ability and limit mistakes and turnovers, I like our odds against anyone."
The Falcons may be undefeated and a top-5 team in the state, but they're beatable. Especially considering the amount of games, calls, loose balls and luck that has gone against Minden, this could be a trap game for Northwood.
Tide starting linebacker Stefan Wheeler embraces the challenge.
"This game is crucial if we want to enter the playoffs," Wheeler said. "This isn't just any game. Northwood is the district 'superpower' so I don't think it's an easy game to win, but I have unwavering faith in my team."
The Tide should have faith. Against similar opponents, Northwood and Minden match up quite nicely. Both teams blew out Huntington and had close games with Benton. The Tide lost last week to Woodlawn in what was certainly the low point of the season while Northwood dispatched them handily.
"If we keep God first, focus on us,  and play the game the right way, amazing things are bound to happen," Wheeler said. "I believe that good things happen when men and mountains meet."
The players have shown a knack for keeping their heads up despite tough results. That reflects well on them as well as on Coach Heard.
"This program isn't used to these types of results," Heard said. "But we keep working every day. It's just been an entire season of poor timing and bad luck at times."
The Benton game was a sure turning point. After such an emotional loss, it was probably to be expected that Minden would have a subpar game against Woodlawn. But still, here we are with three weeks left in the season, and the Tide still have a clear shot of getting to the postseason.
A win tonight would be a season-defining result, and could catapult the Tide back into the form they have exhibited in their best moments. After that, who knows what could happen?
Elsewhere in Minden on Friday night, Glenbrook will play host to River Oaks in the regular season finale for the Apaches.
It's homecoming night, and Glenbrook is coming off their best result of the season.
"It wasn't like we barely beat them last week, we exploded," Glenbrook head coach Drew Maddox said.
Prior to the win on the road, Glenbrook had a week off. After starting the season 0-7, Maddox used the week off to try to insert some fun back into the equation for the players and coaches.
"During the week off, we just tried to show them that it's fun to play football," Maddox said. "I think it helped. We let them have fun but still practiced hard.
"It would have been so easy to shut it down after starting 0-5 and just getting blasted every week by teams that are so much bigger than us. But they didn't and they came out and played extremely hard against Porter's Chapel. We had to drive a long way but the guys got off that bus and came out fired up."
With the win Glenbrook will play in the postseason, regardless of the outcome of tonight's game with River Oaks.
"Our schedule is the number one strength of schedule in our class, so winning against Porter's Chapel puts us in."
Still, with homecoming plus getting their first win of the season, Glenbrook will look to capitalize on all the excitement.
"River Oaks is a really good team," Maddox said. "They have a legendary coach and some strong players. We're just going to come out and try and build on what we have accomplished after last week."
Lakeside is coming off only their second loss of the season. This week, they travel to Olla, LA for a matchup with 3-4 LaSalle.
The Warriors were bit by the injury bug in last week's loss to Calvary, but should be back at full strength for tonight.
LaSalle has one comparable opponent to the Warriors, as they lost to Montgomery 46-18, while the Warriors won their game with Montgomery 60-42.
"They are a big, physical football team with a couple of 300-pound guys on their line," Lakeside coach Jason McClendon said. "They'll line it up and try to pound it and run the clock."
This should be another win for Lakeside, who have been putting up mouth-watering offensive numbers this season.
That all starts with running back Jacquez Lott, who is one of the top  backs in all of 2A.
Lott is now up to over 1,000 yards rushing this season, averaging 8.1 yards-per-carry and has 15 touchdowns on the ground.
Lakeside will need to get wide receiver Trey Sanders back to full strength, but don't need to rush him back for this game at LaSalle. The Warriors are currently number 15 in the state 2A power rankings, and could run the table and enter the playoffs in the top ten. A season finale against Mansfield may be the only tough test they see before the postseason.
North Webster is finally getting to pick on teams their own size. This week they play St. Mary's before finally entering district play against Green Oaks and finishing the season at Loyola.
The Knights are nothing if not battle tested. North Webster has played one of the toughest schedules around, and have come away with some impressive victories.
Last Thursday's game at Airline was a perfect time to run into a wall. It allows the Knights to regroup in time for a district warmup tonight against St. Mary's before heading into the meat of their season.
I'm expecting North Webster to win comfortably tonight, with quarterback Tyrell Markray having a breakout game.
The Knights share some similarities with Lakeside's high-flying offense. The Warriors have Lott, Sanders, and a quarterback in Jordan Preuett with a heck of an arm. The Knights line up with Markray, Scottie Johnson and either Eddie Rollen or Lorenzo Johnson. Where Lakeside will go over the top of you, the Knights will go straight through you.
I see all four Webster teams winning this week, but hey, I'm a homer.