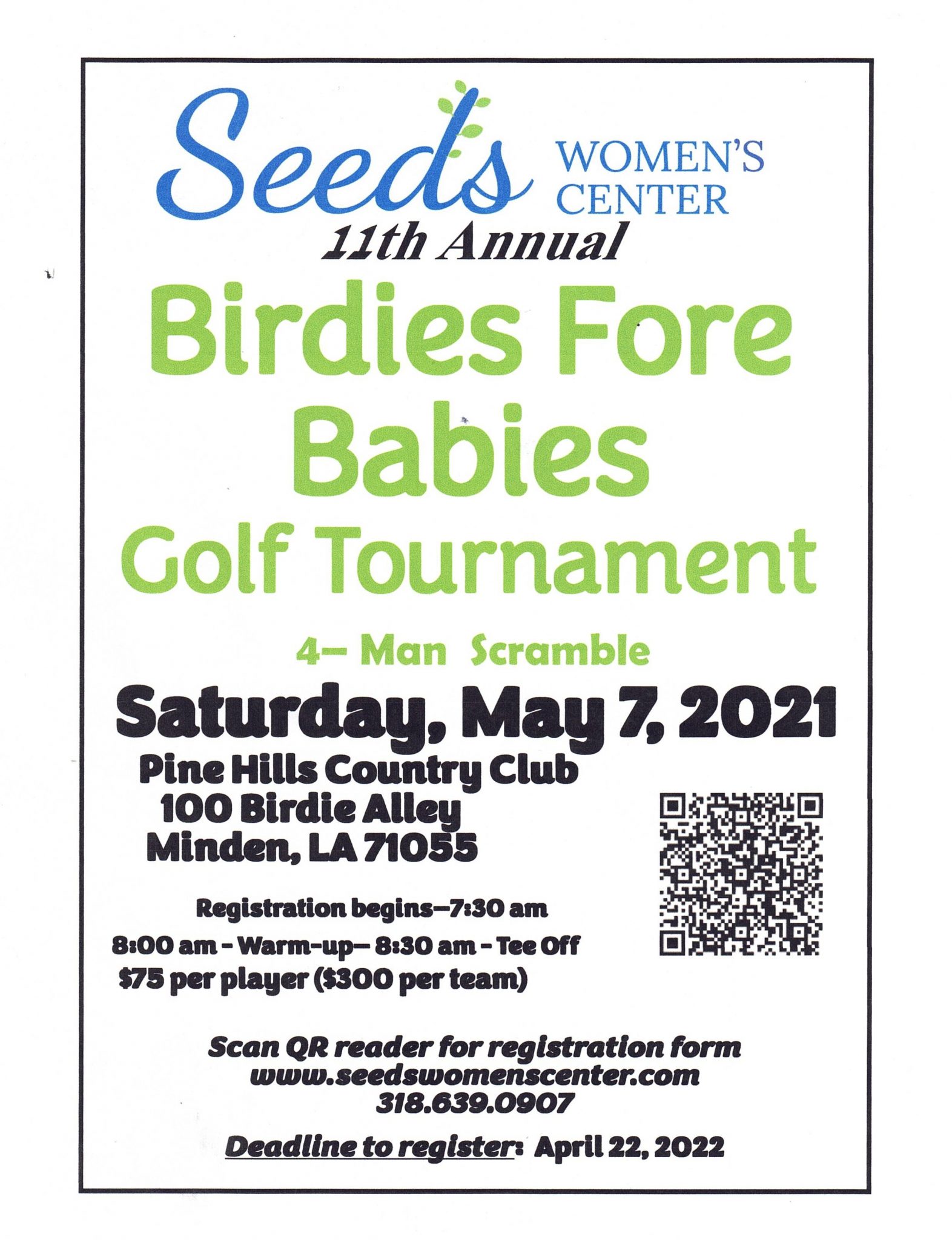 Seeds Women's Center is accepting team registrations and sponsorships for the upcoming 11th Annual Birdies Fore Babies Golf Tournament 4-Man Scramble on May 7th. This fundraising event will be held at the Pine Hills Country Club in Minden and is always a fun-filled affair.
According to Golfweek, the 4-Man Scramble is a format frequently played at large-scale events, like fundraisers, where players' abilities vary widely. Each player on the team attempts a shot and the team picks the best one and play resumes from there. Essentially, as a team, you get four tries for each shot, using the best shot each time. This helps speed the pace of the game, plays to individual strengths, and makes it fun for both novices and experts.
You can register to play either as an individual or as a full team, but the deadline to register is April 22nd. The charge is $75 per player or $300 per team. On the day of the event, individuals and teams can sign in as early as 7:30 a.m., with tee off beginning at 8:30 a.m.
Sponsorships are also still available. There are sponsorship packages ranging from extra large signs down to a single small sign on a tee box, so there's something for almost any advertising budget. The deadline for this is also April 22nd.
Seeds Women's Center, formerly known as the Northwest Louisiana Pregnancy Care Center, serves Northwest Louisiana by providing "free and confidential services to equip women and men in our community to make an informed decision about their pregnancy options and educational resources available," as their website states. Services they provide include consultations, pregnancy tests, limited ultrasounds, adoption options counseling, parenting classes, and reproductive health and loss counseling.
For more information about the tournament or services offered by the center, call Seeds Women's Center at (318) 639-0907.