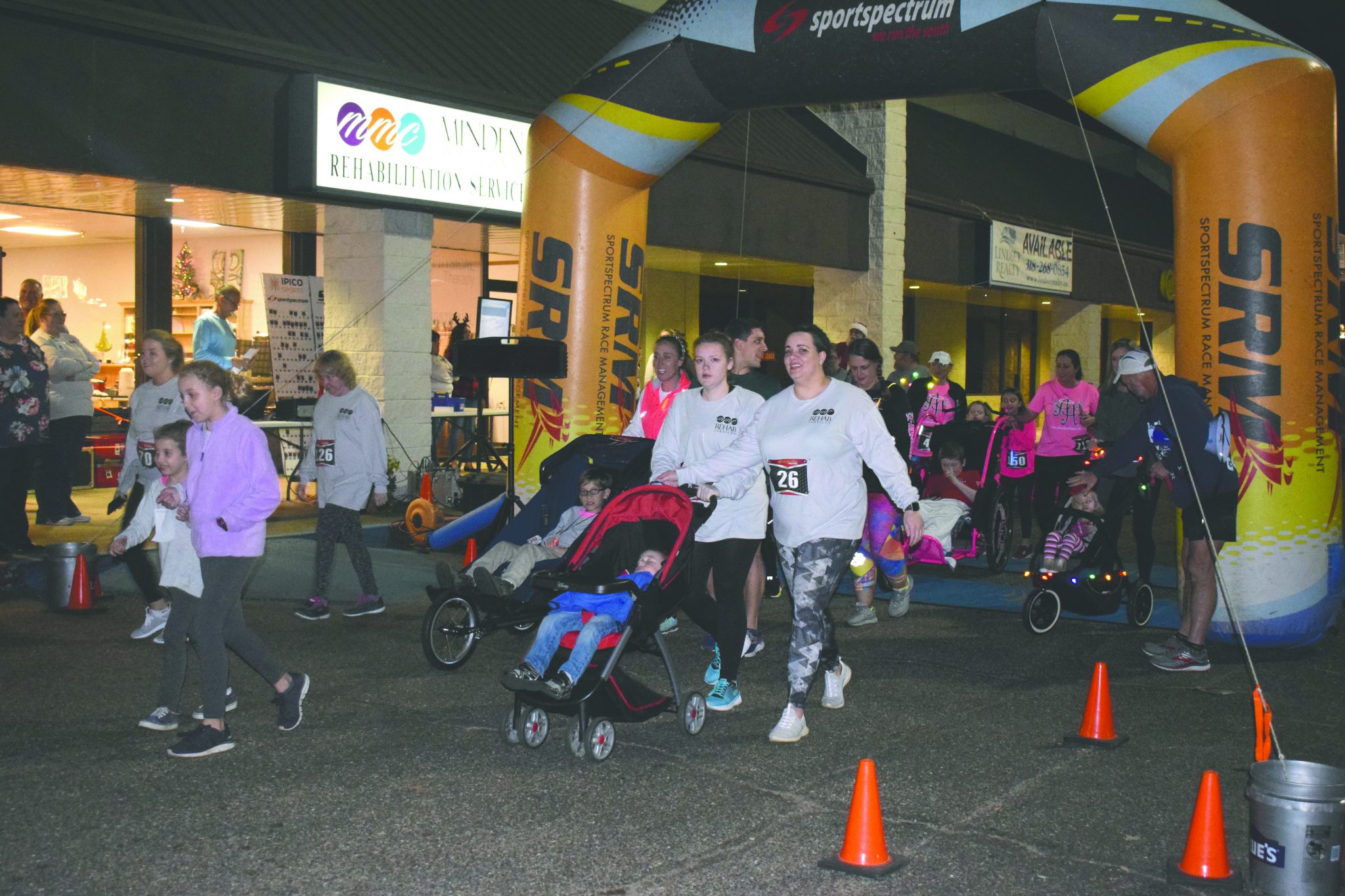 Minden Medical Center Rehab Department held their Annual Rehab Reindeer Run Friday evening in front of MMC Physical Therapy. The path that runners took was one that ran through the Ridgewood neighborhood where houses were lit up with lights to show off their Christmas spirit.
"These events are great to get the community together and involved as they learn more about the rehab services while having fun at Christmas," said Lauren Davidson, Marketing Coordinator for Minden Medical Center.
The group of runners were shining bright that night, with plenty of the runners dawning lit up necklaces, glow sticks, and other things to brighten up the night. Santa Claus even took the time to make an appearance and take part in the Christmas cheer.
The runners weren't the only things lit up that evening either. "As they ran through the neighborhoods, all the houses are decorated and the whole neighborhood is lit up," said Trisha Smith, Director of Physician Relations at Minden Medical Center.
The Male Open Winner was Ethan McCarthy with a time of 20:49.5 and a pace of 6:43/M. The Female Open Winners was Charlotte Dew with a time of 25:43.3 and a pace of 8:18/M.
The winner of each age group were Christian Lemoine for Male 6 and Under, Maddox Snider for Male 7 to 10, Madison Skitt Female for 7 to 10, Austin Aycock for Male 11 to 14, Hadley Haynes for Female 11 to 14, Cameron McCarthy for Male 15 to 18, Elise Twyman for Female 15 to 18, Graham Lemoine for Male 19 to 25, Morgan Johnson for Female 19 to 25, Justin Loeb for Male 31 to 35, Jennifer Kirk for Female 31 to 35, Alex Kirk for Male 36 to 40, Stephaney Tew for Female 36 to 40, Mark Wilson for Male 41 to 45, Leigh Powell for Female 41 to 45, Tim McCarthy for Male 46 to 50, Angela Smith for Female 46 to 50, James Cole for Male 51 to 55, Troyanne Williamson for Female 51 to 55, Tim Greer for Male 56 to 65, Robyn Goodrich for Female 56 to 65, Becky Johnson for Female 56 to 65, Nicholas Tredway for Male 66 and Over, and Kay Warziniack for Female 66 and Over.
After the run, the participants were able to enjoy an afterparty including multiple types of chili, hot chocolate, music, and a photo booth. At the event, they were also taking toy and book donations for Civitan Santa. These gifts will be distributed with the help of the Sheriff's department to local less fortunate families so that they get a Merry Christmas morning.
"This event brings not only the Minden Medical Center family but also the community together during Christmas time, and at the same time we can use the event to give back to other people," said Davidson.