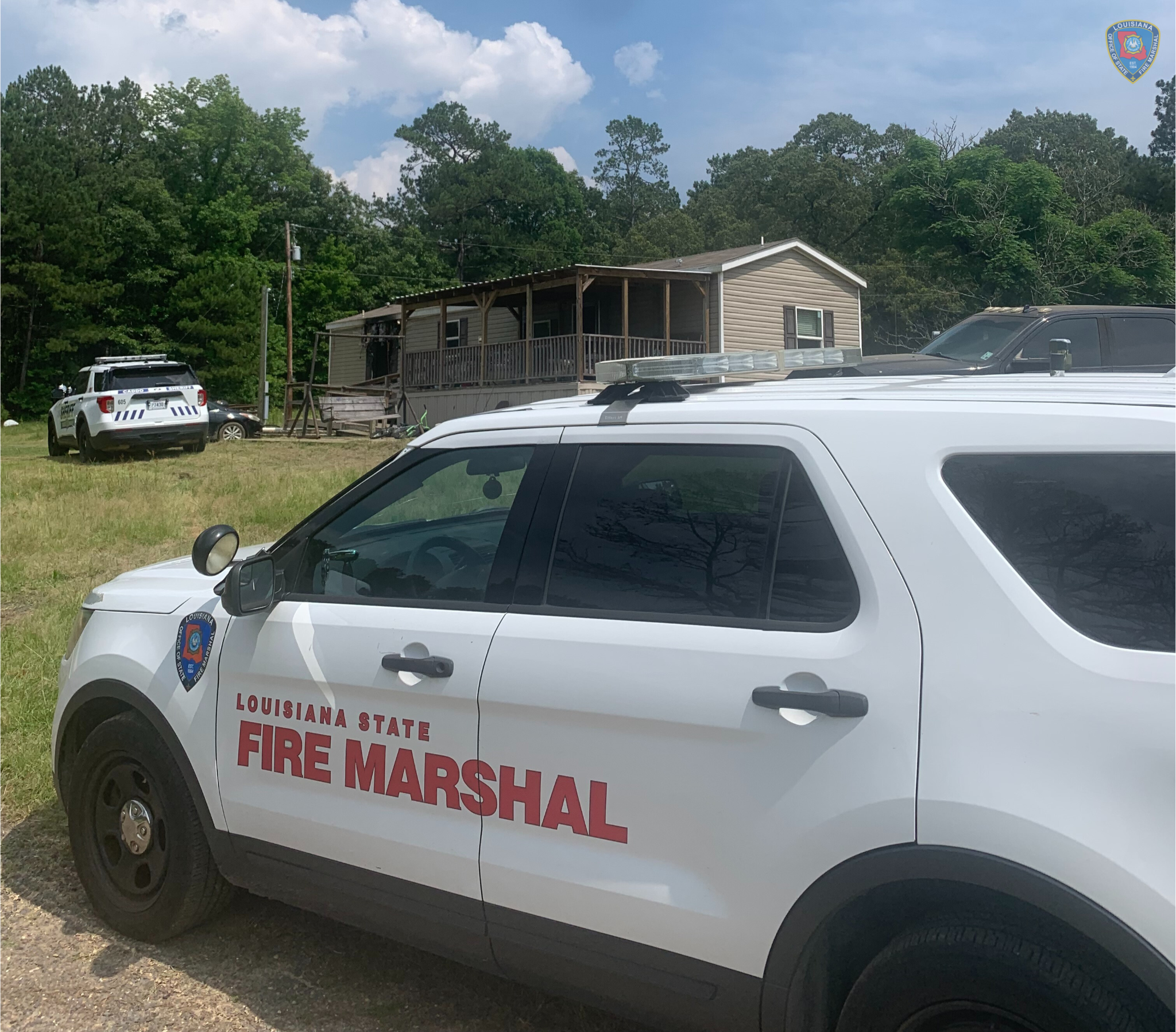 CADDO PARISH- State Fire Marshal (SFM) deputies are continuing their investigation into a mobile home fire in Rodessa that claimed the life of a female resident.
Around 10:45 a.m. on Thursday, May 25, Caddo Fire District #8 responded to a report of a mobile home fire located in the 11000 block of French Road in Rodessa. When firefighters arrived, they learned two family members, who lived down the street, had attempted to rescue the sole occupant, but had been unsuccessful. Unfortunately, the victim was later found in the home's bathroom.
While official identification and cause of death are pending an autopsy by the Caddo Parish Coroner's Office, the victim is believed to be the 51-year-old homeowner.
At this time, deputies have determined the fire began in the home's bedroom, however, they have not yet determined an exact cause as they are unable to rule out the possibility that unsafe smoking practices could have been a contributing factor. Relatives report that the victim, who was on oxygen therapy, was a smoker and often smoked while in bed.
The State Fire Marshal's Office advises people to never smoke, and never allow anyone to smoke, where medical oxygen is used. Medical oxygen can cause materials to ignite more easily and make fires burn at a faster rate because oxygen is fuel to fire. In addition:
• Candles, matches, wood stoves and even sparking toys can be ignition sources and should not be used in a home where medical oxygen is utilized.
• Keep oxygen cylinders at least five feet from a heat source, open flames, or electrical devices.
• Body oil, hand lotion, and items containing oil and grease can easily ignite. Keep oil and grease away where oxygen is in use.
• Never use aerosol sprays containing combustible materials near the oxygen.
Lastly, there was evidence that smoke alarms had once been present in the home, however, deputies found they were not in place at the time of the fire. The SFM wants to stress to all Louisiana residents that smoke alarms have proven to be the difference between life and death in a fire emergency, no matter the type of home.
If you have smoke alarms, ensure they are working. If you need assistance obtaining smoke alarms for your home, Operations Save-A-Life can help. To learn more about Operation Save-A-Life, or to register for a free smoke alarm, visit our website at lasfm.org or contact your local fire department to request a free smoke alarm installation.