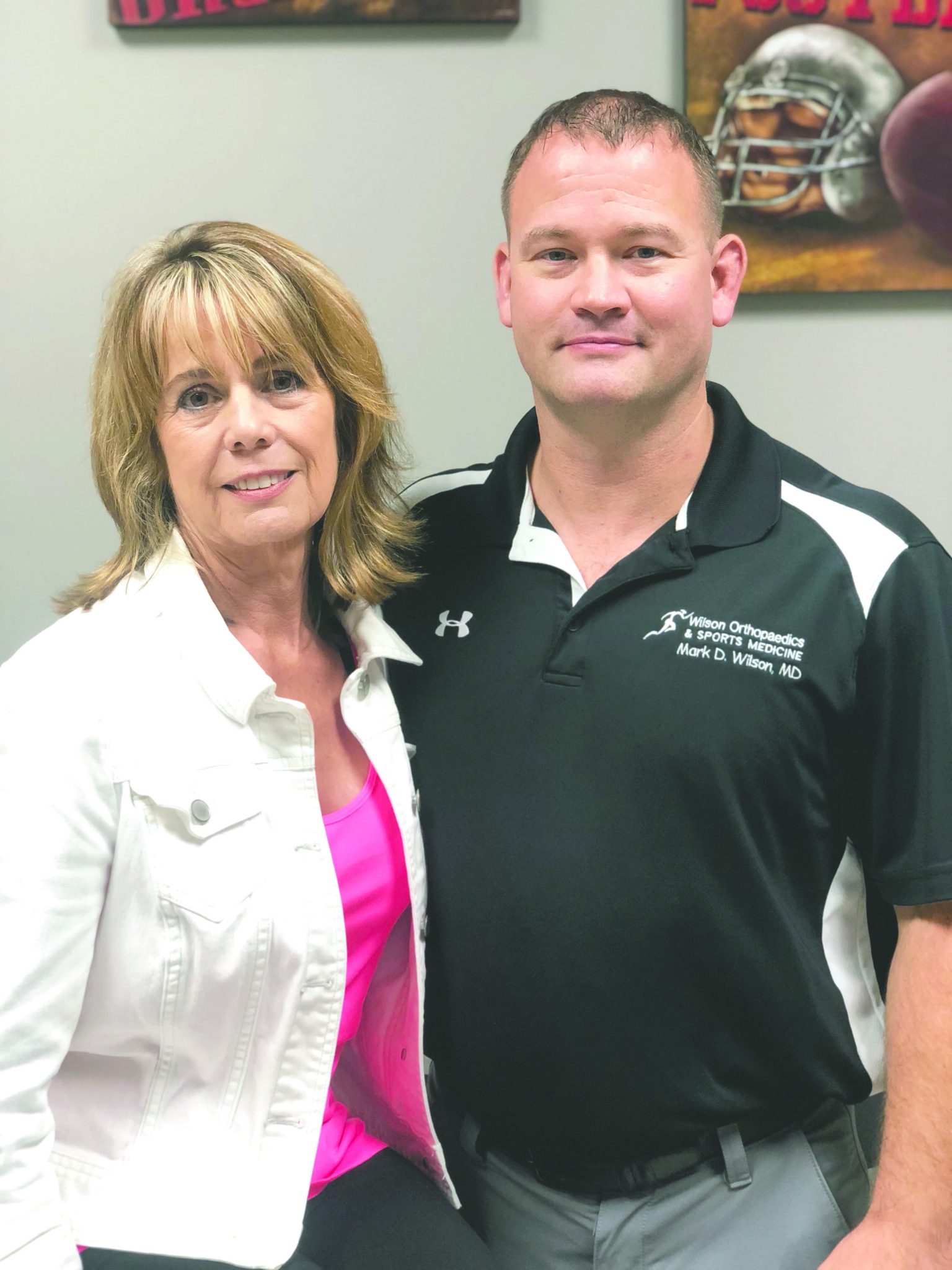 Karen Battles, resident of Bakersfield, California returned to the care of orthopedic surgeon Mike Wilson Friday after one successful surgery on her right hip to treat a rare diagnosis of ischiofemoral impingement.
These two visits to Dr. Wilson are exceptional because even after visiting doctors at Stanford University, University of California Davis and other major medical institutions, Dr. Wilson of Minden was the only doctor experienced and willing to perform surgery on Ms. Battles.
"Ischiofemoral impingement (IFI) is an often unrecognized cause of pain and snapping in the hip," according to Dr. Wilson's article in the Journal of Hip Preservation Surgery.
Wilson's article explained to others how to perform the surgery and the results it had on seven patients.
"It's a procedure that I learned in fellowship. To my knowledge there was only one other surgeon that was doing it and he retired. So I think I'm the only one in the country that's doing it. I published a paper so there could be other people doing it now," Wilson said,
The surgeon makes two small incisions and use as camera and small instruments to remove tissue from the bone. Symptoms were improved immediately after the surgeries in the study.
"Everybody just kept recommending injections and therapy and they did not recommend surgery. She found my paper online where I described the surgery and she ended up contacting me and then she came out and we evaluated her. Before she came I'd looked at her imaging to confirm that's what she had and we did her left side five-and-a-half months ago. She said 90% of her pain went away and she can now do things. She couldn't sit down, she could hardly walk before," Wilson said.
Battles had a hard time healing from the first surgery because of inflamation from an injection she'd had a few weeks before. She said she's felt much less post-surgery pain this time. She returned for the unique procedure but the hospitality made her stay in Minden even better.
"I was treated really, really well at the hospital. I had the same nurse, Charlotte. She took really good care of me.
We stayed at the same hotel. Everybody knew us when we came back and the hotel even bought a wheelchair to accommodate me this time so that when I came back from the hospital it was easy to get to my room," Battles said.
"We just did her second surgery on her right side on Friday and she came tothe clinic this morning, now she has zero pain and she's so happy. Other people don't do surgery for this. This is the only surgery that's been described. It's remarkable that she had such good relief that she flew out again five months after the first one and she came all the way from Bakersfield California to the little town of Minden to have it done," Wilson said.
Wilson's experience with ischiofemoral impingement comes from his time in fellowship with Keene at the University of Wisconsin, where they performed 100 hip scopes. He now practices out of Wilson Orthopaedics and Sports Medicine in affiliation with Minden Medical Center.
Battles is twice over satisfied with Dr. Wilson and her stay in Minden.
"I would highly recommend Dr. Wilson. It was a completely different experience than anything that we've ever been through in California. It was a great experience," Battles said.