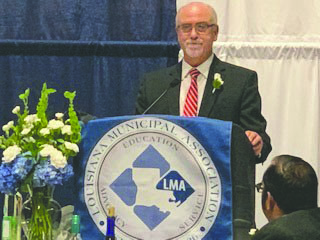 The Louisiana Municipal Association (LMA) has recently elected Jimmy Williams, mayor of Sibley, to be their new president.
The Louisiana Municipal Association is a group that represents 333 municipalities and 2 public governments in various matters of legislation. "We represent the municipalities and a lot of small municipalities that really can't represent themselves. It's just the money. We have a staff of lobbyists and every year during the session we follow every bill that is pertaining to the municipalities. We have a legislative committee that meets and discusses the bills to see if they're good or bad for our towns and cities. This includes New Orleans all the way to Mound, Louisiana," said Williams.
When asked about how he felt being elected to his new position, Williams said "I kind of consider myself a figurehead. We have a staff of LMA experts, and those people are the guts of the organization. We rely on them so much. I'm called the president but they do all the work."
After he shared his thoughts about being elected, Williams went on to describe how he would use his new position as President. "I'm not going to do anything different. Why would I go in there and change something that's not broken? If there's something that's not working well, we'll look at it, but right now all of our programs are hitting on all eight cylinders," said he said.