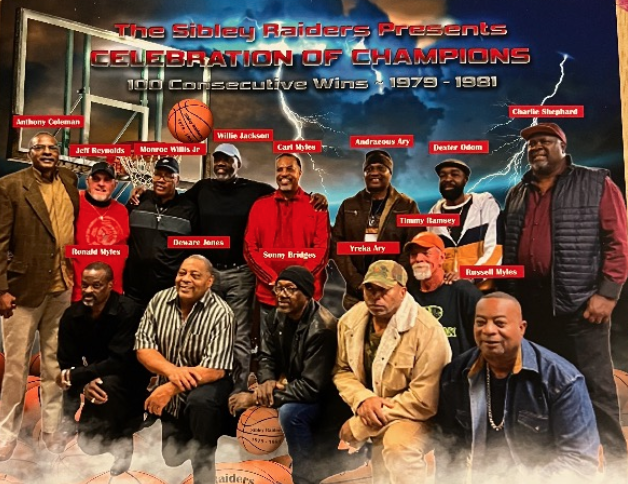 The Sibley Raiders will be having a Celebration of Champions on March 25 at the Minden REC to honor their historic championship basketball team.
The Sibley Raiders basketball team created some amazing records between 1978 and 1981. They were the Class B State Champions in both the 1978-79 and the 1979-80 seasons, and in 1979-80 they made a national record for completing a perfect season. By 1981, the Raiders had a winning streak of 100 consecutive wins. Their coach, Don Stahl, even earned a mention in Sports Illustrated magazine.
"It's a celebration of all we did from the years of 1978 through 1981," said Deware Jones, Sibley Raiders guard. "We had a consecutive winning streak of 100 games, and we won two state championships. In 1979-80 we had a perfect season, 58-0 all together, which was a national record. And that record will never be broken because they changed how many games a team can play. So we'll always hold that record. We are eligible to be put in the Guiness Book of World Records, but no one has ever applied for that. I'm thinking about doing it myself. Those are some of the accomplishments that we made, and that's what we're celebrating. We're just looking to bring everybody together and have a good time."
The celebration will take place at 1001 Recreation Drive in Minden from 6 PM until 10 PM. The dress for this banquet will be semi-formal, and tickets are on sale for $35 at Holmont Sales and Rentals, Minden Athletic Supply, and the Minden Southwest Chamber of Commerce in Sibley. They are almost sold out already, so buy your tickets soon if you'd like to attend this event.