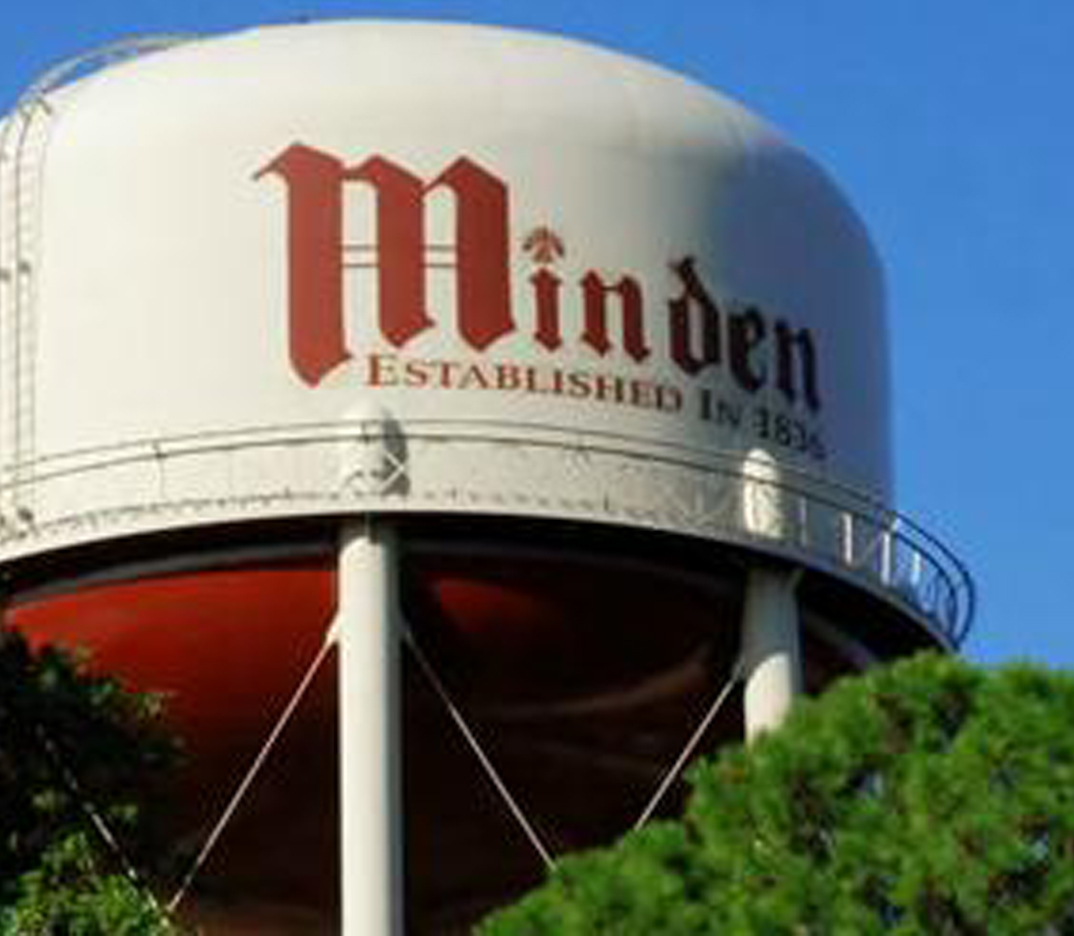 Young community leaders are proving their time is now
Editor's Note: The following is the first installment in an ongoing series highlighting young leaders of Webster Parish and their goals.
To many young adults today, positions of leadership and influence may seem like goals for later in life. The President is 72 years old, 67 percent of the United States Congress is 55 or older, and the ten richest men in the world average out to age 70. Whether in the business community or any level of government, it can be easy to view leadership as an "old folk's game."
However, the Minden area is beginning to prove that this outlook does not have to be the case.
The Greater Minden Chamber is in its eighth year of holding the 15 Under 40 Awards to honor young professionals for their achievements and involvement in the community, with nominations open through this Friday. By all indications, it seems the Minden area is exhibiting a greater number of young people stepping into leadership roles in one way or another.
To highlight this trend, the Press-Herald will run a series of features on various young leaders across Webster Parish, whether in business, politics, or other areas.

Nick Cox
At 35, Nick Cox is serving Webster Parish in a number of ways. He manages Webster Door & Millwork in Dixie Inn as its president and represents District 8 on the Webster Parish Police Jury. He is the police jury representative on the Webster Parish Convention and Visitors Commission and serves on the boards of SPARTA Groundwater Commission and the Ware Youth Center. Cox also leads worship at Heflin Baptist Church.
Cox was elected to the police jury at 32 years old. Bill Robertson, the late former mayor of Minden, first ran for public office around 31 years old. Cox said Robertson was a major mentor and inspiration in his life.
"Shortly before I ran for police jury, Bill Robertson had passed away, and he was like a second dad to me," Cox said. "Bill was the civic leader of our group, and me and [Bill's son] Kyle were talking: we've got to step up and get some of these spots filled."
Cox said he ran for police jury not because he initially needed to, but because he recognized a need and knew someone had to fill it.
"I made a list of people I thought would do it, and they wouldn't do it," he said. "You look out into the community, and you realize, 'Well shoot, why not me? How can I ask someone else to do something I wouldn't do myself?'"
Over halfway into his third year on the police jury, Cox said the work is sometimes difficult to manage at his stage in life, but the results are worth the effort.
"It is not easy, and it takes a lot of my time," he said. "But I absolutely love it. A lot of it is meetings, and it feels like you're going through the motions. But then you'll have an issue that comes up, and you'll roll up your sleeves, put some focused effort into it, and you get some real results that affect people you live around. And that's a pretty big deal."
Cox said he joined the Convention and Visitors Commission in 2018 in a similar way to running for police jury: someone needed to do it.
"I didn't necessarily want it to be me, but I felt we [the police jury] weren't as informed as we need to be," he said. "Tourism gives the parish a lot of exposure we wouldn't have otherwise. How else are we going to grow if people don't know about us? So here I am."
Of all the boards in which he serves, Cox said he was surprised to discover his greatest passion lay in the SPARTA Groundwater Commission.
"I care about water obviously, but when I got on SPARTA I thought, 'Oh gosh, meetings about water are going to be so boring,'" he said. "But I really find that I enjoy it. I feel like the water is going to be very critical and increasing in importance as the years go by. Other areas of the country don't have the vast water resources we do."
While he understands why the majority of many local government bodies are people of retirement age, Cox said it is important for young people to join the cause as well and provide equal representation.
"I can see how a retired person should be able to give it more time, because it's hard when you run a company and have three kids like I do," he said. "On the flip side, we don't need to live in a country that's represented by one segment of people. We need a swatch of different types of people in office so everyone is represented.
I feel real at peace with the fact that I'm serving now. I didn't go in the military, so this is kind of my public service time. I'm glad I'm putting in my years while I'm young."

Serena Gray
After going without a permanent executive director of tourism for over a year, the Webster Parish Convention and Visitors Commission hired 28-year-old Serena Gray this summer as the new face of Webster Parish tourism.
"When I was getting ready to accept this job, I was in awe that someone my age could have this kind of opportunity at this time in their life," Gray said. "I humbly accept it. I could be a female in another country where I don't have freedom and can't use my voice. I'm a long thinker when it comes to my purpose and my calling, and I feel that this opportunity has definitely been a gift. I could be anywhere else, but I'm here."
Originally from Southern California, Gray started college at Louisiana Tech University in 2007. She was soon "roped into" spending time in Minden by her now-husband Joel Gray.
"I had been volunteering a good bit in the [Minden] community with the Joe Leblanc Food Pantry, and that's what really made me see that this is something I really wanted to do," she said. "The food pantry helped open my eyes to how we can really make a difference in our community."
Soon after college, Gray moved to Minden and was later offered a job at United Way in Shreveport. Her job's territory included Caddo, Desoto, Natchitoches, and Red River Parishes.
"I loved those communities, and I loved seeing how far we'd come there and the differences being made, and then I'd get in my car and drive back to Minden. I'd realize, 'Wow, that felt amazing, look at what we did. How amazing would it be to do that for my community? I want to do that for Minden, for Webster Parish.'"
Since starting the tourism director job, Gray is already off to the races in promoting events and venues across the parish. Webster Parish Tourism social media pages are constantly updated with Gray's video tours, showing followers the latest on what is going on around the area.
"The thing about us as human beings is that we are chemically created to connect," she said. "I know that there has been a disconnect between south Webster and north Webster, and I want to help bridge that gap with social media."
As part of a generation that is more comfortable with emerging technology and media platforms, Gray said social media is an important tool that can't be replicated elsewhere.
"When it comes to online marketing and social media platforms, you've got access to people 24/7," she said. "If I'm watching TV and I see a commercial, I don't get to connect with the person on the car sales lot. He's on the screen, but I don't get to say, 'Hey, I want to come see your lot tomorrow.' But if I see the same video on social media, I can comment right away, and they get that notification, and we're connected instantly."
Gray said this technology has often been an untapped resource in Webster Parish thus far.
"A lot of the things we have to offer are maybe not as well advertised," she said. "We live in a rural community, and not everyone has the money to redo their website to better show what they offer. And sometimes people just are not tech savvy. That's where I want to come in and go see it, to show these things to everyone else in the raw. When they see it, they're going to want to experience it."


Stephanie Barnette
Stephanie Barnette, 32, has been president of the Greater Minden Chamber, formerly the Minden-South Webster Chamber of Commerce, for almost two years. Before that, she started as the administrative assistant for the chamber.
"I didn't really know what I was getting into," she said. "But I quickly found I had a passion for it. I wanted to be an active part of this community and do what I could to help it succeed. I really took an active role in that position, made the most of it, and put myself out there, which helped lead to this position."
Born and raised in Minden, Barnette said there is no other place she would rather be plugged in.
"I like being a part of this community, and I like helping our businesses," she said. "Anything that promotes us in a positive way is something I want to be a part of. I want to make sure we have a good, viable community for my kids when they're older. Something that they'll want to stick around and help out for."
Barnette said the younger generation stepping into control is eventually inevitable, so it is imperative they start preparing now.
"I think it's extremely important for our young people to step up and pay attention to what's going on," she said.
"Every day the older generation is retiring, leaving the jobs, and moving on, and those jobs have to be filled by somebody. It's our age group that needs to step up and fill them. It's important that right now we learn from the older generation on what they've done so we can build on it and continue making things better for the future."
As mentioned earlier, the Chamber is taking nominations for its eighth annual 15 Under 40 Awards, in which it honors sub-40-year-old members of the local business community, a group that has increased in the Minden area the past few years.
"It's really an exciting time for us," Barnette said. "You look around in all different areas, and we have tons of young people who are choosing to start up businesses or take over existing businesses here in Minden. It shows the young people do believe in Minden. When they choose to stay here, that says we have potential and there's going to be good things coming from us. I think that's wonderful."