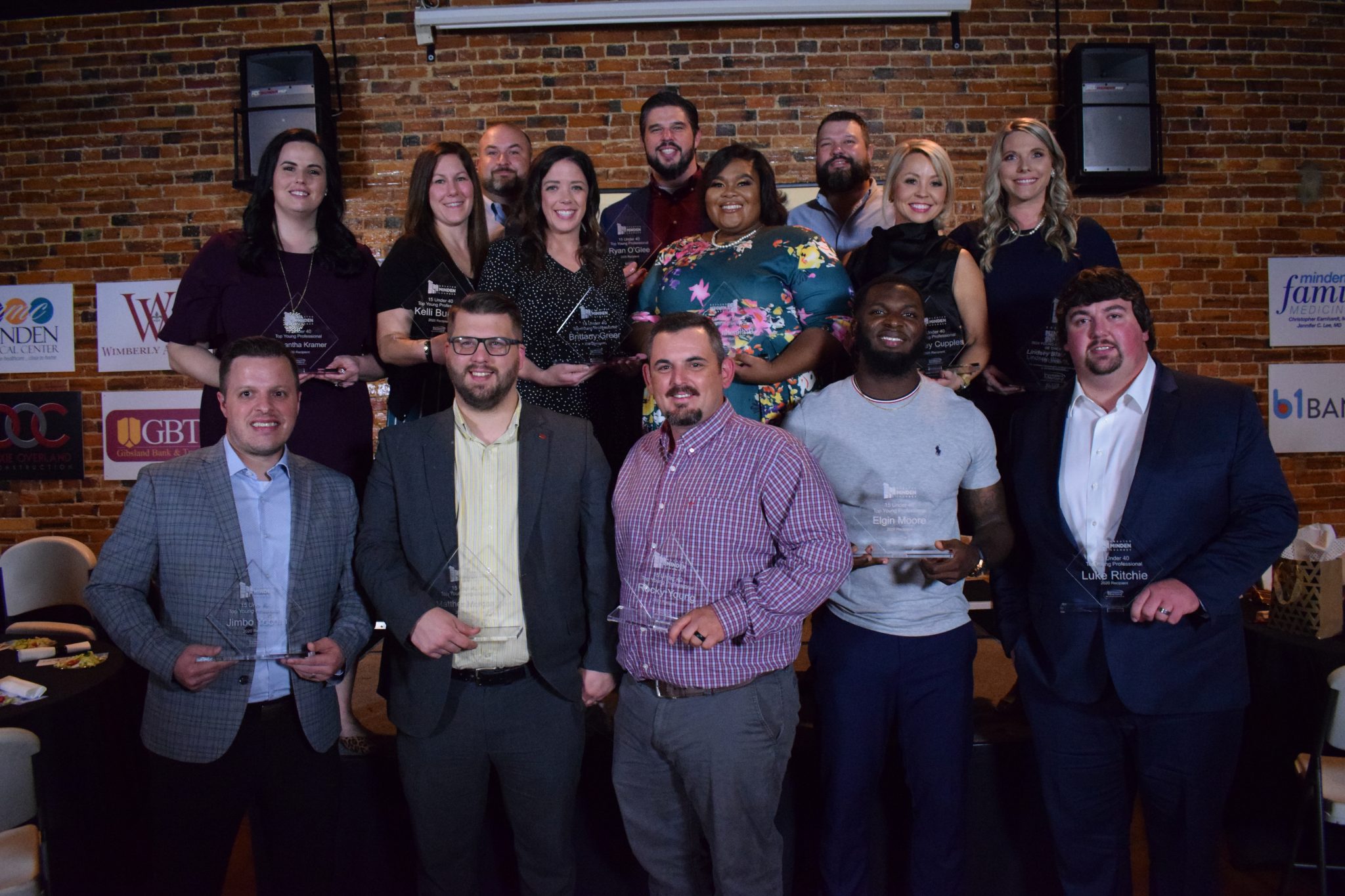 The Greater Minden Chamber's 15 Under 40 event, presented by TG Companies, took place Thursday evening at Orleans on Main in Downtown Minden. This night brought together a wide variety of business leaders and entrepreneurs in order to highlight their accomplishments and what they have done for the local community.
Due to precautions taken to prevent the spread of COVID-19, the 15 Under 40 event wasn't able to invite as many guests as in the past. In part because of this, it was the first year where the event was streamed on Facebook Live, so anyone who wanted to take part in the event from their home had the option to.
The 15 individuals that were honored tonight included Lindsay Blackwelder of Harper Motors, Toby Bonsal of Bayou Swabbing and Bonsall Roofing, Eric Brown of Energy Transfer Partners, Kelly Burson of Dixie Overland Construction, Lindsey Cupples of Pink Magnolia, Breleisha Gilbert of Grambling State University. Brittany Greer of Castleton/TG Natural Resources [Formerly Range Resources], Samantha Kramer of b1Bank, Elgin Moore of Lakeside Highschool, Matthew Morgan of Gibsland Bank and Trust, Ryan O'Glee of Minden Family Pharmacy, Luke Ritchie of LR's Sweet & Treats, Jimbo Yocom of Yocom Law Firm, Melissa Young of Christus Health & Claiborne Memorial Medical Center, and Rocky Young of Louisiana Paving Company.
While the accomplishments of the 15 Under 40 can not be understated, the Chamber every year choses one of the fifteen to be selected as Young Professional of the Year. This year that title was awarded to Lindsay Blackwelder. "I'm in shock. Thank you so much,"  said Blackwelder. "It's beyond anything I ever expected. I'm very humbled. Thank you so much."
This event was only made possible through the Greater Minden Chamber and the event's generous sponsors listed below.
The Award Sponsor was Impressions Advertising Services. The Beverage Sponsor was Mike's Hometown Spirits. The Floral Sponsor was Red Blooms. Signature sponsors included b1Bank, Aeropres Corporation, Durrett Law & Title, Minden Family Medicine, Wimberly Agency, and Minden Medical Center. Social Sponsors include Minden Family Dental, Denise Edwards Webster Parish Assessor-Elect, Nexion Meadowview Health and Rehab Center, and Minden Family Pharmacy. Sign sponsors included Louisiana Paving Company, Gibsland Bank and Trust, A Piece of Heaven Cakery, Hughwood Specialty Meats, Alice's Soul Kitch, RocketFast Car Wash, and Dixie Overland Corporation.