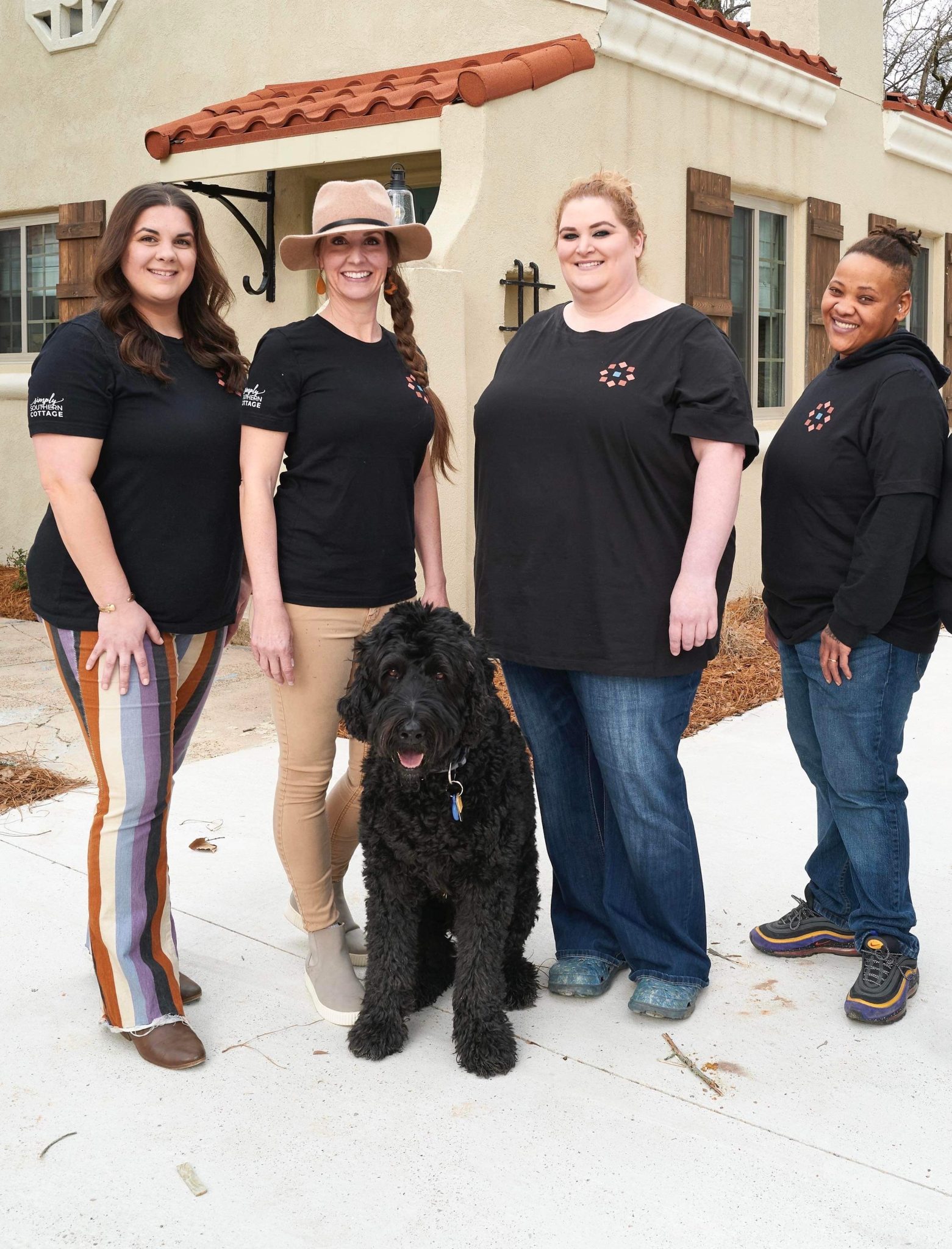 The Villas at Spanish Court are finally completed and ready for guests. The Villas, located on Union Street near Minden High, were built around 1931 by F.C. McClanahan. 
"According to a news clipping from 1931, they were the most state-of-the-art apartments in the state of Louisiana," said Sara McDaniel, owner of the Villas and Simply Southern Cottage. A former owner had stated that the villas fell into disuse in the 1980s. They had sat vacant until McDaniel breathed new life into these quaint apartments, turning them into stylish short-term rentals with designer decor.
"They all have a name," said McDaniel as she gave the grand tour. "This one is Laura. It was sponsored by Laura Ashley, so that means that there's Laura Ashley wallpaper, the art, the pillows, the rug, the bedding, the kitchen dishes. All that is sponsored by Laura Ashley. So when a guest looks online, they can choose a villa according to what design aesthetic they want.
"The Annie is sponsored by Annie Selke — I know the core style isn't for everybody, but it's about the experience," said McDaniel.
Some of the units are more calm and neutral like the Piper, which also contains designer rugs from McDaniel's own collection, and some are more beachy and tropical like the Cindy. All of the units have WiFi and access to a patio with a fire pit and string lights.
"I can't decide which one's my favorite," McDaniel said.
Because these buildings had been vacant for about 40 years, a huge amount of work was required to bring them back to life. "It had asbestos, lead paint, there was a lot of termite damage, so we had to rebuild the studs," said McDaniel. "That's one reason why this is so expensive, because you have to remediate the right way."
Much effort went into saving or replicating the historic architectural features of the buildings such as the fireplaces, cabinets, doors, and mantels. She was able to save the original bathtubs and tilework.
McDaniel is also really excited about her great staff. "We have such an amazing staff," she said. "I got so lucky. I hired a recruiter and did a nation-wide search for an innkeeper/property manager, and I found somebody in Heflin. And she's perfect! The moral of that story is 'look in your own backyard.'"
The Villas at Spanish Court have been featured projects over the past year in both Cottages & Bungalows magazine as well as American Farmhouse Style magazine. In fact, the Piper is showcased on the front cover of the February/March 2023 issue of American Farmhouse Style magazine and "The Laura" is on the cover of the February/March 2023 issue of Cottages and Bungalows.
McDaniel is planning to have an open house on March 24 and 25. "Chef Jodie Martin and Chef Blake Jackson from Shreveport are teaming up for 'Smores & More' on March 24th, which will be an exclusive private event to tour the villas. There will be a progressive, charcuterie dinner through each of the eight villas capped off with a s'mores station. Landry's Vineyards will be on hand for a wine tasting. Ryan Miller, the 2021 recipient of the American Songwriter of the Year award, will provide live music. All proceeds from this event will support the 2024 Minden St. Jude Auction. The next day, 12 to 6 p.m., I will be hosting another Simply Southern Saturday, and people will be able to tour the villas. Saturday proceeds will support Louisiana Family and Teen Challenge. We'll have door prizes at both events including a Villas weekend getaway, Mellanni sheet sets, and more," said McDaniel.
Bookings recently opened and McDaniel has reservations from North Dakota, Montana, Texas, Louisiana, Oklahoma, and even a few staycations from right here in Minden so far.
"I am thrilled and honored to provide a boutique-style short term rental experience in our town," says McDaniel.
To reserve your stay at The Villas at Spanish Court, visit mindenstays.com.