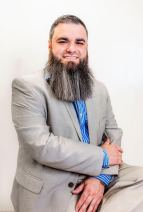 Multi-business owner "Invested in Minden" hoping to fill District E seat 
Minden, LA July 21, 2022 – Life-long citizen of the City of Minden, Thomas Adams, officially announced his plans to run for Minden City Council in District E in the upcoming November 2022 election.
Just two years after graduating from Minden High in 2003, Adams purchased his first business, Main Street Barber Shop. Ten years later he and his wife, Alicia purchased Hers Bridal and Special Occasions, continuing its longtime legacy serving North Louisiana as a leading bridal boutique. He has built upon his platform to "Invest in Minden" for almost two decades, making it his personal mission to ensure the city grows and thrives.
That is exactly what he will continue to do if he is elected to serve as Minden City Council member for District E. Adams plans to use his extensive business leadership skills to encourage locals to open new businesses, creating a larger tax base and job opportunities. He will assist in aiding the existing businesses to overcome
obstacles they may be facing, so they can continue to flourish and prosper. He believes by investing in his hometown and inspiring others to do the same, we can leave a legacy for many generations to come.
Adams stated, "My love and passion for the only place I have ever called home, has paved the way, leading me to seek a position serving on Minden City Council. If I am elected to serve as a representative for District E, I plan to begin empowering the city government, encouraging a movement forward in a positive and respectful manner. By finding a common ground, we can continue moving our beloved city forward. I intend to be an example that selfless goals and endeavors will lead to prosperity here in Minden. If we invest our time, money, and energy into what is best for the city as a whole, we will see a return on that investment in ways of tourism, opportunities, productivity and overall hometown camaraderie."