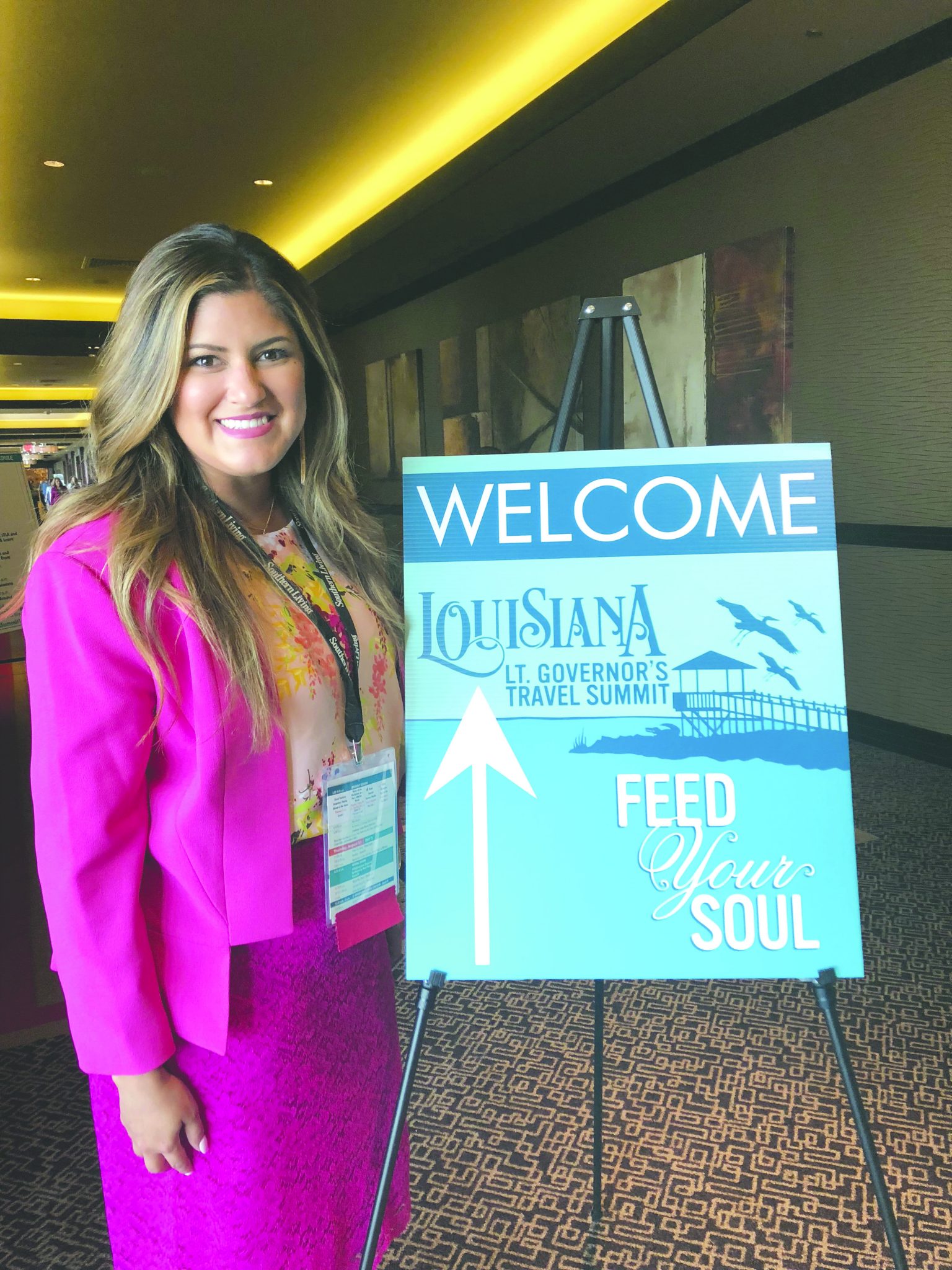 Gray, Cobb share lessons learned
Multiple representatives of area tourism attended Lieutenant Governor Billy Nungesser's annual Travel Summit August 21-23 at the Golden Nugget in Lake Charles. These included Serena Gray, executive director of Webster Parish Tourism, and Amber Cobb, Springhill Main Street manager, who shared their experiences and lessons learned from meeting with tourism professionals from across the state of Louisiana.
Having been tourism director for about two months, Gray said her interactions with other Convention and Visitors Bureaus at the summit gave her marketing methods some much-needed validation.
"So many people saw me, walked up to me, and said, 'You're Serena in Webster Parish. I've seen all your stuff online! You're doing great!'" Gray said. "For the other CVB's to say I'm doing a good job was really encouraging to let me know I'm on the right track."
For Gray and Webster Parish Tourism, the summit was a time of self-identification: defining the parish's strengths, weaknesses, products, and core identity. Since being hired in June, Gray has attempted to highlight the parish's attractions through video tours and promotions. She said she was relieved to discover during the "Leveraging the Latest Social Trends" session that her approach is the right one.
"People all over the state of Louisiana are reacting to the bird's-eye view I'm giving them of Webster Parish," Gray said. "And so many people have said, 'I had no idea you had a state park there' and things like that. We've been collaborating for years, but no one knew about it because we weren't talking about it."
Cobb also said one of her biggest takeaways was the need to properly identify the character, offerings, and flaws of the area before they can be properly promoted.
"While at first this summit seemed very intimidating to this small-town Main Street manager, the ideas and projects presented and celebrated were very adaptable to our way of life here in the north end of the state," Cobb said. "We still, not only as a city, but as a parish, need to find our focus, our strengths, and our identity and rally behind it."
Another session Gray attended emphasized the importance of identifying your area's products and staying true to the region's character. Gray said one of the parish's weaker points is that many of its attractions have not been marketed in the most effective ways.
"You're seeing a rise in younger people traveling to rural communities because they're looking for nature, rivers, hikes," she said. "If they're going to come in, let's try to get them to stay a little longer. What if they knew they could build a little itinerary here? They want to see a Facebook page or a website, which is something a lot of our attractions aren't using to the potential they could."
Cobb agreed the web presence of Webster Parish and its cities is vital to their survival.
"While technology seems to be overwhelming us at a never-ending pace, I believe that our laid back, slow down, sit-a-spell way of life here in Webster Parish could benefit from integrating technology into our marketing strategies," she said.
One major product for Webster Parish Tourism that Gray said has not been sufficiently marketed is Lake Bistineau State Park, but a perfect storm of events is taking place to change that. As reported earlier this month, over a million dollars of state funding will be flowing into the park, and several renovations and additions are in the works.
"We're very lucky to have a state park in our parish," Gray said. "The funny thing is, we've done such a poor job of marketing it, someone who was working with Louisiana State Parks thought Lake Bistineau State Park belonged to Bossier. It's perfect timing for me to be coming in, with state funds being dropped on our park, Gene Reynolds being over state parks, and the new amenities coming. The timing really is amazing."
Gray said some of her ideas borne out of the Travel Summit include redesigning the tourism website to make it more mobile-friendly, creating an app that allows users to self-generate local itineraries, and reigniting a passion for Minden's unique German heritage, from the Germantown Museum to Fasching season celebrations.
Cobb said the stars are aligning for tourism across the parish to begin rising to the forefront.
"We learned in an economy session that consumers are very confident in spending right now," she said. "We have tourist attractions: Lake Bistineau, Muddy Bottoms, Spring Theatre, Springhill Rodeo, and we have to create and foster partnerships with those establishments to benefit everyone. Now is our time to capture the market."