A Deputy from the Webster Parish Sheriff's Office was traveling south on Highway 371 when they observed a vehicle that crossed the center line and fog lane several times. Soon after what started as a simple traffic stop quickly turned into an arrest for Brian Herndon, 35, after the deputy located multiple controlled dangerous substances and weapons inside of the vehicle.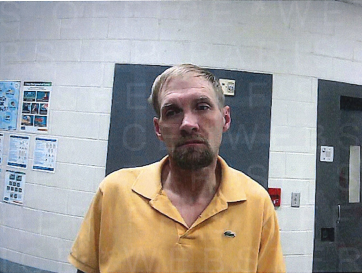 Shortly after pulling Herndon over, the Deputy "informed him of the reason for the stop. Henderson admitted to swerving. He appeared nervous and he would not look at me. I could smell an overwhelming odor of marijuana coming from the passenger compartment," the booking report stated.
After asking if there were any weapons in the car, to which Henderson responded that there wasn't, the Deputy asked Herndon to step out of the vehicle and performed a pat down.
"I then asked him about the odor of marijuana. He stated he had a couple of ounces. I then detained him," the report stated.
I conducted a probable cause search of the vehicle. I located a loaded handgun in the center console. I immediately placed Herndon under arrest and I advised him of his rights per miranda."
Deputies seized approximately 4.92 ounces of suspected methamphetamine, 4.53 ounces of marijuana, three clonazepam pills, one alprazolam pill, several glass pipes, a box of small plastic baggies, a set of scales, $792 cash, a 1911 model handgun with no serial number, and a 2020 white Toyota RAV SUV,
Herndon was later transported to the BDCC and booked on the charges of improper lane usage, possession of a firearm by a convicted felon, possession of a firearm in presence of controlled dangerous substances, possession of drug paraphernalia two counts of possession of schedule IV substances with intent to distribute, and possession of a schedule II substance with intent to distribute, and possession of a schedule I substance with intent to distribute.