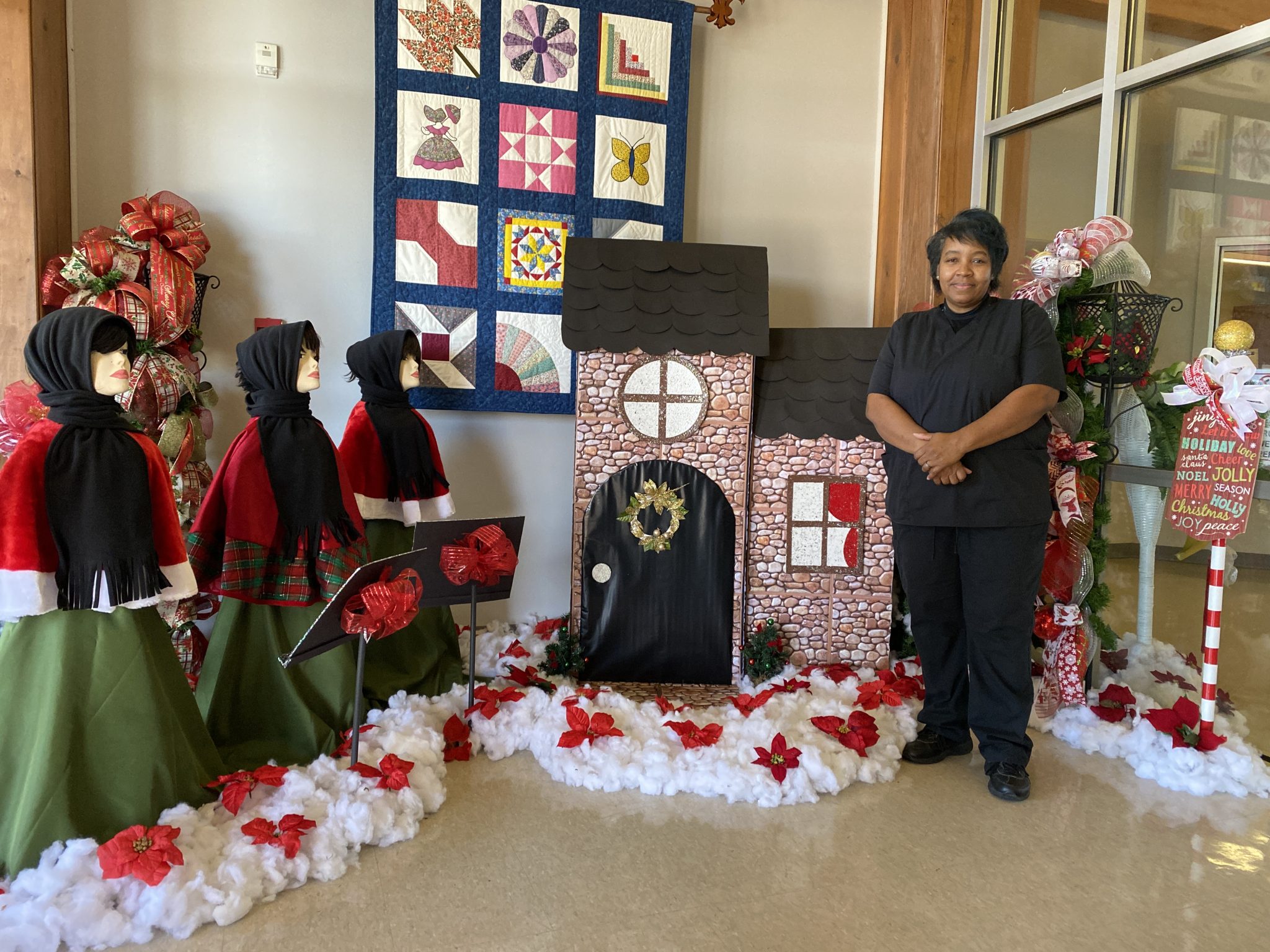 At the Webster Parish Council on Aging, it's beginning to look a lot like Christmas. The center has been beautifully decorated for the pleasure of the seniors who come there for the services and entertainment that the Council on Aging offers. This is a work of love by Debra Spencer.
Spencer understands how much joy people receive from her decor, and she knows that, as people get older, they have less energy and ability to decorate for themselves.
"I just want them to enjoy the holiday," said Spencer. "And that's for us younger ones to do — to make it easier, to make their lives better. It's a lot of fun. It's for them, because some of them might not see their families for Christmas. So if we can make their day or this season a little brighter it's worth it all. I lose sleep to make sure that everything is good for them."
Spencer devotes a full day just to decorating the Christmas tree. In the past, if it didn't look right to her, she's taken all the decorations off and restarted again to make sure that everything is just right.
When asked where her inspiration comes from, Spencer gives all credit to the Lord.
"Sometimes I don't know what I'm going to do, so I'll just sit there, and the Lord will give me this idea, and I'll be like, 'Thank you, Lord.' I'm one of those types of people that don't like to look at anybody else's work. I like for God to give me the idea myself."
"Every gift that I have, I don't take it lightly because God gave it to me. When God gives you something, He expects you to use it for Him, for His glory. And when you put a smile on somebody's face, that does it for me. I just thank God that he gave me these gifts. I know I'm not the only one, but I want to use them. As long as I'm on this earth, I want to use them."
Spencer not only decorates for the Council, she also does custom work for all occasions.
"I do weddings. I do birthday parties. They call me the Cardboard Queen! I love cardboard because it's very versatile," she said. "When I'm doing some work for anybody, I like for them to be in on it. I'll say, 'Go get the things you want on the wreath, and I'll put it together for you.' I like for people to have some input in it, because it's something they're going to keep for themselves."
Spencer started at the Council on Aging as a custodian 17 years ago. When their driver moved to another position, she stepped in to do both jobs until there was just too much for one person to do, at which point she moved to the transportation department full time. She is now the transportation coordinator for the Webster Parish Council on Aging as well as their in-house holiday decorator.
"We all wear many hats," said Spencer.
Karen Guice, the head of outreach and education, wants everyone to know how great Spencer is and how much the center has to offer. "I really want people to see the center at its best. And I want people to understand that our staff here is just next to none. We have a wonderful staff. I'm just so proud to be a part of this," said Guice.
The Council on Aging is located at 1482 Sheppard Street and offers a variety of services for seniors including meals, exercise programs, and regular Bingo matches.