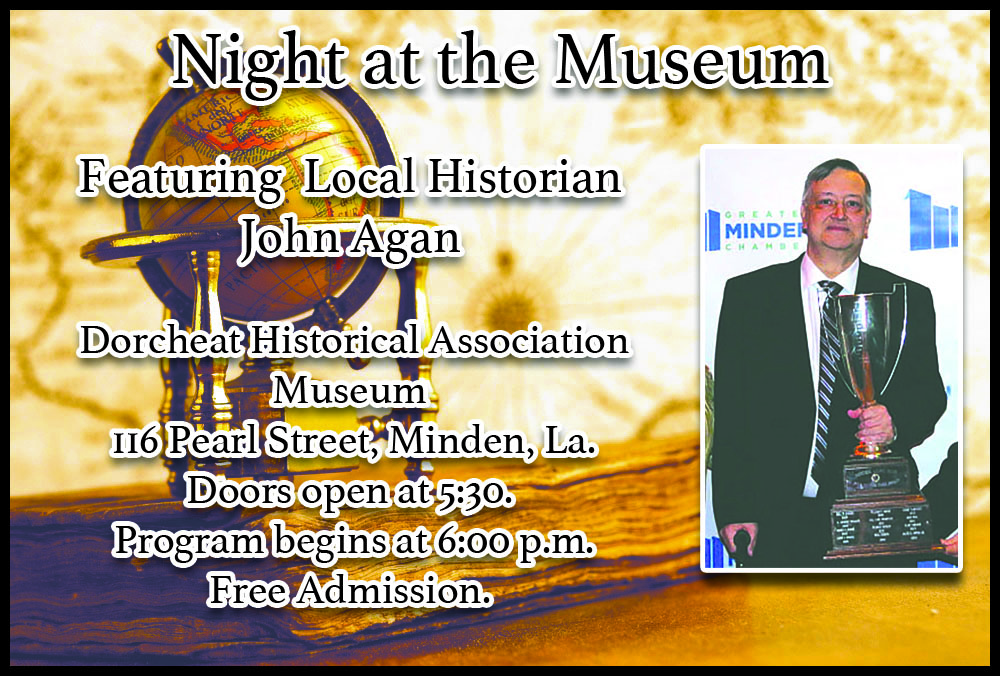 Dorcheat Museum hosts night at the museum with John Agan
On Monday, April 8th, 2019 the 65th Dorcheat Museum event, Night at the Museum, will take place featuring Webster Parish Historian Mr. John Agan. Agan isn't a stranger to those in our area when history is mentioned. Agan is very knowledgeable of the surrounding area of Webster Parish.
Agan is an Assistant Professor of History at Bossier Parish Community College. He is a native and lifelong resident of Minden and earned a B.A., M.Ed., and M.A. from Louisiana Tech. He serves on the board of several local organizations, including the Dorcheat Historical Association and Museum. For several years he has written a weekly newspaper column on local history for the Minden Press-Herald. He has published ten books on local history. In 2018, Agan was selected as Minden's Man of the Year by the Minden Lions Club in 2018.
The museum will have two of his latest books projects on hand for purchase and signing.
The museum events will be held in the Media/Learning center at the Dorcheat Historical Association Museum, 116 Pearl Street, Minden, La. Museum doors will open at 5:30 p.m., with first-come, first-serve seating. Program begins at 6:00 p.m. Admission is free with potluck desserts and snacks welcome.
For more information contact Schelley Brown Francis at 318-377-3002 or visit www.museuminminden.blogspot.com to sign up for the museum email blast. You can also find the museum on Facebook.
To learn more about Webster Parish's rich history visit the Dorcheat Historical Association Museum located at 116 Pearl Street in Minden. Museum hours; closed on Monday, Tuesday-Friday 10 a.m. – 4 p.m. (closed from 1-2 for lunch), Saturday CLOSED. The museum admission is free. Also open for special tours and rental by appointment.