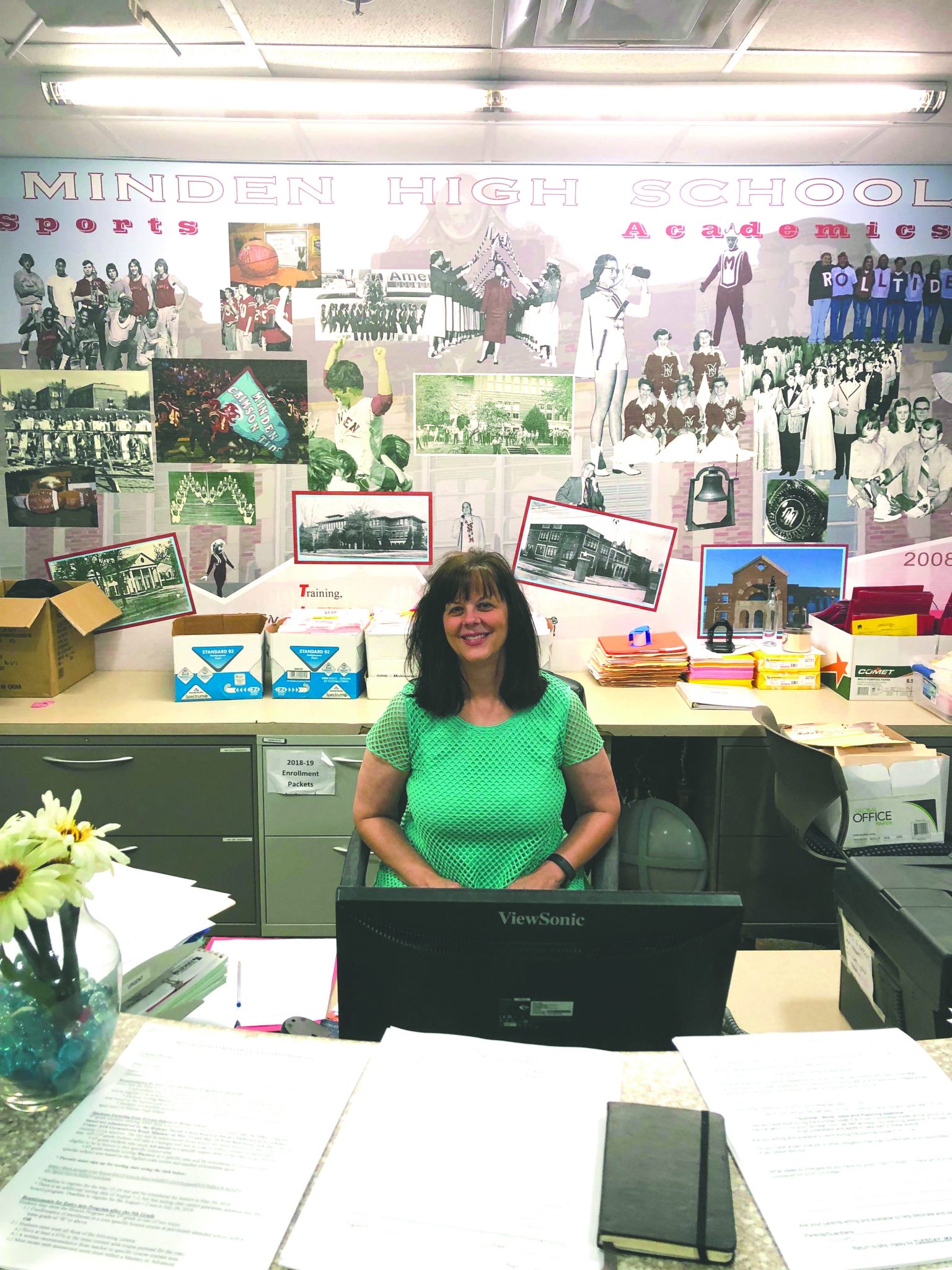 Will Phillips
Minden Press-Herald
Minden High School's bookkeeper Suzanne Williams will be retiring after 33 years of service to the school and its students. She started the position on May 1, 1985.
"Well, Mrs. Williams, my mother-in-law, had this job for 40 years, so she wanted me to take it. She thought I was going to take the job, go back to school, and become a teacher. Well, that never happened," Williams said followed by laughter. "After I took her job, I've just been here ever since. I've been through lots of changes. I've been through five principals. All of them were different, but all of them were wonderful," said Williams.
Suzanne Williams described herself as "personable and professional." "I treated everybody the same, from the principals down to the kids. What I did for one I did for all of them," said Williams.
In regards to her retirement, Minden High School Principal Becky Wilson said, "Suzanne Williams is a Pillar at Minden High School. For the past 33 years, she has supported the students, parents, teachers, the administration, and the community. Her desire for excellence is seen in her work ethic, her loyalty and her desire to build others to reach their potential. The title of bookkeeper is nowhere close to her real job description. She embodies Minden High School."
In her 33-year career at Minden High, she noted that the biggest change was 10 years after she started when the school updated to using the computer for recordkeeping. Williams said, "When I first started typing transcripts and doing the GPA's, we were doing those by hand, then the computer came in. I'm not very much of a computer person, but I did get used to it. After that I didn't have to do the transcripts, because they were on the computer, and so was the GPA which was wonderful. The bookkeeping I was doing was in a big general ledger book, and with all these accounts it was quite 'fun.' But when they put it all on the computer, it turns three days to balance into about 10 minutes."
Wilson said, "Her retirement is significant because she has been a perpetual staple at Minden High. She has been part of the lives of students, their children, and their grandchildren over the course of her career. Mrs. Suzanne Williams took the position of her mother-in-law who served at Minden High School for over 40 years. In the over 77 years, this will be the first school year at Minden High to not have Mrs. Williams welcoming our students and faculty. Although Mrs. Suzanne will be greatly missed, she has left a lasting legacy that will continue to make a difference," said Wilson.
On an endnote, Williams said, "Everyday I walk in wanting to be here. It's been a joy, it really has."