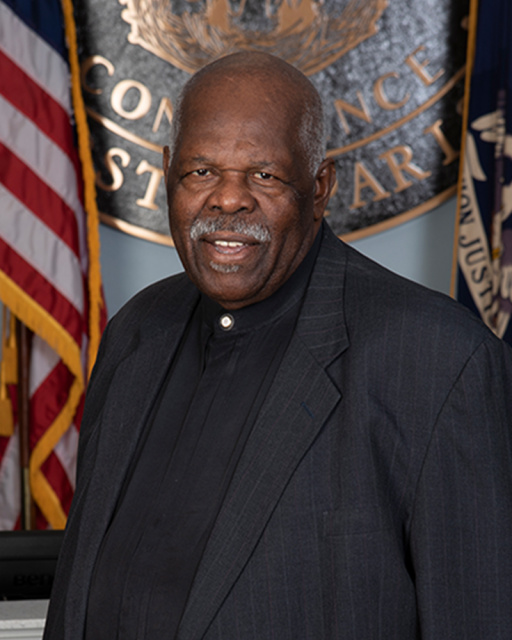 Remembering Bernard Hudson
Bernard Hudson was born in Minden, Louisiana on September 28, 1946 to the late Dave Hudson and Tishie Warren Hudson. He accepted Christ at an early age at Growing Valley Baptist Church under the pastorate of the late Reverend J.H. Dixon and served as Chair of the Memorial Day/Veterans Program, Assistant Graveyard Marshal, and a Trustee Board Member.
As a child, he attended Growing Valley schools and later went to Union Elementary in Doyline. He played football and was a proud graduate of the Webster High School Class of 1966. After graduation, he enlisted in the United States Army for four years, received the National Defense Service Medal and the Armed Forces Expeditionary Medal in Korea and achieved the rank of Sergeant. Following his service, he attended Delgado Community College in New Orleans where he also worked as a security guard and received a degree in Criminal Justice. As a proud graduate of Webster High, he continued to host many of his high school class's events.
Bernard loved his Growing Valley community and people. Regardless of where his travels took him, he was destined to return. He was always helping someone in and outside of the community, and he never met a stranger. He was "Louisiana Famous" for hosting his annual National Night Out community events at his home, and he has been described on many occasions as doing everything for so many and expecting nothing in return.
Bernard was also a hard and dedicated worker at all his jobs. He worked at Atlas Refinery, the Kansas City Southern Railroad, the Louisiana Army Ammunition Plant and was the first Black person in the apprentice program at The International Paper Mill. The one place that he absolutely loved talking about the most was his time at General Motors as a maintenance millwright. Engines were started for the first time on his final line where he conducted the road tests. Because of his dedication to GM, anyone who knew him knew that he only drove AND rode in GM-made vehicles! He was a leader at UAW 2166 and remained at GM until his retirement in 2012 when the plant closed. Even the plant manager described him as someone he looked up to himself.
During his time at GM and especially with his newly found spare time, he became a member of several organizations. He was a District 7 Volunteer Fire Department Commissioner, a board member of the Carter Federal Credit Union, served as a member of The Pleasant Valley Water System and the School Board and was a Webster Parish Reserve Deputy. As an experienced and dedicated elected member of the Webster Parish Police Jury, his campaign slogan was… "I can't change the direction of the wind, but I can change the set of my sails." He faithfully served District #5 from 2016 until his untimely death. Because of his above and beyond service to the community and these organizations, he received numerous appreciation plaques and "Citizen of the Year" awards.
On Wednesday, February 1, 2023, while in his home surrounded by his loved ones, Bernard was called home to be with the Lord. There to greet him were his parents, Dave and Tishie Hudson; siblings, Clem Hudson, Etherline Hudson Kemp, Edward ("Monroe") Hudson, and Carrie Hudson Walker; and sisters-in-law, Mae Hudson and Willene Hudson. He is now at peace and rests in the loving arms of his Lord and Savior, Jesus Christ.
His memory will be cherished by his children, Aileen Thomas (Skip) of Houston, TX; Rodney Ary (Tiko) of Baton Rouge, LA; Allyson Hudson of Minden; LaTori Combs (Kelly) of Dubberly, LA; Joshua Hudson of Minden; sisters, Lillie Doris Hudson of Los Angeles, CA and Peggy Hudson Morris of Minden; brothers, Dave Hudson and Lee Drue Hudson (Vernia) of Minden; brother-in-law Henry Lee Walker; grandchildren, Nicholas, Jaida, Khalia, Desirae, KJ, Jaylen and Kash; a special niece, LaTrisha ("Toot") West; special friend, Evelyn Parish of Minden and a host of nieces, nephews, cousins and friends.
Mr. Hudson was honored with a "Celebration of Life" ceremony on Saturday, February 11, 2023. Many spoke about his kind and giving heart and how he never met a stranger and Mayor Cox presented a Webster Parish resolution. As a veteran, he was also given full military honors and the flag was presented to his oldest child, Aileen Thomas, whom he actually just met only a few years ago. His oldest granddaughter, Jaida, sang a solo and his niece, LaTrisha, gave a beautiful family tribute. He will be missed by all who knew him.