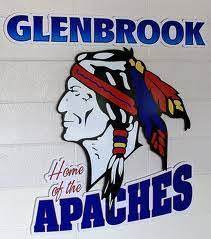 SHREVEPORT — Glenbrook's defense set up an early advantage Friday night as the Apaches marched to a 51-6 win over Magnolia School of Excellence at Independence Stadium.
The Apaches scored off of three early turnovers while adding a safety off the Mariners' first four possessions to build a big lead early on.
"Magnolia is a building program and we knew if our guys went out and played well, especially early, we should be able to get the win," said Glenbrook coach David Feaster. "Playing at Independence Stadium was a good experience. The players enjoyed it and made the most of it."
Glenbrook's first score came on a 10-yard run by DJ Carter before the Apache defensive domination began.
Grayson Williams' fumble recovery set the Apaches up at the Magnolia 11, with Carter soon following with a four-yard scoring scamper.
Collin Greg's interception on the ensuing Magnolia possession set the Apaches up for a 44-yard strike to Turner McClelland, and the rout was on.
Glenbrook's Maddox Madino followed that up on Magnolia's next drive with a 26-yard pick six before Hayden Harmon's tackle in the end zone upped the Apaches' lead with a safety.
Ty Feaster fired a pair of late first half scoring strikes — 40 yards to Mandino and 59 yards to Rhett Johnson — that put Glenbrook up 36-0 at intermission.
A running clock during the second half made it short work for the Apaches to push their record to 3-2 overall and 2-2 in district play.
Glenbrook faces a much tougher test next Friday as the Apaches play at Haynesville, which stands at 4-1 overall and 3-1 in district play.