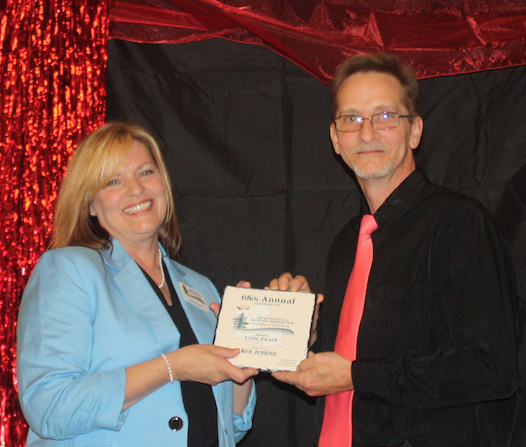 Ken Jenkins of Shongaloo recently received the 2022 Civic Service Award from the Springhill-North Webster Chamber of Commerce. The Civic Service award is presented to individuals or groups that perform acts of kindness and help in the community.
Ken has worked as the talented arts teacher at North Webster Junior High, North Webster Upper Elementary and North Webster Lower Elementary for the past 13 years. Before that, he served his communities as an active duty army tele-typist and army medic, paramedic, electrician, and school custodian.
His wife, Pam Jenkins, spoke of Ken's commitment to the students of North Webster Parish: "Ken loves art and those kids. He has taken it on himself to start a drama club at the junior high in an effort to expand art and culture in this community. He strives to provide something for the talented, inspiring, artistic children in our communities. They have drama club rehearsals and perform a play yearly that travels to all of the North Webster schools. Ken also is in charge of the monthly art display at the Webster Parish School Board. He makes sure kids from the north end of the parish have art displayed for everyone to see and appreciate. Ken has dedicated many hours over winter breaks and summer months painting displays at the junior high or building sets for yearly beauty pageants at the upper elementary and junior high."
Ken also serves as the only male member of Women Helping Others (WHO) of North Webster. Ken has assisted WHO by building all the floats for every parade WHO has participated in for almost seven years and even rebuilding their trailer. Ken is always there to help with the artistic needs of the group.
Beyond that, Ken is always finding ways to serve his community. He has been helping with food distribution for the past two years, and he has made a family project of picking up litter in their neighborhood every Sunday.
"He always wants to improve our communities and is passionate about the projects he takes on," said Pam. "He always wants to bring people together and show that we can always achieve more together than apart."
Ken's contributions to his community certainly meet the qualifications for the Civic Service Award. Kudos to Ken Jenkins for making Webster Parish a better place to live.