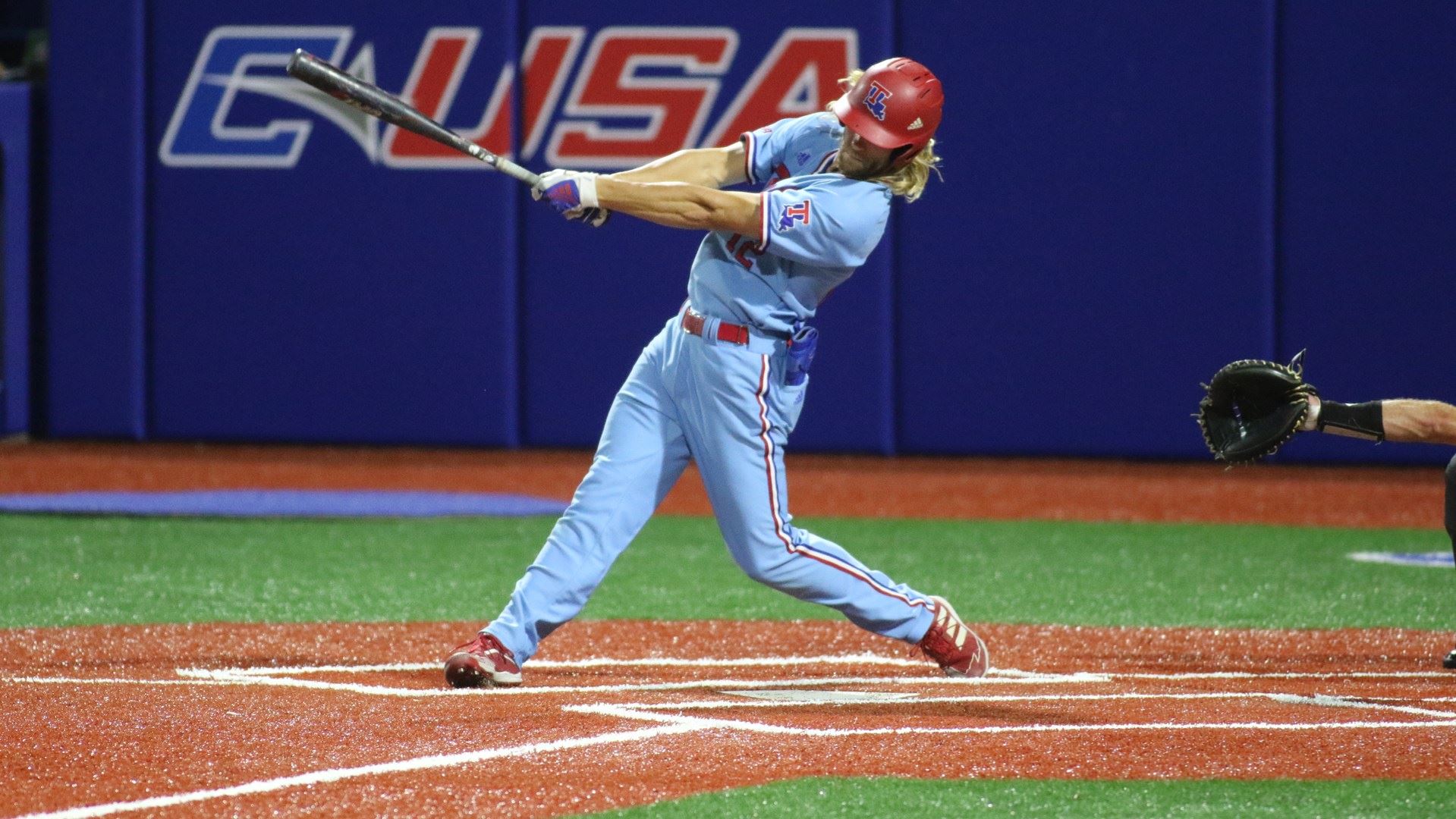 RUSTON, La. – Walk-off warriors.
For the fourth time in the Conference USA Tournament, No. 18 Louisiana Tech earned a walk-off victory with one final swing of the bat. This time it came off the bat from right fielder Philip Matulia with two outs and the bases loaded in the bottom of the ninth. After fouling off the first two pitches from shortstop turned pitcher Dustin Dickerson, Matulia battled his way back to a full count.
On the 309th pitch of the ballgame, Matulia served a line drive that dropped in right in front of right fielder Billy Garrity. Cole McConnell scored the game-tying run before pinch runner Adarius Myers raced on home from second base to clinch the victory in front of a raucous crowd of 2,183 fans.
The Bulldogs will play in their first Conference USA Championship game in program history at 1 p.m. on Sunday. The game will be aired live on CBS Sports Network. LA Tech is 3-0 in conference championship settings in program history.
"I slowed my breathing down and was able to calm my nerves," Matulia said. "I just knew I had a job to do, and I just got it done.
"This team never gives up. Not matter how much we're down, we never give in."
The Bulldogs (40-17) secured the 6-5 comeback win for their second straight walk-off win against Southern Miss on Saturday and their third walk-off win against the Golden Eagles at J.C. Love Field this season. Designated hitter Steele Netterville provided the late-game heroics in game one with a walk-off RBI double in the 10th inning, helping the Bulldogs erase an 8-0 deficit to force a second game at the Love Shack.
Previous walk-off hero Manny Garcia erupted for a five-hit performance against the Golden Eagles in the nightcap, tying a C-USA Tournament record for hits by one player in a single game. With the game tied at 1-1 in the bottom of the eighth, Garcia crushed an opposite-field solo home run to left center to give the Bulldogs their first lead of the ballgame.
With a 2-1 lead entering the top of the ninth, a rare defensive mistake from the Bulldogs in the Conference USA Tournament breathed new life into the Southern Miss offense. After a fielding error helped the Golden Eagles avoid a game-ending double play, pinch hitter Slade Wilks slugged his second go-ahead, pinch-hit home run for Southern Miss against LA Tech this season. Wilks' blast and a sacrifice fly off the bat off Brady Faust gave the Eagles a 5-2 lead with three outs to go.
Things got even more interesting in the bottom of the ninth. After fouling off three pitches, leadoff batter Taylor Young jumpstarted the rally with a leadoff single. Reliever Aubrey Gillentine was then replaced by shortstop Dustin Dickerson on the mound. Dickerson, a former high school standout on the mound, retired two outs while allowing just one run to maintain a 5-3 advantage.
With two runners on, a high fly ball into shallow right field dropped in for an RBI single for McConnell to trim LA Tech's deficit to 5-4. A single from Garcia and then a walk from catcher Jorge Corona loaded the bases before Matulia lifted the walk-off winner.
"Our fans absolutely showed up," head coach Lane Burroughs said. "They pulled us through.
"Phenomenal pitching efforts from Cade [Hodges] and Greg [Martinez] helped pull us through. These guys never feel like they're out of it. I've never been more proud of a group of guys than I am of this team right now."
Not to be lost in the late-game heroics, Bulldog starting pitcher Greg Martinez pitched a masterful game to keep the Diamond Dogs in the contest. In his first start all season, Martinez delivered 8.1 innings on the mound with nine strikeouts and just two walks. The right-hander pounded the strike zone all night long, giving up just one earned run before the top of the ninth. The Bulldogs' defense also backed up their starter all night long, turning a pair of acrobatic double plays to help keep Southern Miss off the board.
LA Tech tied the nightcap in the fourth inning with a two-out single from Corona. LA Tech got another chance with runners in scoring position after a replay review overturned an inning-ending out call on Garcia, turning a putout into an infield single.
The Bulldogs finish the season 7-4 against their West Division rivals. LA Tech will enter its first C-USA title game with another first-time team in Old Dominion. The Monarchs (41-14) are 5-0 at J.C. Love Field since arriving in Ruston over a week ago.