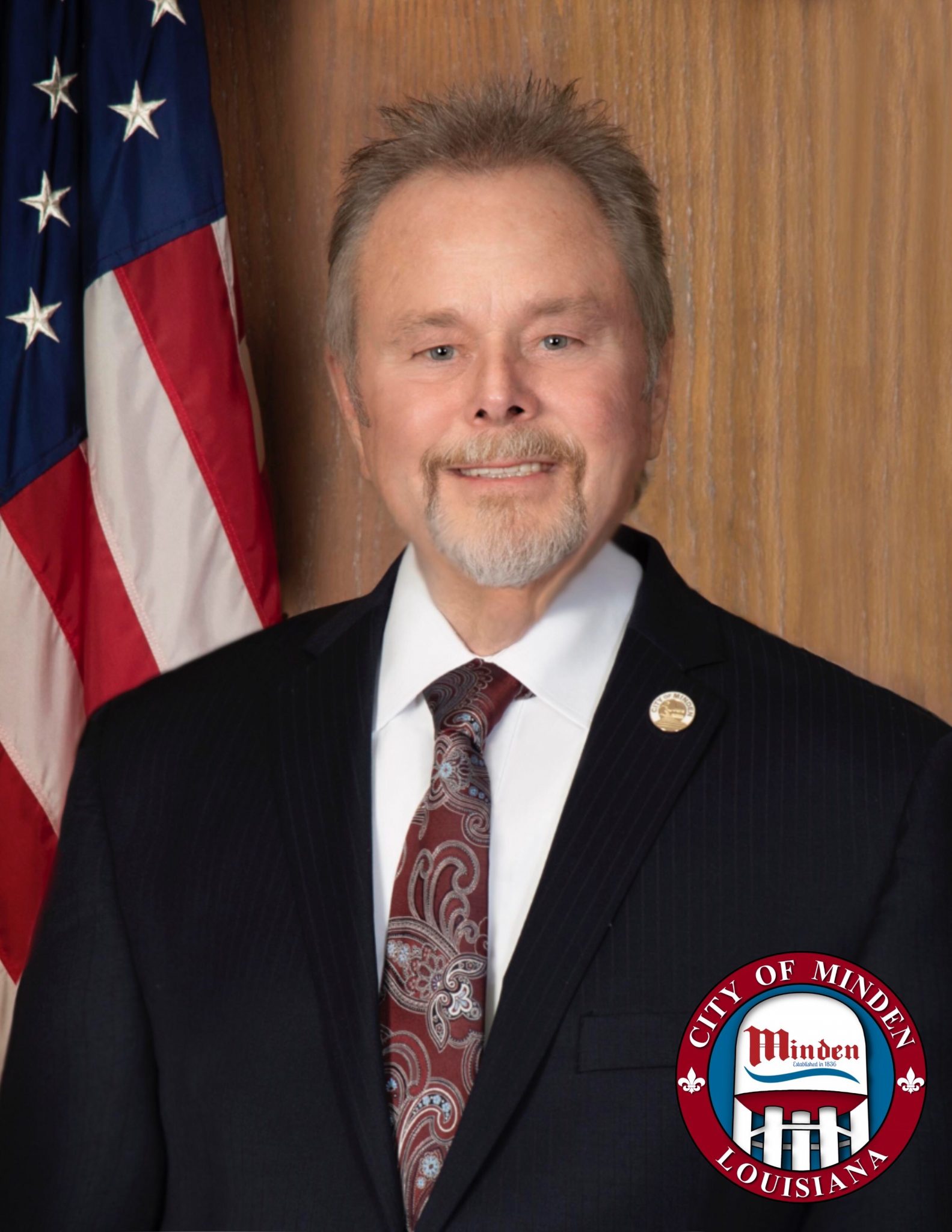 Minden's Biggest Fan
Terry Gardner wore a lot of different hats. He was, of course, Mayor for the City of Minden, but also a savvy businessman, a husband, a man of God, and a dear friend to many. Even before his time as Mayor, he was a notable community figure, contributing his time and efforts on countless boards and in multiple organizations all with the intent of bettering his home and the lives of those who live here.
With someone who was so active throughout the community, it's hard to quantify how big of a hole his passing has left in the hearts of many who live here, and even beyond the city limits.
A sentiment he could often be heard expressing was that, as Mayor, he wanted to leave Minden better off than how it was when he first took office. This was a philosophy he applied not only in his capacity as mayor, but also in the lives of those who were lucky enough to know him.
Suffice it to say, he definitely was able to follow through with that goal. You can't pass through Minden without seeing the influence that he's left here. From the new businesses that have opened up throughout the city to the rehabilitation projects he helped facilitate, his efforts have definitely aided in breathing new life into what he would call his favorite place on earth.
The Mayor's passing also serves as a crucial reminder to the wider community of how limited our time here on earth is, and that a tomorrow is never guaranteed. Instead of letting this fact act as a deterrent, it should instead inspire us to make the best use of time possible, and to strive to mold the world into the one that we would want to live in.
Gardner was truly an embodiment of this mindset. His legacy will live on long past him, both in the visible changes he had on the city, as well as in the memories of those close to him.
Regardless of how people came to know him, whether that be through his capacity as Mayor, as CEO of TG Companies, or as family or friend, it was clear to all, through his words and his actions, how much he loved his home of Minden, Louisiana. He will truly be missed.
And for all the credit that can be given to Mayor Gardner, he was always one to say that he couldn't do it alone. He was always quick to express appreciation and kind words to those that helped him to bring his vision for a better Minden to life. Many of those same individuals saw fit to share their thoughts and memories of the time they spent getting to know Terry Gardner, which can be read below.
(David Specht, President of Specht Newspapers) Over the years, I've had the privilege of watching Terry continue to invest his time, money, and heart into our community and its people. While he may have been mayor for the past 3 1/2 years, he's been "Mr. Minden." for much longer than that.
From his volunteerism, to his efforts to revitalize and grow the business community, Terry's fingerprints are all over Minden. His passing has left a hole that won't be easily filled.
(Wayne Edwards, Minden City Council Member for District A) Deep down inside, Terry had a sincere love for the City of Minden. He had his special way of doing things. He's done a lot for Minden. A lot of real estate, growing business, and he was truly an entrepreneur and a risk taker. Deep down inside I truly believe he wanted to do the right thing for the city.
(Terika Williams-Walker, Minden City Council Member for District B) Mayor Gardner poured his heart and soul into Minden, especially the beauty of Minden. He will be missed by all of his family and friends. I send my condolences and prayers to his wife and family.
(Vincen Bradford, Minden City Council Member for District C) May he rest in peace.
(Michael Roy, Minden City Council Member for District D) Terry was a dear friend of mine for a long time. I think he was one of the greatest mayors that we've had. I know we'll all miss him dearly.
Recently I bought some roses from Terry. A couple of Mister Lincolns, really red roses, very fragrant. After we bought them we planted them. They were blooming and really pretty, but over time they wilted and started dying off. Terry would often come by the house to visit. The morning that he and Mahalla went to Virginia, he stopped by and I could tell he wasn't feeling good. I asked if he was alright and he said that he was just feeling a little tired. He pointed at the roses and told me, "You need to pinch off the dead flowers and they'll bloom again." So I did, and in the following days I had seen some growth but no buds and no flowers.
The morning after he passed, I was walking around and I noticed something that caught my eye. It was red. I walked out to the planter and there were three roses, one had bloomed and two were buds opening up. This morning I went out, and they all had bloomed. I know in my heart that that is his way of telling me that everything will be alright.
(Pam Bloxom, Minden City Council Member for District E) My friendship with Terry began some 25 years ago. He has always worked hard striving for the best possible results, whether it be a landscaping project, a Chamber function, or a charity event.
Terry's election as Mayor was his dream come true. He loved serving Minden and its people. Our city has never looked as pretty as it has in the past three years.
Terry was a visionary. His goals would have taken Minden to a new level. Unfortunately, he lacked the team to accomplish what could have been.
It was an honor to serve with Terry. I believe our community will remember him always for his generosity and kindness. What a blessing he has been to us all.
(Steve Cropper, Minden Police Chief) Mayor Gardner absolutely loved our City. I know no one that put more time, money, and energy into the City of Minden. Mayor Gardner loved the people of Minden, especially the youth of our community. He dedicated so much time in teaching our youth about our city, and wanted everyone to love Minden as much as he did. Mayor Gardner was proud to represent the City of Minden, and continually wanted the very best for our City. Over the past 4 years, Mayor Gardner made many trips downstairs at City Hall, to touch base and check on all our officers. Many trips resulted in him getting bombarded with questions and requests from the officers, but Mayor Gardner did his very best in answering all their questions the best he could, and he never stopped coming down to check on us. Trust me, when I say, some of my officers did not cut Mayor Gardner any slack, but he never stopped caring about us. The loss of Mayor Gardner has created a large void in our hearts and will be missed by all of us. The City of Minden has lost its most dedicated fan and I pray people will remember their experiences with Mayor Gardner, and never forget what this one man has done for our City. I know the Minden Police Department will miss him greatly. God Bless his family and May he Rest in Peace.
(Will Gerding, Social Media Director for the City of Minden) For the last four years Terry Gardner was a big part of my life. He and I were very close. Terry was like a second father to me. He mentored me and showed me how to be an amazing leader and taught me how important relationships are in this life. My heart aches so much at the loss of my dear friend, but I know he is rejoicing with the Lord right now. Terry is no longer in pain or suffering. I thank the Lord for the opportunity to have met this great man. He will be dearly missed. Thank you for everything you have done for the City of Minden and for me personally, Terry. Your legacy will live on for generations through the lives you've touched. We love you. My prayers go out to Debbie Gardner and all of Terry's loved ones during this difficult time.
( Jason Parker, Webster Parish Sheriff) Terry was a good friend that will truly be missed. He was a very kindhearted fella that would help anyone in need. He poured his heart and soul into making Minden a special place to live and visit. He was dedicated to making sure Minden was clean and presentable. As Mayor he initiated a WPSO work crew that picks up trash in the city weekly. My thoughts and prayers go out to his family and the Minden community.
(Robert Mills, Louisiana State Senator for District 36 ) The late Mayor Terry L. Gardner was a long-time resident of Minden, a trusted leader of the business community and as the highlight of his last years served as Minden's Mayor from 2019 until his untimely death on June 28th . He was an energetic and successful leader in both his commercial and municipal careers, and Mayor Gardner's achievements will certainly be with us for generations to come. Upon my election in 2020, I located the district office for Senate District 36 in Minden because it was the geographic center of the district, the largest town in the district, and of course, it's robust historical significance. Terry, himself, knew and loved Minden for many reasons, but it was the wonderful community which motivated him to serve. Mayor Gardner was a constant gentleman, a gracious host and a close friend to myself and my Legislative Assistant, Brenda Autry. We will surely miss Mayor Gardner's smile and committed leadership. Our continued prayers go out to his widow, Debbie Gardner in her time of such great loss.
(Wayne McMahen, Louisiana State Representative for District 10) Minden has lost a great advocate in Mayor Gardner. He tirelessly worked to promote our community and make it a better place for everyone,to work, to live and to enjoy. We are a better community today because of Terry's years of steadfast dedication and service.
(Johnny Rowland, Superintendent of the Webster Parish School District) On behalf of the Webster Parish School Board, I would like to express that we were deeply saddened to hear of the passing of Mayor Terry Gardner. I knew Terry personally as we worked together on several projects concerning Minden schools and the City of Minden. Terry loved serving as Mayor of Minden and his passion and dedication will be missed. Our heartfelt condolences go out to Debbie and their family. They will continue to be in our thoughts and prayers.
(Jim Bonsall, President of the Webster Parish Police Jury) As Police Jury President while Terry was mayor, Terry was all business. He always had what he considered the city's best interest on his mind. Any meeting I went to concerning the city, Terry was always there. He was always trying to help the people he represented. The city, Community College, Chamber, and many other organizations are going to miss his input.
Terry lived in my Police Jury district. He was always supportive.
On a personal note, Terry had a lot of vision as far as real estate and landscaping goes. He refurbished several old buildings downtown and started some new businesses that helped lead a movement downtown that has revitalized from a period where it looked like it was dying. Whether Terry was re-elected or not he would have been an influence to the city. We will miss him.
(Denise Edwards, Webster Parish Tax Assessor) This year Mayor Terry Gardner's selection in the annual "Minden Press-Herald Favorites" for the Minden Press-Herald "Favorite Public Official Award" is indicative of the high regard Minden citizens held for him and for his long and faithful service and dedication to the City of Minden citizens, his service to God in the Minden First Baptist Church and as a member of many City of Minden civic and community organizations.
Mayor Gardner was an exceedingly very special gentleman. He was a cornerstone of the Minden community where he enriched many lives through his service as Minden City Mayor and in his civic and community service; through his Christian witness and ministry; and through his countless community service activities. Mayor Gardner was a blessing to those whom he served, witnessed to and ministered to throughout his life and in the First Baptist Church of Minden where he served God long and faithfully in numerous church activities and to the many Webster Parish Work Release inmates who he employed in his landscape business and to whom he mentored, witnessed and provided with employment. He enriched the lives of many through employment in his many businesses.
Mayor Gardner's long, faithful, exceptional and dedicated service to the citizens of Minden is beyond measure. His service to Minden citizens will be forever and always remembered and revered. He was a blessing to Minden; to his wife Debbie, who he obviously loved dearly; to his many friends; to his Gardner Group employees; and to the many who he loved and who loved him. Mayor Gardner was truly a City of Minden, a Webster Parish, and a family treasure and will be profoundly missed by all.
(Carl Thompson, Webster Parish Deputy Tax Assessor ) Mayor Terry Gardner was a blessing to the citizens of our Great City of Minden. His vision of a Minden that provides all citizens with a safe, healthy, enjoyable, clean, convenient and peaceful city in which to live was a torch that he proudly carried high. He was a visionary and trailblazer and, equally importantly, totally and completely committed to the growth and viability of his beloved City of Minden. He and his faithful wife Debbie moved to Minden decades ago and planted their roots in Minden deep and firm. He often stated "I loved Minden and decided to invest my life here. I started my landscape business with a push lawnmower." Mayor Gardner was compassionate in his love for Minden and tirelessly invested his time and energy in Minden by serving on many boards and organizations including the Greater Minden Chamber, First Baptist Church, St. Jude, Lion's Club, Director of the Leadership Webster and Youth Leadership Programs and many parades and events. He regularly dedicated his own landscaping resources to beautifying Minden boulevards, streets and parks.
I first met Mayor Gardner when I was transferred from Camp Beauregard to Camp Minden in 2001. At the time Mayor Gardner was focused on growing his landscape business in which he hired Webster Parish Sheriff's Office Work Release inmates and gave them the training and encouragement to change their lives and become productive citizens by utilizing the skills and work ethics that he personally taught them with compassion and patience. He alone was instrumental in changing the lives of many of the Work Release inmates who worked for him by mentoring them, witnessing to them in God's Name and, after they were released from incarceration, hiring them as full-time employees.
Mayor Gardner was a special Servant of God who tirelessly served the Minden First Baptist Church including Director of the 6th Grade Sunday School for many years.
Mayor Gardner selflessly invested his time, energy, resources and money in improving Minden, making Minden a wholesome, healthy, safe and wonderful place to live, raise families and retire. With God's blessings, Mayor Gardner's vision of a City of Minden as a growing, productive, safe, healthy, desirable and attractive city will be continued and carried forward by the Minden citizens to whom he loved and cherished. He will be revered and held in the highest esteem AND ALWAYS REMEMBERED!!
(Tracy Campbell, President of the Minden Lions Club) We grieve over the passing of our friend, mayor, and fellow Lion, Terry Gardner. Terry was a dedicated Lion for more than 20 years. When we think of the Lions Club motto "We Serve," Terry quickly comes to mind. He was always willing to step up no matter if it was for the club, the city or the parish. Honestly, it's hard to imagine a Minden without TG. Please join us in praying for Debbie, the family and our city as we cope with the loss of this faithful servant. Although we grieve, we are comforted to know that he is healed and whole again.
(Serena Gray, Executive Director of the Webster Parish Convention & Visitors Commission) Mayor Gardner, or Terry as many of us knew him, had an amazing ability to take a piece of our history and bring it back to life. His creativity and vision for Minden helped rebuild our Main Street community, enhanced our fairs and festivals and energized a sense of community pride that was contagious. Terry didn't just support the idea of tourism. He took action and used his influence and leadership to spearhead renovations and economic development for our community. His presence will surely be missed and it's up to all of us to make sure his legacy of his love for Minden lives on.
(Stephanie Barnette, former President of the Greater Minden Chamber) Our relationship started on a professional level, but I feel lucky that I could call Terry Gardner my friend. The love and true desire he had to see Minden succeed cannot be matched. He gave so much of himself in so many ways to this community, even more than many of us even realize. It's hard to imagine Minden without TG. While I'm glad he's pain free now, we're really going to miss him. We've got a little girl, who along with her friends, are really going to miss their best buddy.
(Jessica Lewis, Director of the Joe LeBlanc Food Pantry) Our community has experienced what someone else described as a "gut punch" and that seemed very appropriate. Many of us have stood in prayer for Mayor Gardner since his announcement that he was ill. We expected him to beat the awful disease that was cancer. There is no doubt that Terry loved this community and he supported positive efforts to lift people up in Minden. Throughout my time here at the pantry whether it was our big move to the new building, our grand opening, or any of our many many fundraisers over the years, Mayor Gardner has supported every single one. He has helped us spread our mission with city leaders and both adults and kids going through the Leadership Webster programs. He has sponsored countless families during "Feed a Family" season. We even talked him into jumping into a dunking booth once. He did it willingly. He is leaving big shoes to be filled.
We will be praying over his family, Mrs. Debbie and the position of Mayor and whomever steps into that role next.
(George French, close friend and campaign manager) Let me begin by saying that Terry Gardner was a great friend of mine. He was that to many, many other individuals as well. However, I treasured that relationship because no matter how busy and involved he was (and he WAS busy and involved) he would always take the time to return a call or respond to a friend in need.
Almost 40 years ago we met…I am not sure what characterized that initial contact but it was my deep blessing and pleasure to work alongside his wife and our Executive Assistant at Minden Medical Center, Debbie Gardner, during the time I knew Terry. Perhaps we met through her. Terry was the strong, caring, loving and supportive husband to Debbie. And the reverse attributes from Debbie were also true. They were quite a team.
From the little lawn-mowing service he first started almost 40 years ago to the large and diversified group of companies they built to this present day they were inseparable partners.
Terry loved Minden. He did not just love it…he L-O-V-E-D it, breathed it, thought about how he could improve it for the citizens DAILY! That consumed him. The business expertise, vision, creativity, dogged pursuit of a goal that characterized his success in the business world provided the foundation that drove him to further involve himself in Minden. Whether in civic or service organizations, community initiatives, national causes, our top-ranked new airport and finally city government he was Minden's Head Cheerleader!
Terry was a creative and thoughtful Business and Growth leader! He was a successful and loved man because he coupled his love and generosity for his coworkers, friends and even those folks he did not know by identifying a "need" and "filling" it. Whether it was the landscaping and yard services profession for his coworkers, a restaurant for Minden, storage sites for the community, a hotel, and events center, cutting-edge community events like "Grillin' On Main"…all his initiatives provided jobs and growth and exposure for Minden.
Terry was a consummate Civic Partner! He began the Red Coat Ambassadors while at the Greater Minden Chamber of Commerce to greet new businesses. That was the springboard for the development of the Mardi Gras Krewe des Ambassadeurs which was focused on civic and community care initiatives as well as providing a social venue that was competitive with the other NW LA Krewes and held in high esteem.
Terry was an excellent and enthusiastic Teacher! For the past decade he personally conducted and led annual Webster Leadership training courses for adults and outstanding high school seniors. This covered almost a year of in services and introduced individuals to the history of Minden beginning back in 1935 and to the present day to include key community infrastructure.
Terry loved children! He earned kudos from the March of Dimes on a state level for his efforts on behalf of babies and children in need and served many years at all levels of that organization.
Terry lived for continually beautifying our City…often seen out working with the city folks on our residents behalf. Creating venues both inside and outside for weddings, parties and various functions.
And, I would be remiss if I did not mention his love for animals. From our First Dog, "Ambassadeur", Terry was a caring and devoted advocate for animal lovers. One of his enduring and ongoing projects was constructing a new Animal Shelter in Minden.
No matter which Board or organization I had the pleasure of serving with him on, he was always a gracious, professional and conscientious member and an "Energizer Bunny" who kept all on our toes.
In closing, he was my friend and always there. I am better off for knowing him. I loved him and Debbie.
(Mandi Sills Hart, Director of Business Development for Minden Medical Center) Mayor Terry Gardner was my friend. He loved my crazy, most of the time just shaking his head and laughing at me or spouting something off even more smart allec than me. He also loved my kids, always including them in all the campaign fun! He had a heart for Minden and wanted nothing more than for the rest of the world to see Minden as he saw it! Those born and raised in Minden do not truly appreciate Minden in all her glory. As transplants, Terry and I both understood how special Minden is! He gave of himself fully to make Minden better for all of us and our children who he loved so much. He sometimes let his alligator mouth overload his hummingbird butt, but that was Terry. You never had to wonder where you stood or what he thought. Let us remember and celebrate all the good Terry saw in Minden and all the good Terry did for Minden. I will miss my friend and his love for our community and his love for the people like me that get to enjoy all his hard work he poured into it. Well done, Terry! Please pray for my friend Debbie in the days, weeks, and months as she navigates this world without him by her side.
(Linda Miller, TGs employee) I worked for Terry for over 22 years. He was all about helping other people — taking care of people. He was one of the best people I've ever known. Terry was just a great person
(Ann Demaline, TGs employee) Terry was known for his generosity, helpfulness, and quick action in a situation that needed someone to take charge and get things done. He will be missed.
Mayor Terry Gardner's visitation will be held this Friday, July 1, from 4 p.m. to 7 p.m. at the First Baptist Family Life Center gymnasium. The funeral will follow on Saturday starting at 10 a.m. at First Baptist with graveside services to follow at 12:30 p.m. at Forest Park Cemetery West, located at 4000 Meriwether Rd in Shreveport.