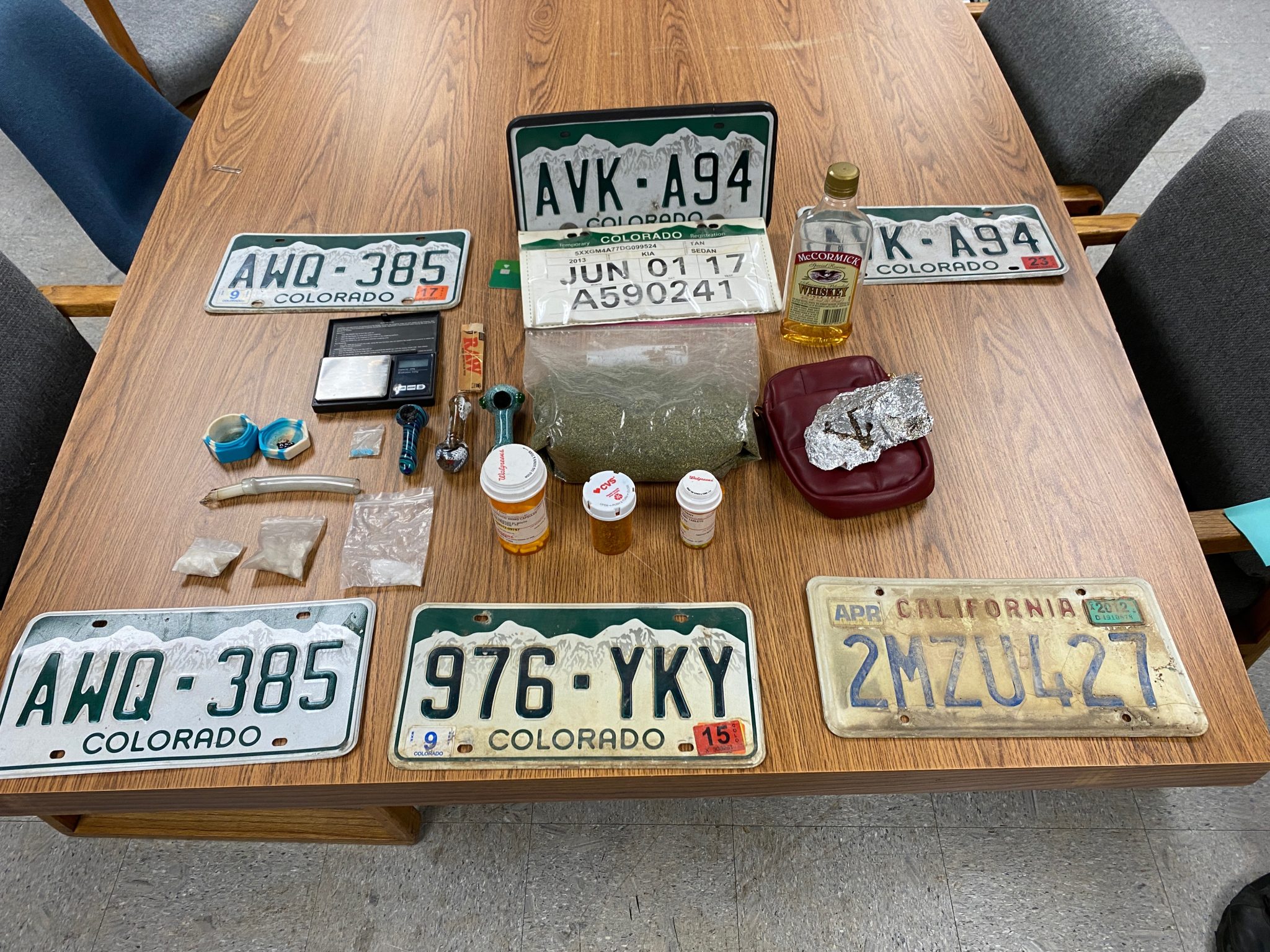 Minden police officers apprehended a fugitive from Colorado while working the Safety Traffic Enforcement Program (STEP) just before 6 a.m. on January 19.
The officer was patrolling the eastbound lane of I-20 where it passes through the city limits when he observed a white Chevy Malibu with Alaska plates driving 85 mph in the 70 mph zone. He initiated a traffic stop. The driver, Ryan Boucher (35) of Lakeland, Florida, had no identification, though he did provide his legal name and correct birthdate.
The officer stepped to the passenger side to speak with the passenger — who refused to identify himself — and he noticed a pipe (typically used for illegal narcotics) on the floorboard next to the passenger's foot. When asked, these men claimed that the only illegal substance in the car was some THC concentrate, which they willingly handed over.
After calling for backup, the vehicle was searched and yielded a total of 167 grams of natural marijuana, 6 grams of methamphetamine, 57 gabapentin pills in various bottles, 48 buspirone hydrochloride pills, 64.5 sertraline hydrochloride pills, approximately 0.5 gram of THC concentrate, a meth pipe, 3 marijuana pipes, and 3 unknown blue pills.
The passenger was later identified as Corey Morris (35) of Colorado Springs, Colorado, and he was a fugitive from Colorado.
"When someone crosses state lines and is wanted, unless it's a major crime, most of the time they won't extradite the person," said Police Chief Jared McIver. "Colorado was contacted. The authorities up there said, 'Absolutely. Full extradition; we will take him and come get him.' That tells me that the passenger was trying to get out of Colorado because they were looking for him."
Besides the drugs, a number of suspicious license plates were found in the vehicle. At state lines there are license plate readers that will alert local law enforcement if they detect a vehicle that has been identified as stolen or as belonging to someone with a warrant for their arrest. It is presumed that these men were switching out license plates to evade the law, since the passenger was a fugitive from Colorado.
The officer who initiated the traffic stop was working STEP at the time. STEP began in April 2021 in an effort to decrease accidents on I-20 where it passes through the city limits. Drivers must be doing at least 12 mph over the speed limit to be stopped.
"We're slowing down speeders and reckless drivers on the interstate," said McIver. 'I've been working in Webster Parish in law enforcement for almost 27 years now, and that stretch inside the city limits of Minden has always been very bad for a lot of fatality accidents and wrecks. Since we've implemented this program, it has put a huge damper on it. I'm not sure if we've had a fatality accident in this stretch since we implemented the STEP program. It's a good program in that we're slowing down speeders, we're taking weapons off the road, and we're taking drugs off the road."
Both men were arrested and charged with possession of a schedule II (meth), possession of a schedule I with intent to distribute, possession of a schedule I concentrate, two charges of possession of a legend drug, possession of drug paraphernalia, and open container. Boucher was also charged with exceeding the speed limit. In addition to the drug charges, Morris was also charged with resisting an officer and being a fugitive from Colorado.
All subjects are presumed innocent until proven guilty in a court of law.