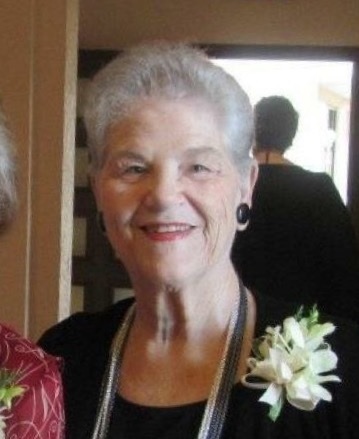 Nan Hunter Castle of Sarasota, Florida passed away peacefully after a brief illness. She was 82 years old.
Nan was born in Shreveport and grew up in the idyllic small town of Minden. She attended Minden High School and was the head drummer in the band there. She greatly enjoyed playing snare & was also timpanist with the orchestra. She was selected as the timpanist for the All-State Orchestra of Louisiana at L.S.U., Baton Rouge and was a member of the Gov. Robert Kennon (LA) Inaugural Band that marched at his inaugural parade in Baton Rouge.
Nan was a member of the First Methodist Church in Minden and also sang in their choir. She had a lovely singing voice and sang solos there too. She also sang in the Minden High School Choir, as well as in the Girls Glee Club, singing solos again at both. She raised the Minden High School Choir a whole octave in an acapella spiritual number at the State level with her solo, garnering the highest score possible for them that year.
Nan also had a delightful sense of humor not only in high school, where she won "Wittiest Girl," but throughout her life. Her favorite song was Alley Oop Oop.
After high school, Nan moved to Dallas to attend and study art at the Dallas Art Center. She then moved to Sarasota to attend and further her art studies at the Ringling College of Art & Design. She furthered her art studies in oil portraiture with Col. John DeWitt, as well as floral still life with Sarah Wilkinson.
It was during Nan's time at Ringling that Nan met Frank D. Castle, formerly of Berwyn, Illinois. They were wed in Minden on Aug. 13, 1954. They subsequently had three children.
Nan was married to Frank for 63 years.
In addition to Nan being a "stay at home" mom and very active in her children's lives, she did freelance art work all of her life. There was always some project she was working on at the dining room table. Nan was keenly proficient in a great variety of art mediums including oil, calligraphy, tempera, caricature drawing, trapunto, wood carving, pen & ink, pointillism & more. At the request of her friend James Cash, she designed the official logo for the Sarasota Ski-A-Rees.
She was asked regularly to her children's school parties to demonstrate her art talent to the students and to inspire them artistically. Nan was such a positive role model that at least one of those students, Brenda Watson, said she went on to become an artist in her own right, as well as an art teacher, due entirely to the time Nan spent with her.
A tremendous generosity of spirit dwelled in Nan. Not only was this represented with her art, but was a common thread throughout her whole life. It is this that is her legacy.
The Southern Louisiana Art Association honored her by holding a one-woman exhibit of her art. Nan became a member of Sarasota's First Presbyterian Church and sang in their choir, singing some solos there too. She did the artwork for their weekly Church programs for many years. She was also a member of the social Beta Sigma Phi Sorority, Alpha Eta Chapter and made many dear life-long friendships through it, in addition to helping raise funds for worthy charities.
After her children were grown, she subsequently worked for a number of years in her daughter's local real estate office, Evergreen Realty Corp., doing all of their commercial art. She designed Evergreen's business logo also. She had a sweet smile and caring demeanor that are missed by many. Another love of Nan's was dancing. She & Frank danced regularly at the Cabana Inn when Harry Howard DJ'd there and later at the Sahib Shrine Tea Dances. Nan also was particularly patriotic. She greatly loved her country. Another favorite song of hers was God Bless America.
Nan is survived by her husband; Frank D. Castle, and her three children; Laura Atkins, Lu Anne Wilson, and Jay Castle, her six grandchildren; Daniel B. Wilson, McKinley Epling, Jaager Good, Derrick Dogan, Maddux Castle, and Lillian Castle, and her three great-grandchildren; Colin Wilson, Trey Wilson, and Ryker Castle Good. She is pre-deceased by her father; Larry B. Hunter, her mother; Gladys Powell Hunter, her sister; Bess Hunter, her five brothers; Sam Hunter, Bill Hunter, Joel W. Gearhardt Jr., Joe Hunter, and Ben Hunter, and her daughter; Dedra Newman Castle.
We hope you'll join us in the Celebration of Nan's Life on Tuesday, Oct. 17, 2017 at 2:30 p.m. at First Presbyterian Church, 2050 Oak St., Sarasota, FL. Patriotic dress is suggested. The Rev. Dr. Glen Bell will be officiating. A reception with refreshments will immediately follow the Celebration in Fellowship Hall, also at the Church. In lieu of flowers, Nan specifically asked that donations be made to the Salvation Army and/or the American Cancer Society.