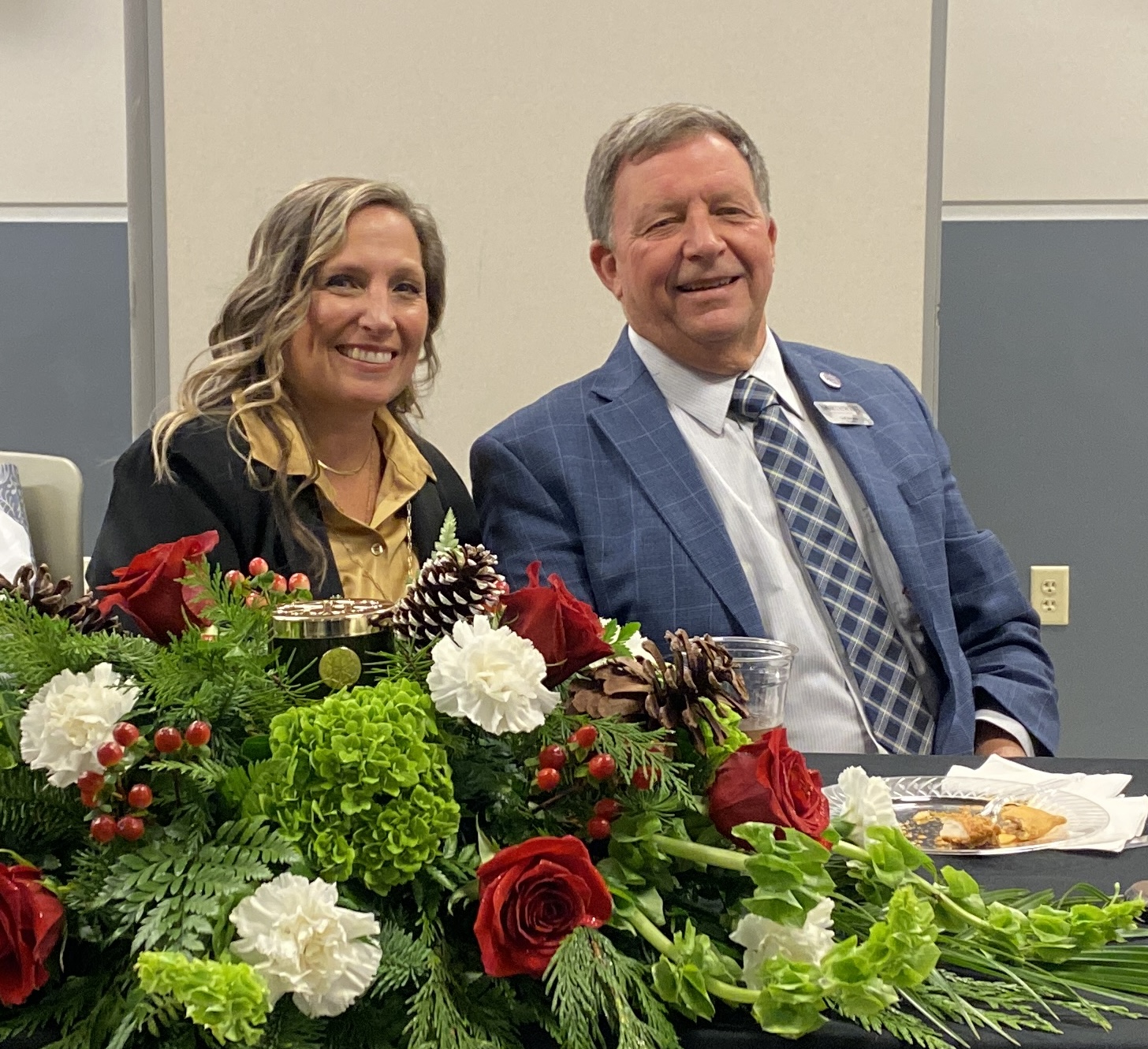 Northwest Louisiana Technical Community College (NLTCC) hosted a retirement party on December 15 for their current chancellor, Dr. Earl Meador, to celebrate his career and wish him well in his future.
Community, business, and school leaders took turns expressing how much they appreciate Meador both personally and professionally. The warmth and humor these speakers used made their deep appreciation apparent.
Melanie Sotak, vice chancellor of finance and administration, said, "It's been a wonderful four years working with Dr. Meador and learning from Dr. Meador. He loves this college, he loves the faculty, the staff. He has gone to battle for each of us for what this college represents for the three campuses. And he secured the legacy, along with those of a few of the community, of what this college will be for years to come." Sotak then presented Dr. Meador with a plaque from the school and a metal cross sculpture that had been created by welding instructor, Steve Perryman.
Next, Dr. Richard Campbell spoke, saying, "He's been a great friend to the college obviously, a great friend to the community, and a great friend to most of us. And I know that he's proud of Dr. Spillers who's going to follow him. I'm hoping for one thing…that this boat that he's working on…I hope it takes a long time to complete because I don't want to see the guy leaving anytime soon."
Mayor-elect Nick Cox was the next speaker; he said, "What happens at this school is very important to Minden. It's very important to our community and all those that live here. What's happened here over the last five and a half years has been very remarkable. You deserve all the credit for what you've done. You and your team have worked hard to take this school from the level it was to the next level. And then, when we thought it was good enough, it went to the next level. So we're very proud of what you've done here with your time and your service. We know that the future is laid because of what's happened in the past."
Wayne Patterson presented Dr. Meador with an illustration of Popeye the Sailor Man, and said,"When I really have strong approval for someone, I call him a Popeye Man. And you're a Popeye Man. He yam what he yam, and that's all that he yam. And that's what you get every day."
State Representative Wayne McMahen related the story of his first bill that was passed which was a bill to make our vocational school a community college. Dr. Meador is the person who inspired this bill by showing McMahen the importance and the process needed to accomplish this goal as well as helping McMahen educate the legislative body of the same. Being a community college opens up opportunities for more funding which is a benefit to both the school and students.
"He saw what we needed to do to keep this school the way it's been for the past 50 years — serving our community," said McMahen. "We started down that process, and they said it'll take 8 to 10 years. Well, we've caught up with a couple of schools that have been trying for 8 to 10 years in just a couple years. And it's because of his leadership and his vision of what it takes to get our school to where it needs to be. We hate to lose Earl from our community. Not everyone that comes and works in this community invests themselves in the community like Dr. Meador has. We've been blessed because of that."
The next person to take the podium was Tracy Campbell. "In every profession — medical field, business world, education — there's always people that stand out, that you remember and think 'Man, they are really passionate about their job.' You are one of those people in our community — in the education field, particularly at this college — you put your money where your mouth is. You're not afraid of hard work. You're not afraid to get down and do the least job all the way to the greatest job, and that is being the chancellor of this college."
James Madden said, "I don't know that there's a whole lot left to say. I've never heard any more accolades than we have tonight, but everything that's been said is absolutely the truth. I came here tonight wanting to do one thing and that's to wish Earl and Lori the very best in their tomorrows. They've become more than a chancellor, more than our college leadership, they've become good friends to everybody. Everyone who knows Earl and Lori have made good and lasting friendships."
Mr. Madden continued, releasing some exciting news about NLTCC, by saying, "This school was chosen out of 782 community colleges in the United States, as far as the quality of school that we have. On that list, we're number six. And that is a direct result of Earl's leadership, his knowledge, and his wisdom to carry the day and make this school a bigger and better place. I want to wish them the very best and thank them for what they've done and congratulate them for all their achievements."
Dr. Jayda Spillers, the chancellor-elect, was the last to speak to Dr. Meador. She related a story of the first three times she worked with Dr. Meador, when she was still working at the high school level. Dr. Meador helped her to fix a problem with dual enrollment, to create a new program for high school students, and to show a single graduate his importance by having a graduation ceremony instead of simply delivering the diploma.
And when an opportunity to work for Dr. Meador arrived, Dr. Spillers said, "I really didn't think twice about coming to work for Chancellor Meador. I knew what a wonderful leader he was and how dedicated he was to building relationships, and I wanted to work with him. Thank you, Chancellor. Thank you to Lori and your family. We love you."
Dr. Meador then stepped to the podium to make his response. "It's a transition time," Meador said. "I have very mixed feelings about it, but it's a time that I'm also happy about the future. As I look across this room, I see people. Each one of you has played a role to make this place a success. Each one of you has dug in and did your part in your community, in your realm. You worked hard to make it something special. As I look across this room, I think of the journey to get us where we are today, and how much each of you have worked to get us here. And I want to leave you with some positive thoughts. We have a future locked in for this college. We have our community college status, we have our application in to SACSCOC [Southern Association of Colleges and Schools Commission on Colleges] that we've started, and we have a leader going forward that's going to stick with it and who has what it takes to make this community technical college be what it needs to be. Dr. Spillers, I believe in you. I couldn't be happier about the choice that was made."
Dr. Earl Meador plans to spend more time with his family and work on his boat. Dr. Jayda Spiller's appointment as chancellor of NLTCC will be effective January 1, 2023.