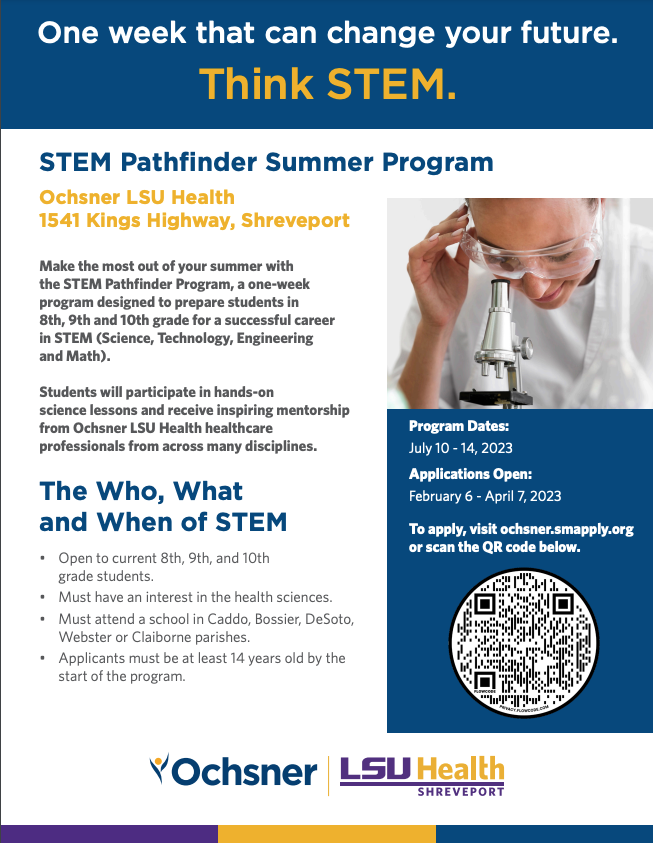 SHREVEPORT, La. – Ochsner LSU Health Shreveport is now accepting applications for the STEM Pathfinder one-week summer program. STEM Pathfinder is a cost-free event that will encourage entry into the health sciences workforce by introducing local high school students to a wide range of career paths. The program will take place at Ochsner LSU Health Shreveport – Academic Medical Center July 10 – July 14, 8:30 a.m. – 3:30 p.m.
Throughout the program, Ochsner LSU Health professionals across many disciplines will provide mentorship to students, preparing them to make intentional career decisions. In addition to career chats and tours of the facilities, the program incorporates hands-on learning opportunities. Students will conduct clinical skills training and have the chance to experiment with science laboratory equipment. After attending STEM Pathfinder, previous participants said they felt more confident in their ability to become a healthcare professional and more interested in pursuing a healthcare career.
Applicants must meet the following eligibility requirements:
• Current high school students in 8th, 9th, or 10th grade
• Must be at least 14 years old by the start of the program
• Interested in health sciences
• Must attend school in Caddo, Bossier, DeSoto, Webster or Claiborne parishes
The 2023 STEM Pathfinder application is open now through April 7, 2023. Students can learn more and apply at ochsner.smapply.org. To learn more about Ochsner LSU Health, visit www.ochsnerlsuhs.org.