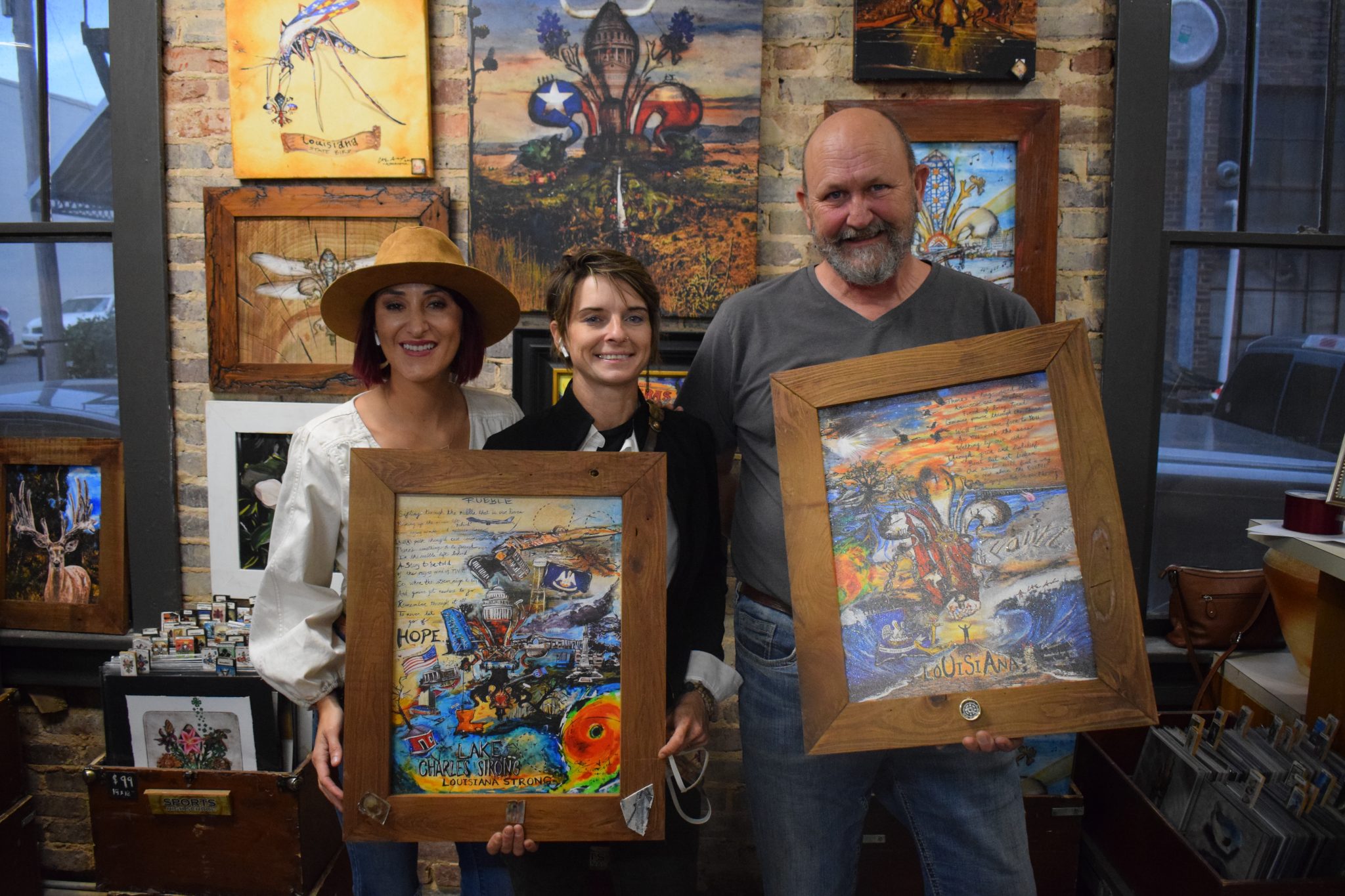 A showcase for artist Candice Alexander was held at Easley Studios last Tuesday before thanksgiving, where she showcased her vast portfolio of Louisiana themed paintings and pieces.
Alexander is most known for her eccentric and expressive depictions of fleur de lis that she brings to life with her paintings. Each one a unique college drawing from a wide variety of inspiration.
She states that she decided to make the beloved Louisiana symbol a focus of her work after she was commissioned to make her first back in 2007. The person who ordered the piece never picked it up, and when Alexander brought it back to Louisiana she said, "People went crazy over it. I didn't think anything of it. I'm from Louisiana, what's a fleur de lis, I see it every day."
While she didn't initially think much of that initial piece, the fleur de lis would later become one of her main inspirations for her work. "I'm really known for that. That was kind of a full circle, because at the same time I did the engraving, I was writing about creating a body of work that would reach the masses, and in less than a year, I did."
Alexander has also been making waves recently due to a series of pieces she has released focusing on Hurricane Laura and its impact on Louisiana physically and emotionally. These pieces also showcase poems written by Paige Vidrine.
Alexander herself lost her business as a result of the hurricane, losing not only a store, but also her work as well. It was under these conditions that she created the piece titled Hope.
"I did it not inspired, I was on the ground. My studio, every window was blown out, there were millions of pieces of glass in the whole store, some of my oldest paintings were blowing down the street and stuff. It's different from just losing a roof that you can replace," said Alexander.
"I was walking around the block finding them. People were finding them down the road. It was bizarre."
This piece has been widely popular due to it illustrating the essence of what people impacted by the hurricane were feeling. "It really captured what everyone was feeling. It told a story of what everyone was going through," said Alexander.
Even after losing her studio, Alexander stated that the months following the hurricane have been the busiest in her life. This is due in part to the popularity of the Hurricane Laura series, but also due to her developing her business online. Since going virtual, she has sold over 1000 copies of her "Hope" piece alone.
"It's kinda easy to get out there now, but it's something I couldn't have done 20 years ago because of the technology," said Alexander.
In a weird twist of fate, Alexander's story represents making the most of a bad situation, and shows that perseverance can be had even in the most grim of times.
Anyone interested in looking at or purchasing Alexander's work can do so at Candicealexander.com. Individuals can also text 313131 with "Candice" as the subject for message alerts about her shows and art work going for sale.