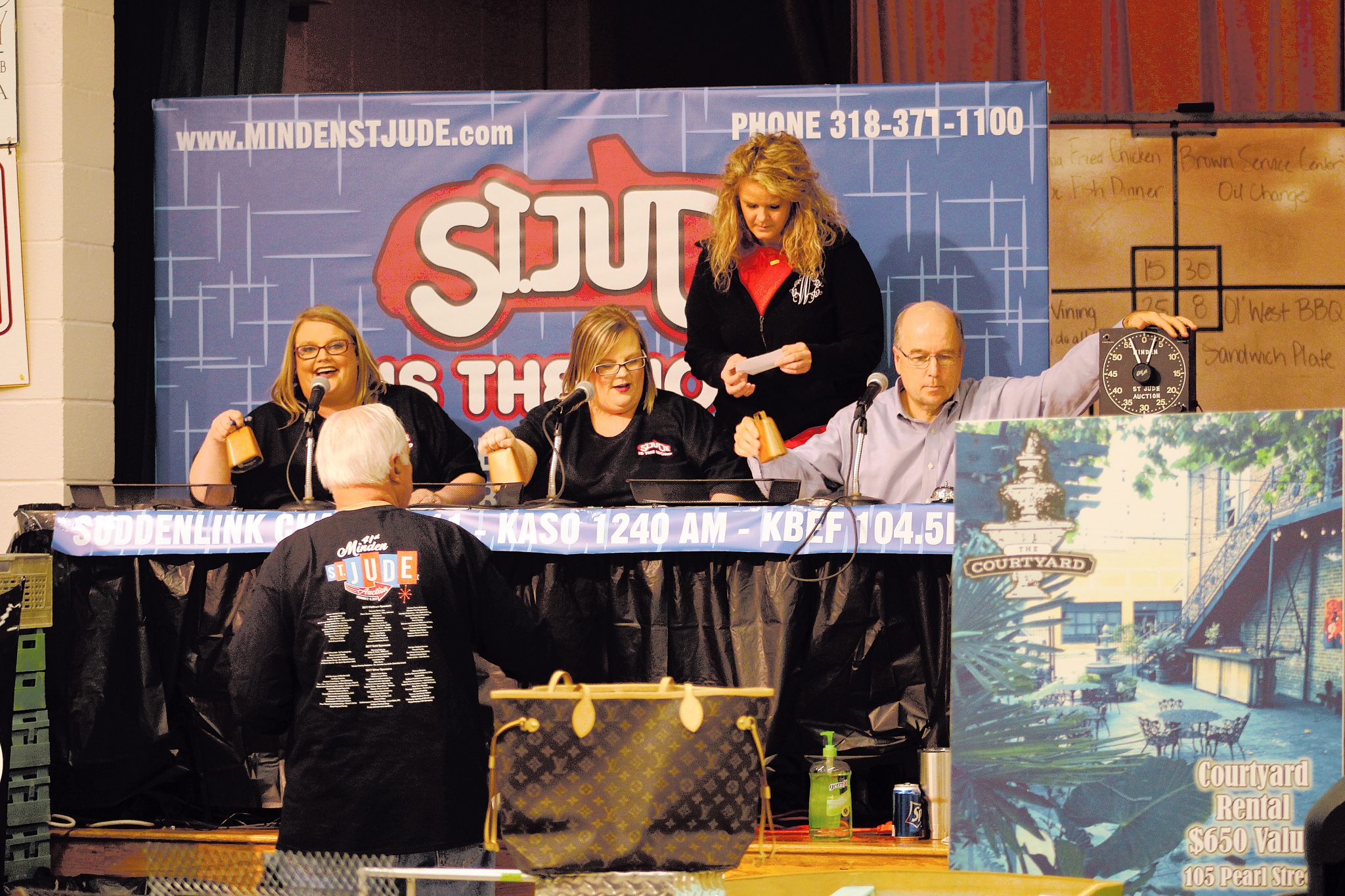 The St. Jude Auction is in full swing.
After a successful Thursday, channel 11 was back up at 7 a.m. Friday taking pledges for the many items up for grabs.
The auction is also being aired on KASO AM 1240 and streaming online at www.mindenstjude.com.
The theme for this year's auction is St. Jude is the Word.
All records were toppled last year as the money raised went over the $1.4M mark; a record that officials hope will be broken again.
The Minden Run for St. Jude will kick off the day Saturday. Hundreds of walkers and runners are expected to fill the streets in an effort to raise money for the children of St. Jude.
The annual Minden St. Jude Chili Cook-Off kicks off at 8 a.m. and runs until 4 p.m. The Dorcheat Bottom Band and The Hard Times Band will provide entertainment.
St. Jude Kids Day will be presented by the Young Women's Service Club of Minden and will take place from 10 a.m. until 3 p.m. outside the civic center. Admission is $3 and will include bounce houses, face painting and arts and crafts. All proceeds will be donated to the Minden St. Jude Auction.
LifeShares will hold a blood drive from 11:30 a.m. until 4 p.m. in the foyer of city hall.
This year's grand prize is a 2017 GMC Denali from Harper Motors or $50,000 cash. Tickets are $100 each and may be purchased by calling the auction's hotline at 318-377-1100 or on the auction's website.
Partners In Hope – $20 monthly donation for one year or $240 – prizes include a Rolex watch, Disneyland trip for four or a media package, which includes a 55-inch HD TV and media cabinet.
The St. Jude web site is also up. Pledges can be given over the Internet at www.mindenstjude.com.
The Minden Fire Department constructed the Grease inspired playhouse, which resembles a 50s malt shop.
Friday
11 a.m. – $10 Brisket sandwich, beans, chips, cookie provided by Webster District Attorney's Office
5 p.m.– $8 Jambalaya Dinner provided by Knights of Columbus
Saturday
8:30 a.m – Beinets for Breakfast
11 a.m. – $5 Chili and YumYum Cake provided by Little's Rod and Black Pot and The Minden Main Street Board
5 – 7 p.m. – $10 Fried Fish Plates Gary Brown and The Alley Cats
Sunday
11 a.m. – $10 Cajun grilled chicken, sausage, baked beans, potato salad provided by Grace Estates
4 p.m. – $8 Hamburger, chips and drink provided by Wayne Avery