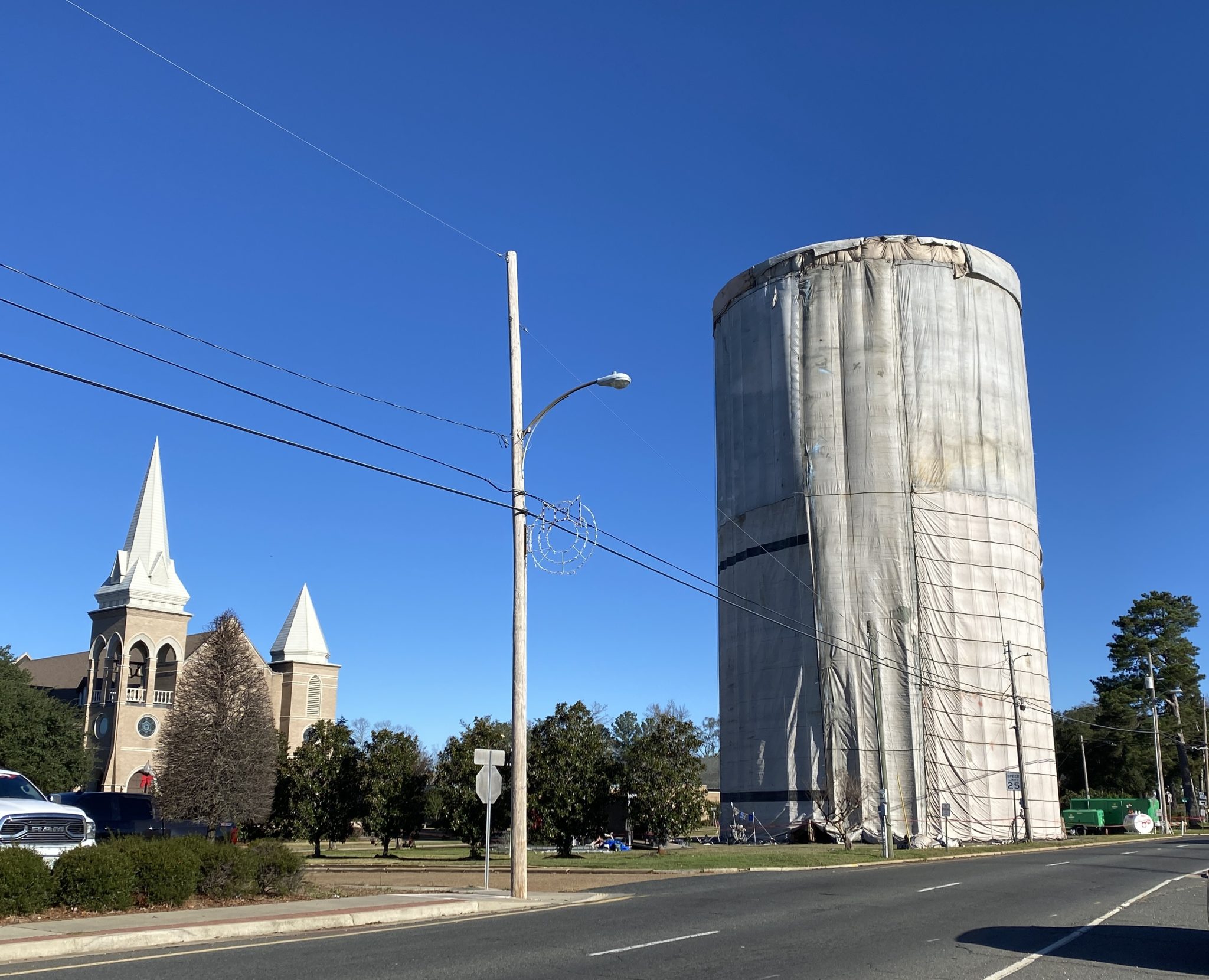 If you've driven through downtown Minden lately, you've probably noticed that the water tower is having some work done on it. The downtown water tower is undergoing a complete refurbishment both inside and out. The Minden Press Herald spoke with Mayor Tommy Davis to get the details on this project.
"I think it's been 20 years since the water tank has been rehabbed," said Mayor Davis, "It had some minor leaks in it, and that is being repaired. It has been sandblasted on the inside of the tank — we've already done that — and has been repainted on the inside. That paint has to cure for a while before we can fill it back up. And now they've put that shroud around it so they can sandblast the outside of it. That's what they're doing now. That keeps the sand and the paint and everything from blowing everywhere."
The citizens of Minden can look forward to a refreshed version of the prior paint job, as the color scheme and design will remain the same.
"It's going to have the exact same color and design on it," Davis said. "It may look a different color because that color has been on there for 20 years, and it probably has faded."
The tower lights are also going to be replaced since some had stopped working, so the water tower's new paint job will be well lit.
This project was discussed during the November meeting of the city council, and was estimated to take several months to finish. The water tower refurbishment is expected to be completed in February, 2023.
"We met with the engineer yesterday, and we're hoping in February it will be completed," said Davis. "He gave us a target date of February 14. A lot of the reason [for this time frame] is that the inside was completely drained, completely sandblasted and painted. And now they have to go back in there, and it will have to be sanitized completely on the inside and filled up with water. Depending on what type of residuals you have, sometimes you have to drain it again and fill it up again. You just do that as necessary."
So, in February, Minden residents can look forward to a water tower that not only looks attractive on the outside, but is well maintained and functioning correctly on the inside.