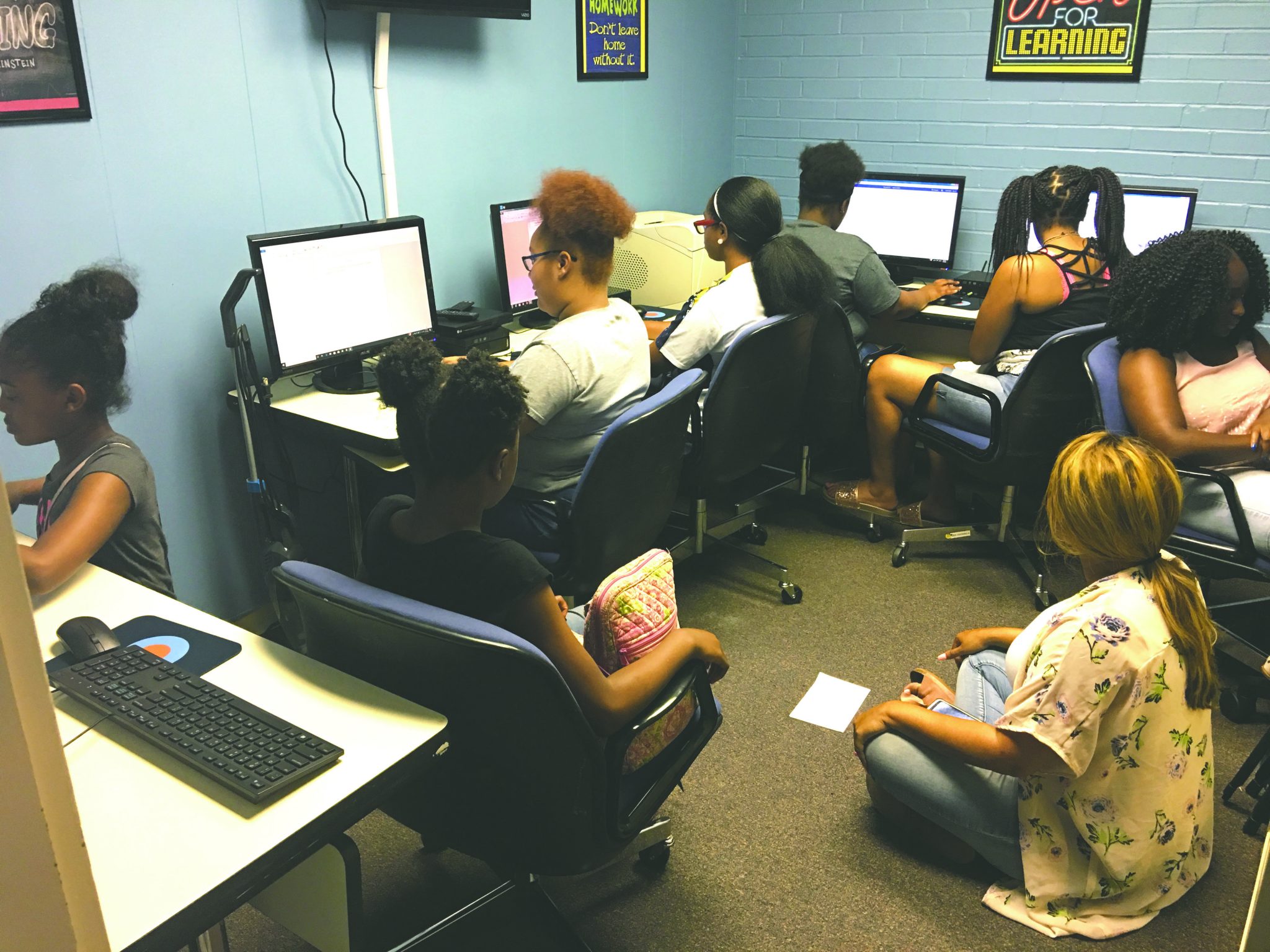 Students learning viable skills with help of generous donations
A local nonprofit is putting some generous donations to good use this summer. Project Reclaim is a leadership institute that aims to help the youth of Minden and the surrounding area by working with them, educating them, and helping them to develop new skills and interests.
"We're trying to empower our young people to stay in school, from one grade level to the next, stay out of involvement in teen pregnancy, and stay out of involvement in juvenile court. We think if young people can reach those kinds of benchmarks in their lives, then they can be successful," said Ron Anderson of Project Reclaim, "The goal is to create the best young citizens that we can, who see the value in giving back to the community."
This summer, charitable donations from businesses in the surrounding area have helped enable Project Reclaim to start teaching new skills to its members. "b1BANK donated eight computers for our use and Basic Matrix out of Shreveport donated some laptops. Ascend Math out of Shreveport, a man by the name of Kevin Briley, donated a license and set up Project Reclaim as a school to use his educational software program. We feel blessed that Kevin Briley, b1BANK, and Ascend Math would do that for us because it's just taken our program to another level."
Ascend Math is a learning program that takes an initial assessment of the kids' capabilities and then gives them progressively more difficult math assignments in order to help them progress in math at a rate that is unique to the individual. "The math scores for students in Louisiana are not good at all. So I saw the value in trying to really bolster our kid's ability in the mathematical arena," said Anderson.
However, math is not the only education experience Project Reclaim students are receiving, according to Anderson. "We're trying to expose our young people to experiential learning, you learn by doing. So we want to really find out what they're interested in and try to get them interested in some other areas that maybe they've never considered," he said.
One of the things Project Reclaim has recently started doing is teaching the students about videography. "Loyd Davis Jr, who is a local videographer, teaches our kids videography. Last week he started teaching the kids how to use the editing software, so they can learn to edit videos that they take. What we want to do is to get their interests piqued in doing other things, kids are media-driven, they love operating the camera equipment, they love doing the videos, so they need to know some of the dynamics that go into that, not just the application. We just want to further their knowledge in that area," said Anderson.
A few of the members of Project Reclaim were kind enough to share their experiences and what they've learned during their time there. "My experience here is that Project Reclaim is a place that helps you gets you ready for the real world and teaches you how to be a leader. You can always be a leader if you follow a good leader. If you follow a good leader, they may teach you things that you may wanna teach another person. " said Sha'nya Levy, 13. She also said, "I learned that no matter what people think, there's no one in the world like you."
"I used to have trouble talking to people and getting to know people. Project Reclaim has helped me get better at introducing myself to people and talking to people," said Darnell Morris, 12.
"I want to say that Project Reclaim is a good leadership institute. It helps young people to become better leaders and become a better leader for the community. The summer program is great and interesting and it's a great place to learn. It's made me more eager to get out and to help people and to stand up for what's right. It's just a great opportunity," said Shemarrera Canley, 17.
"We try to do things to reach out to young people in the community, to help them to be the best the can, and we think that by doing that we make Minden a better place. I'm grateful for the support that we're getting from the Minden Community. You don't do this kind of work by yourself," said Anderson.
For more information on how to sign up for the program, visit their website at www.prstars.org or call 318-423-4987.