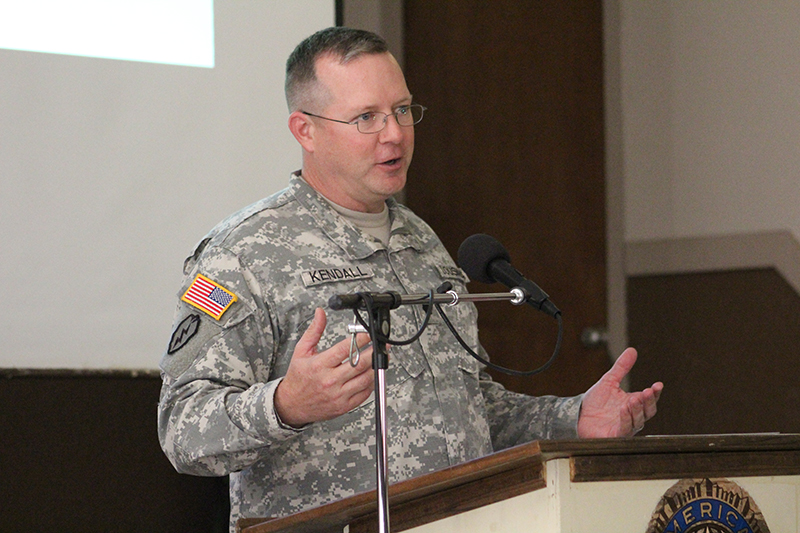 Completion of training
center hinges on federal funds
The Minden Lions Club welcomed Col. Brad Kendall as their guest speaker Thursday to discuss the latest on the 199th Regiment Regional Training Institute at Camp Minden.
The first phase of the project, which was completed in 2011, cost $23.8 million and covered 29,100 square feet, featuring infrastructure, an entry control point, educational building, billeting, a central plant/supply building and dining facility.
There are three phases remaining, starting with Phase II, which is expected to cost $26.5 million by adding an administration building and more billeting. Phase III would cost another $26.5 million before concluding construction with Phase IV ($23.7 million).
All three remaining phases carry an estimated 12 month completion time and Kendall said he currently doesn't know when construction will begin.
"Right now we're still trying to get approval on the funds," Kendall said. "We would love to start tomorrow, to be honest with you, but we have to get someone to allocate the $75 million it would take to get this thing going again."
Kendall said he's heard speculation that some would like to knock out the final three phases in one go, however he made sure to mention that talk is simply rumor at this point. What feels certain is that upon completion, Camp Minden would feature a state-of-the-art training institute.
According to figures presented by the Louisiana National Guard in Kendall's presentation, the finished facility would feature:
97 Full-time staffers
538 students (maximum)
Be able to sleep 560
28+ Classrooms
15,000+ acres of available training area
The RTI conducts various classes in leadership training, military occupational specialty and skill qualification courses. The RTI at Camp Minden, according to a 2010 study, could generate $25 million over a 10-year period for the local economy including:
– $9.5 million in tax revenue
– $12 million in purchase of goods/services
– $5 million in operating costs
– $8+ million in payroll
The cities of Minden and Springhill, Webster Parish Convention and Tourism Bureau, Webster Parish Police Jury, Minden Lions Club, Greater Minden Chamber and Fourth Congressional District Congressman Mike Johnson, R-Bossier City, have all voiced their support for the project's funding.
Camp Cook and Camp Beauregard, located about three miles apart in Rapides Parish, are the only other RTIs in the state of Louisiana. With the new RTI at Camp Minden, all students would be able to train at Minden, which is more conveniently located along I-20 roughly 15 minutes from the Shreveport Regional Airport.
"The goal is to have everyone here," Kendall said. "We want to reduce backlog of NCOES and MOS training and we can do it right here."