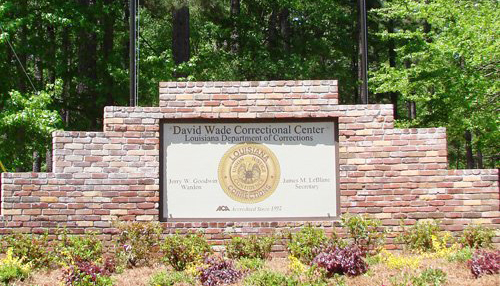 Officials accused of isolating suicidal, mentally ill prisoners
BATON ROUGE, La. (AP) — A Claiborne Parish prison brutally punishes suicidal and mentally ill inmates by isolating them for months or even years, chaining them to wooden chairs and opening windows to expose them to extreme cold, a federal lawsuit claims.
The class action, filed Tuesday, asks the court to rule that prison officials are subjecting inmates at David Wade Correctional Center in Homer to unconstitutional "cruel and unusual punishment." It also seeks a court-ordered end to the "extreme, abusive conditions" at the north Louisiana prison.
Prisoners who ask for mental health care instead are placed on suicide watch, stripped of their clothing and held in solitary confinement on a disciplinary tier for weeks, the 53-page suit alleges. Some prisoners have cut themselves or attempted suicide to escape the conditions, it says.
"Virtually no mental health care is provided to prisoners on extended lockdown, aside from scattershot, poorly administered and inconsistent medication," the suit says.
Corrections department spokesman Ken Pastorick said prison officials deny the suit's claims and "look forward to our day in court."
"The department doesn't typically comment on pending lawsuits. However, due to the outlandish nature of these claims, we're inclined to refute the allegations as baseless claims with no merit," he said in an email.
Attorneys from the Advocacy Center and MacArthur Justice Center filed the suit. In July, they sued for access to the prison so they could interview inmates and staff members.
The new lawsuit claims there is a "culture of cover-up and excessive force" at Wade Correctional Center. Prison staff members respond to symptoms of mental illness by using chemical spray on inmates in their cells; taking away mattresses and clothes so prisoners must sleep on concrete in paper gowns; and opening windows to make it even colder in suicide watch cells, the suit claims.
"The use of extreme cold to punish behavior on the tier is not a single isolated incident and occurs so frequently that prisoners have a word for it, 'bluesing' or 'getting bluesed,'" the suit says.
The inmates' attorneys also asked for a temporary restraining order blocking the removal of video cameras from prison tiers. They claim prison officials dismantled their video recording system to avoid leaving a trail of evidence.
Staff members sometimes restrain suicidal inmates in a wooden chair for days at a time rather than provide them with mental health care, according to the suit.
Prisoners cooperating with the lawyers' investigation were threatened with retaliation or moved out of the prison, the suit claims.
"Defendants have offered promises of putting in a 'good word' toward a transfer to another facility in exchange for individual cooperation to cease participating in the investigation," the suit says.
Last summer's lawsuit included a claim that mentally ill prisoners were forced to kneel or bend down and bark like dogs to get food. That allegation isn't made in the class action.
The state Department of Public Safety and Corrections, corrections secretary James LeBlanc, Wade Correctional Center warden Jerry Goodwin and six other prison staff members are named as defendants in the class action.
Two prisoners, Anthony Tellis and Bruce Charles, are named as plaintiffs. Tellis has been on extended lockdown at the prison since February 2016 and only developed a mental illness after his incarceration. Charles was diagnosed with bipolar disorder before his incarceration and has remained on extended lockdown since June 2016, according to the suit.
Another mentally ill inmate mutilated his genitals, cut his wrists and tried to kill himself by jumping over barbed wire and onto concrete. He received a disciplinary write-up for "general disobedience" as a result of the suicide attempt, the suit says.
The suit also claims Terrence Goudeau, an inmate who was on extended lockdown, hanged himself in June 2016 without getting mental health care treatment he frequently requested.
Most prisoners serving disciplinary time on extended lockdown are mentally ill, confined in cells for 23 to 24 hours per day, and only get one 10-minute phone call per month, the suit says.
"Due to the lack of human contact and uncontrolled mental illness, many will scream, laugh and talk to themselves.
Others rock in place or deteriorate to more severe manifestations of their conditions, such as smearing blood or feces," the suit says.
Wade Correctional Center opened in 1980 and can house up to 1,244 inmates, including hundreds in the compound where the lockdown units are located.