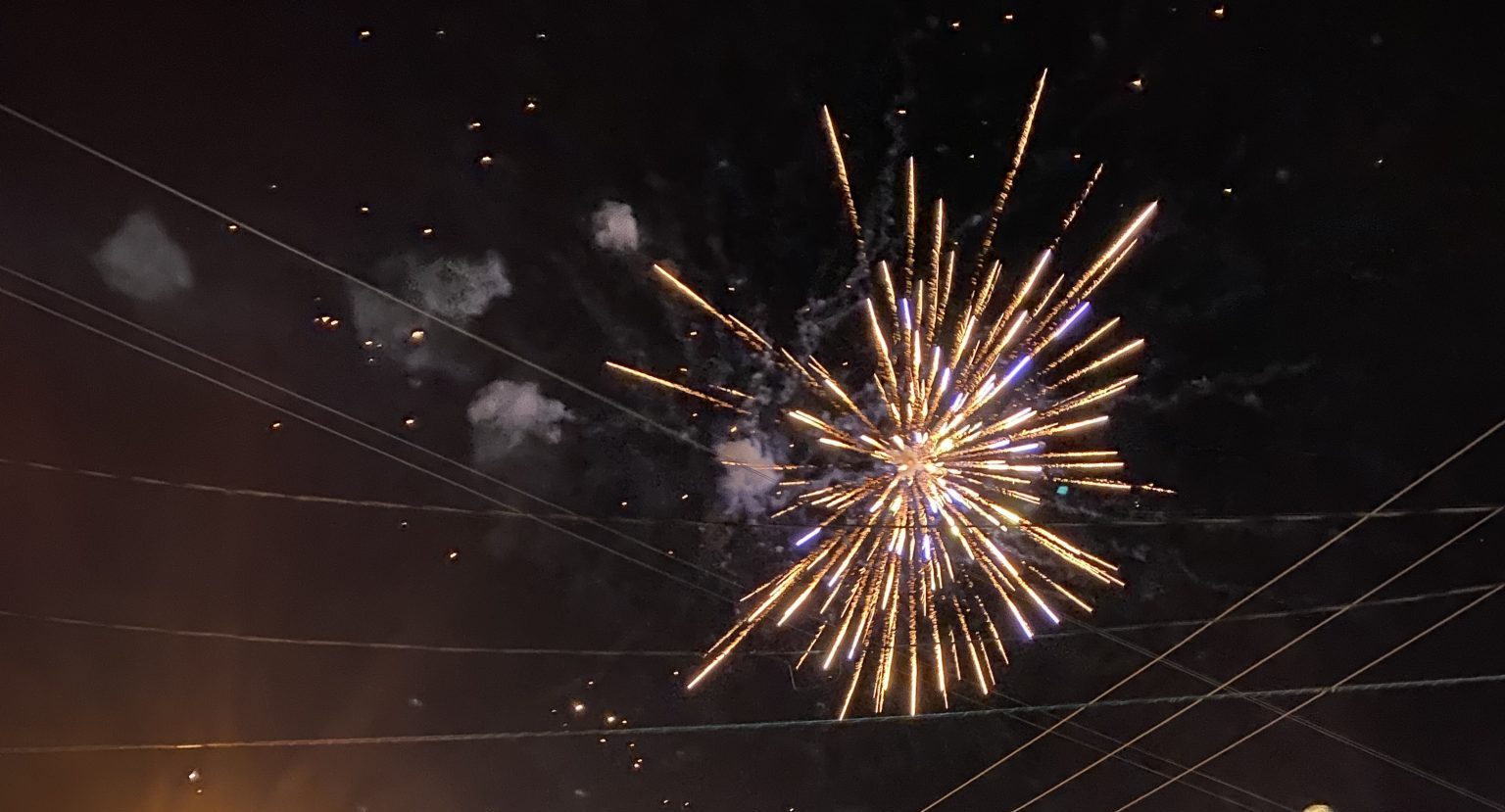 As we fully embrace 2023, the Minden Press-Herald shares some of the top stories of the past year. While far from a comprehensive list, these are some of the best, as chosen by our news team.
Minden gets to work planning for increased tourism after HGTV premiere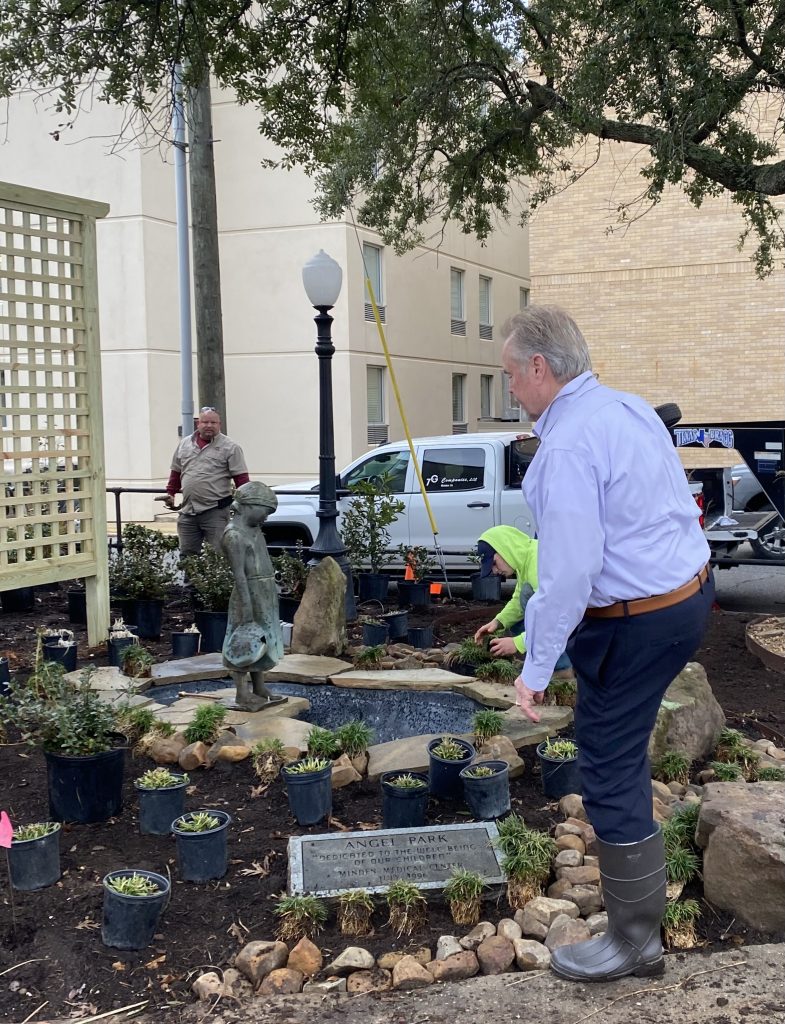 As many know by now, HGTV came to the City of Minden recently to film some of their upcoming season of Hometown Kickstart. Other than the direct benefits of having locales in Minden spruced up, after the episode featuring Minden airs, it is reasonable to assume that the amount of tourists the city draws will significantly increase.
This being the case, the city wants to get ahead of this influx in tourism by prepping the city to cater to those visiting. Representatives from the City of Minden, Webster Parish Libraries, Webster Parish Tourism, the Greater Minden Chamber, business leaders, and involved local citizens met at City Hall to discuss the ways in which they can prepare.
Webster schools suffering from Omicron outbreaks
Many schools in Webster Parish are currently impacted by absences due to the COVID pandemic. At this month's school board meeting, Assistant Superintendent Kevin Washington listed the class closings at schools in the parish.
Central Elementary had one Pre-K and one 5th grade class closed. North Webster Lower Elementary had a 1st grade and a 2nd grade class closed. North Webster Jr. High has closed a 7th grade class. At North Webster Upper Elementary, a 3rd grade class has been isolated, and at North Webster High, a special needs class has been quarantined. Jones Elementary was still vetting a 3rd grade class before making a decision, and the same is true for a 3rd grade class at Brown Upper Elementary and the Minden High soccer team.
Doyline has been closed due to the large number of teacher absences. At the time of the meeting, Doyline had 13 teachers out. As Ms. Long stated, "You can't run a school if 60% of the teachers have COVID." They were scheduled to reopen on Wednesday. Lakeside is still conducting classes virtually.
Lemoine crowned Miss Minden 2022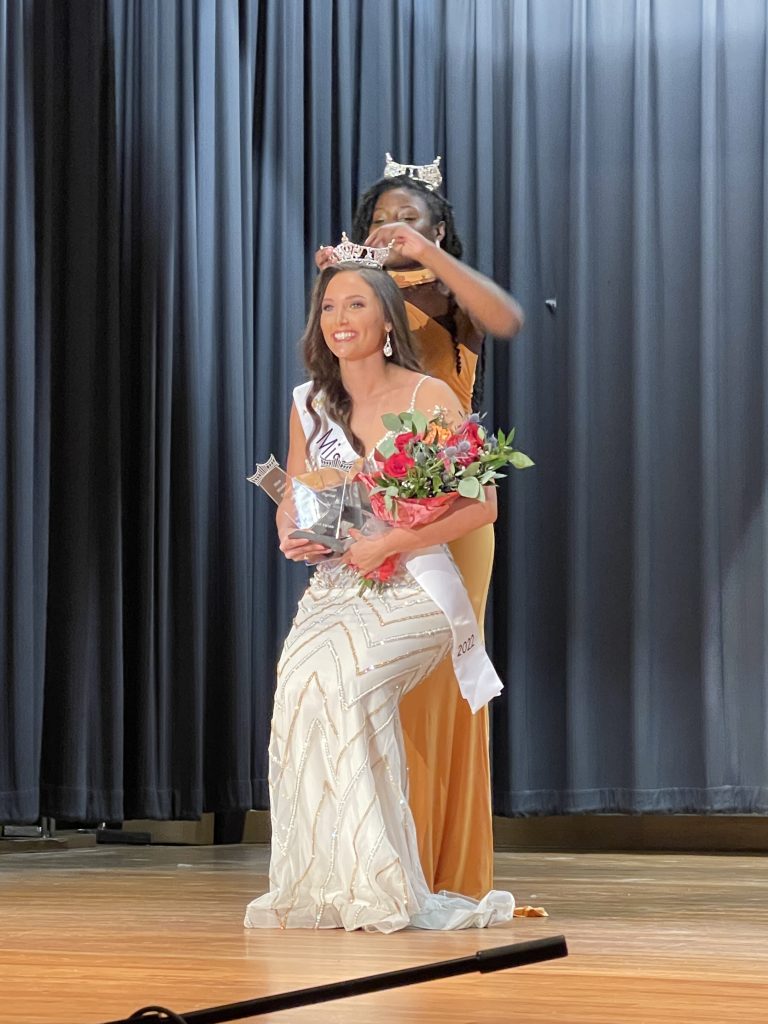 This past weekend the 2022 Miss Minden pageant took place when eight young women competed in a variety of categories to determine who would best represent our town with the titles of Miss Minden, Miss Spirit of Fasching, and Outstanding Teen.
After a night of fierce competition, the judges for the pageant ultimately made the decision to crown Anna Claire Lemoine as Miss Minden 2022. "It was honestly insane. I started out in the Miss Minden organization as a teen, and just being able to come back and win Miss Minden and be able to give back to my community as well as encourage other girls to step into the Miss America and Miss Louisiana Organization is just an absolutely humbling experience," said Lemoine.
Olivia Blackwelder crowned Apache Princess 2022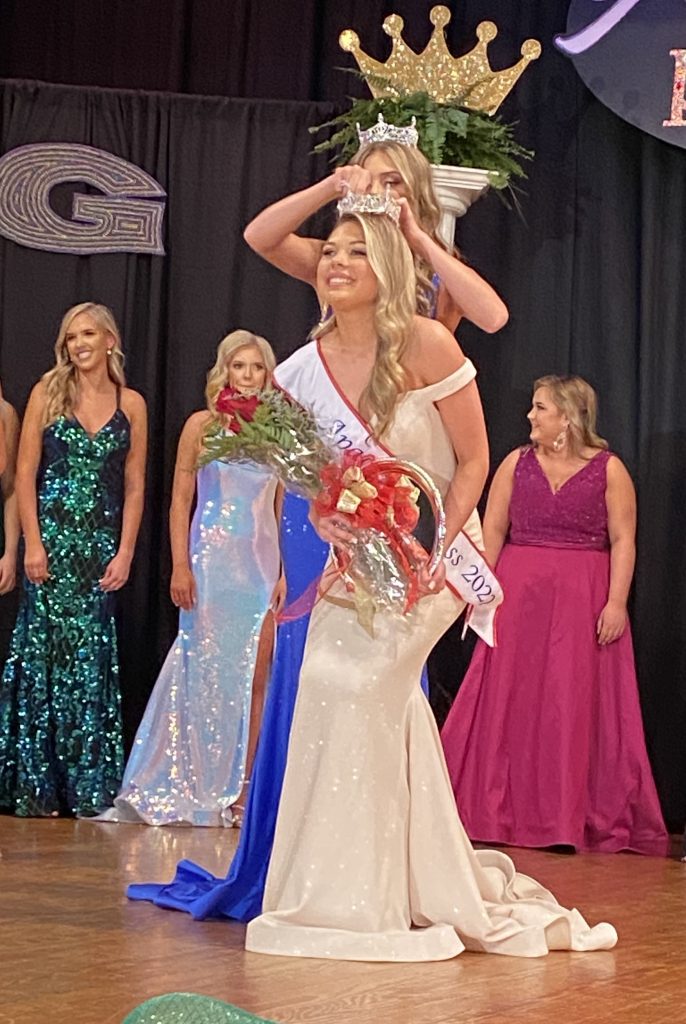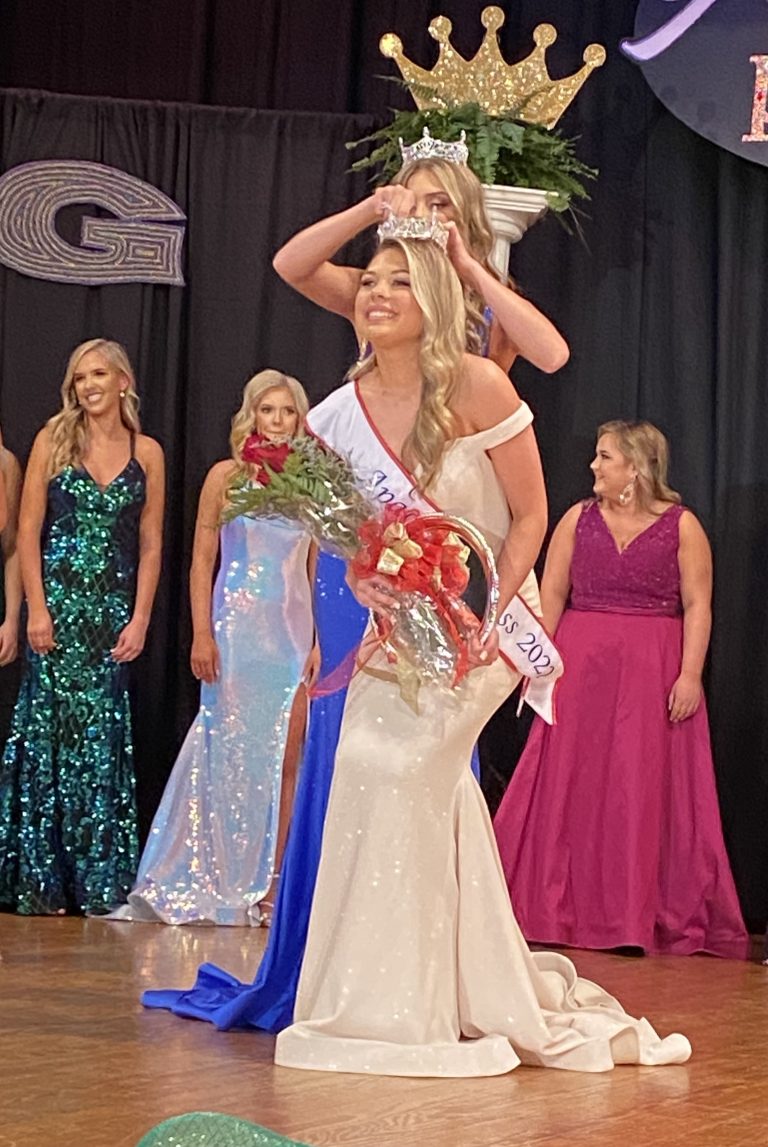 Olivia Blackwelder was selected as Apache Princess 2022 for Glenbrook tonight at the Minden Civic Center. She was crowned by the 2021 Apache Princess, Emma Pitman.
Twenty-two young women competed for the opportunity to represent their school, showing beauty, grace, and charm.
The runners up in the competition were 3rd runner up, Vivian Still; 2nd runner up, Emalyn Anders; and 1st runner up, Sarah Margaret Mosley.
Unaccompanied veterans laid to rest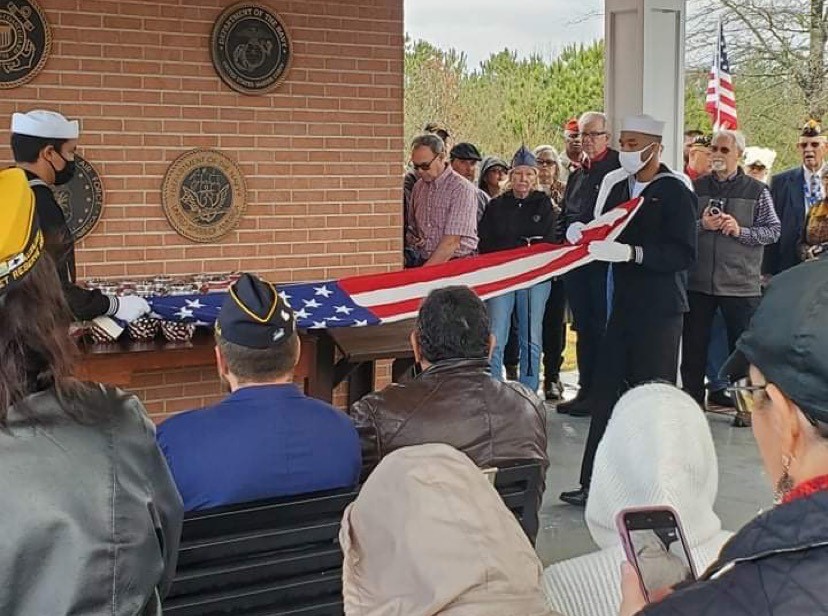 Thirteen veterans with no known living relatives were buried with military honors at Northwest Louisiana Veterans Cemetery on February 17, 2022. Cemetery personnel invited residents of the Ark-La-Tex area to attend a military ceremony for these veterans, because no veteran should be buried alone. The 13 veterans represented every branch of the military except the Coast Guard.
Judge Sentell facilitates civic learning at Glenbrook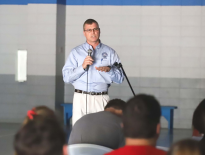 Judge Sherb Sentell recently visited Glenbrook School to teach information about 1st Amendment Rights as part of the Judges in the Classroom program.
Judges in the Classroom was started twenty years ago by Judge Benjamin Jones as an outreach program with the goal of assisting teachers in educating students about government and the court system. Judges visit schools to teach lessons or classes come to the courthouse to see the process in action.
Police officers receive the Life Saving Award

Five Minden police officers received the Life Saving Award this week for rescuing a critically injured young man.
"Five MPD officers worked together as a team and went above and beyond the call of duty to preserve the life of a juvenile who suffered a life threatening gunshot wound to the neck area. Their bravery and quick action, in all likelihood, saved a life," said Minden Police Association's Facebook post. "They bring great credit upon themselves, the Minden Police Department, and the City of Minden."
Congratulations and thank you to CPT Morris, CPT Morgan, LT Young, OFC Griffith, and OFC Cayer for your unparalleled service to the citizens of Minden.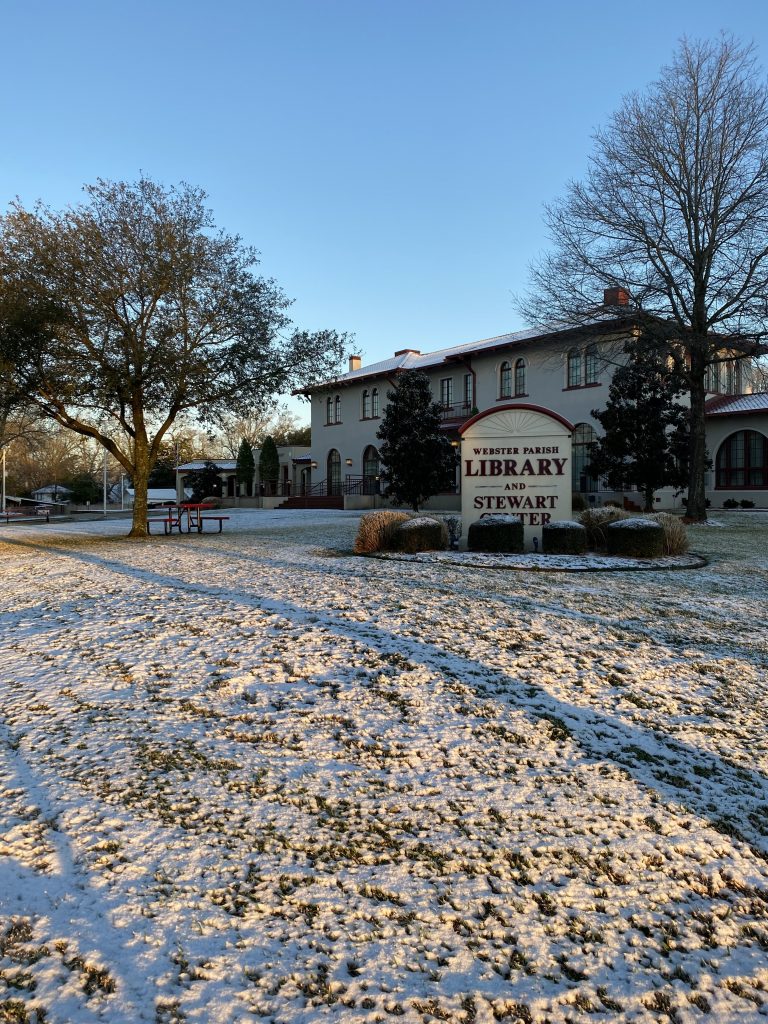 A late-winter snow event occurred Friday evening, leaving Minden dusted in snow. Snow in March is unusual but not unheard of. According to the National Weather Service, this area last had a March snowfall in 2015. Spring officially begins on Sunday, March 20, 2022:
Easter egg hunts at the library and the Farm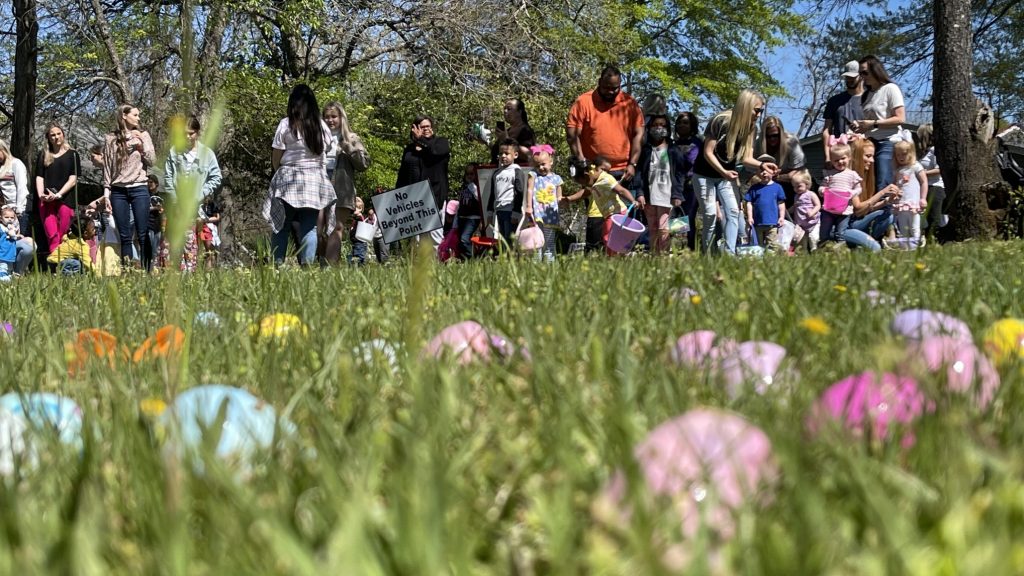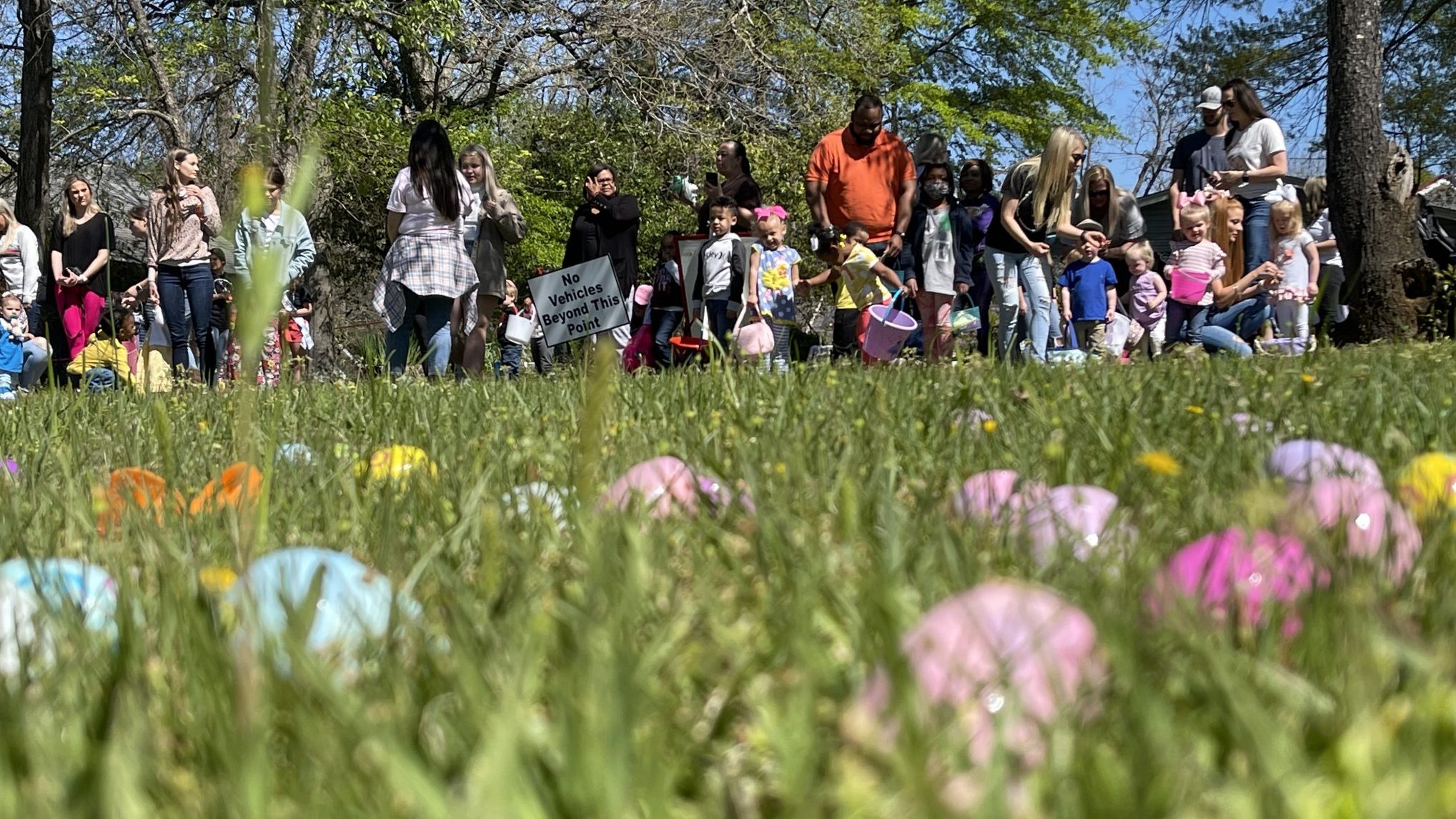 To celebrate the upcoming Easter Holiday, both the Webster Parish Library and Farm of Cultural Crossroads hosted egg hunts over the weekend. These events saw numerous attendees scrambling through the fields of grass filling their baskets to the brim with a variety of colored eggs containing all types of sweet treats for the children to enjoy. While the egg hunts were the main event, there were also other activities to be enjoyed. The library offered Easter decoration making arts & crafts while at the Farm kids could wait for their turn to hunt while jumping around in the bounce houses that were set up for the occasion.
Town and Country gifts Easter baskets to CASA kids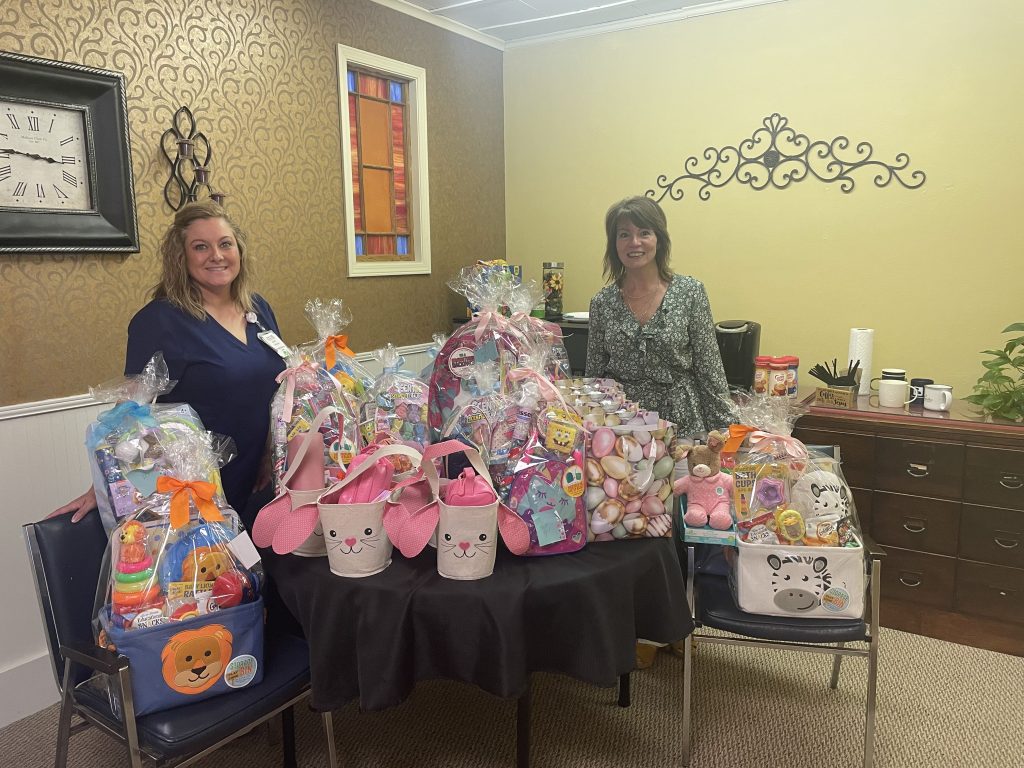 Towns and Country recently helped to spread some Easter cheer to the kids at CASA by making and delivering Easter Baskets to them this past Tuesday.
The idea for making Easter Baskets to give to CASA was spearheaded by Town and Country's Marketing/Admissions Director Jodi Hicks. Snyder said of the initiative, "She herself is a mother, and a lot of us department heads are mothers, so we have a soft spot here for the children."
A total of seventeen Easter baskets were delivered, with twelve of them being donated by Town and Country, and the remaining five donated by LifePath Hospice Care Services in Shreveport.
Severe storms leave Minden residents without power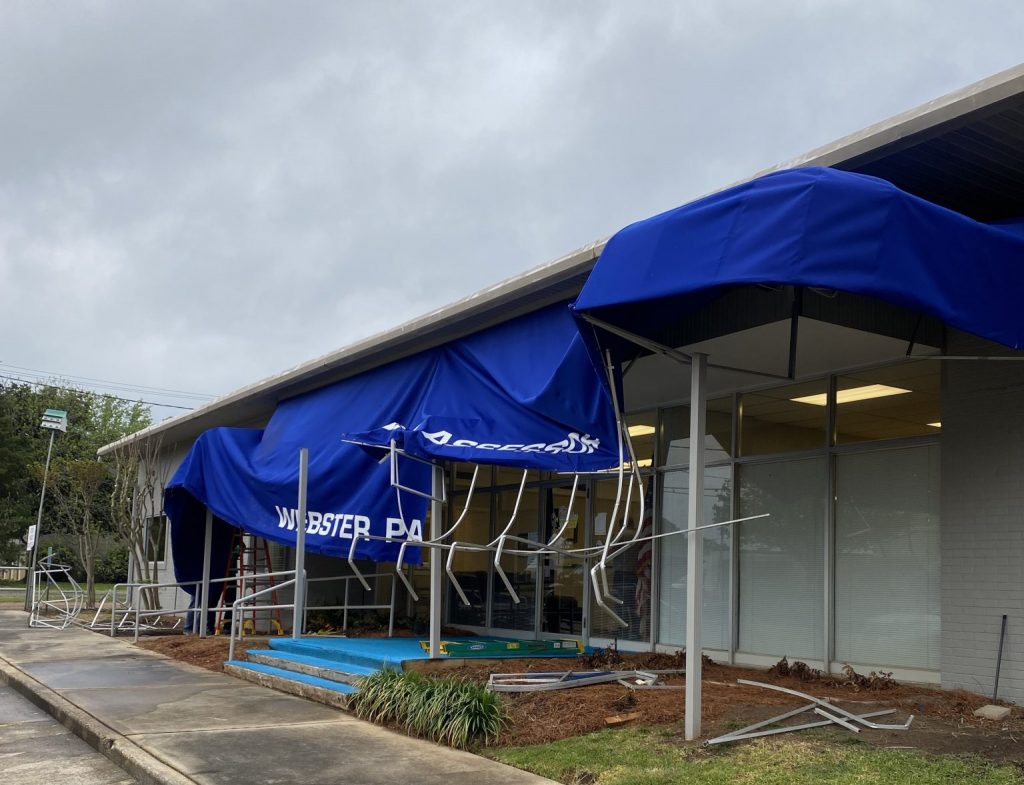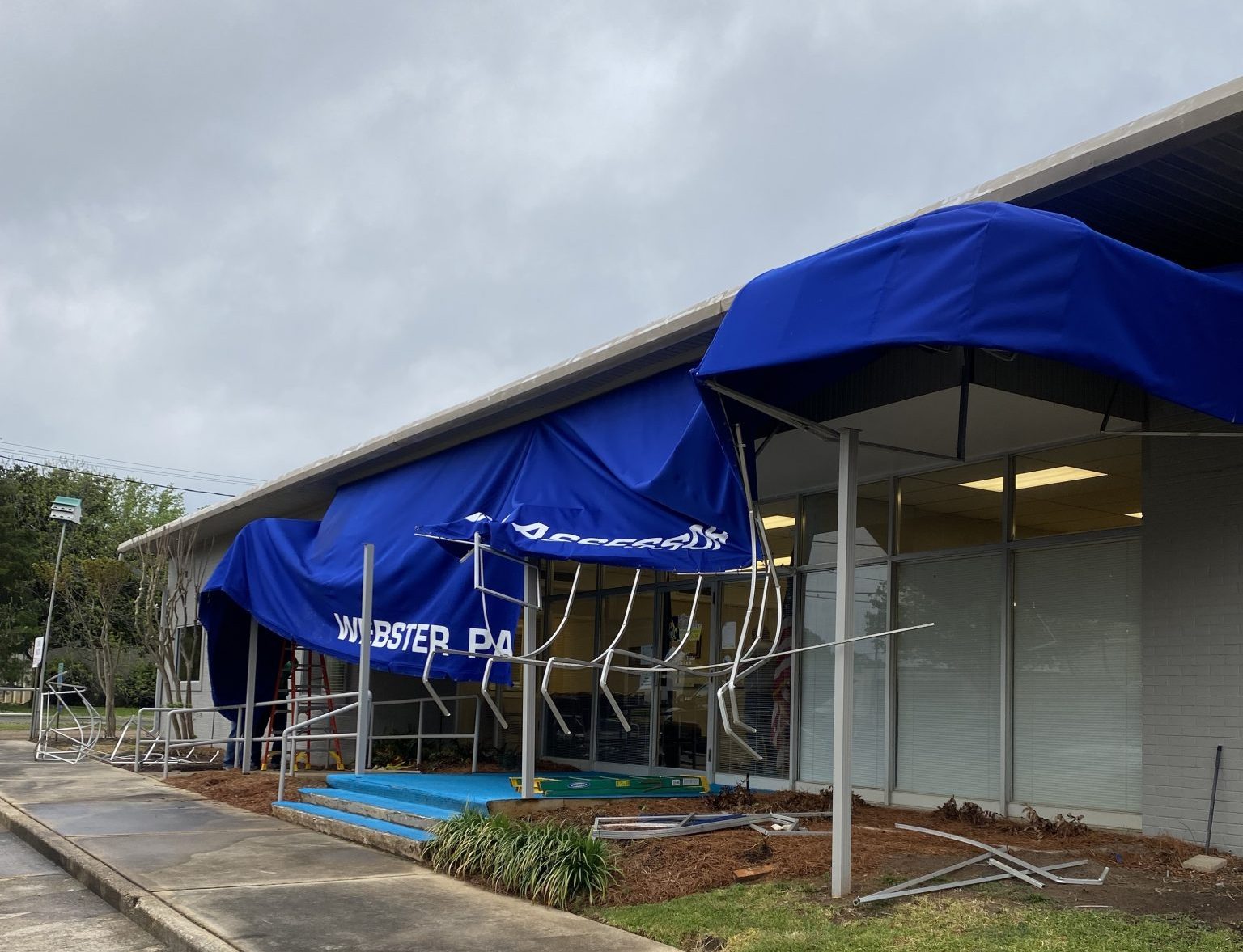 The storm that blew through Texas and Louisiana Tuesday night left fallen trees and other damage in its wake. While the Minden area fared better than the Bossier area, the effects of the storm are still visible around town.
Numerous trees are down in Minden including one of the signature cypresses that once graced the entrance to St. John's Episcopal Church. Some of these trees caused damage to homes while others, fortunately, merely landed in empty areas.
Many objects that easily caught the wind were destroyed. For example, the awning of the Webster Parish Tax Assessor's office was left in shambles.
Parts of the city lost power and, at this time, city employees are working hard to get that power reestablished.
Chamber Awards Gala 2022 Winners
Each year the Greater Minden Chamber hosts their Annual Awards Gala. This event serves as an opportunity for the local community to gather and enjoy an evening amongst one another, all while recognizing the individuals that go above and beyond in their efforts to better the City of Minden.
The award winners were Misty Robinson of Velvet Home & Clothing for Small Business of the Year; Dr. Earl Meador of Northwest Louisiana Technical Community College for Business of the Year; Ryan O'Glee of Minden Family Pharmacy for Business Person of the Year; Jennifer Campbell, Savannah Jones, and Kim Sentell of Webster Parish Libraries for Community Partner of the Year; Sue Gruber for Chamber Champion; George French for the Lifetime Achievement Award; and, in a new category added this year, Sherb Sentell for Hometown Hero.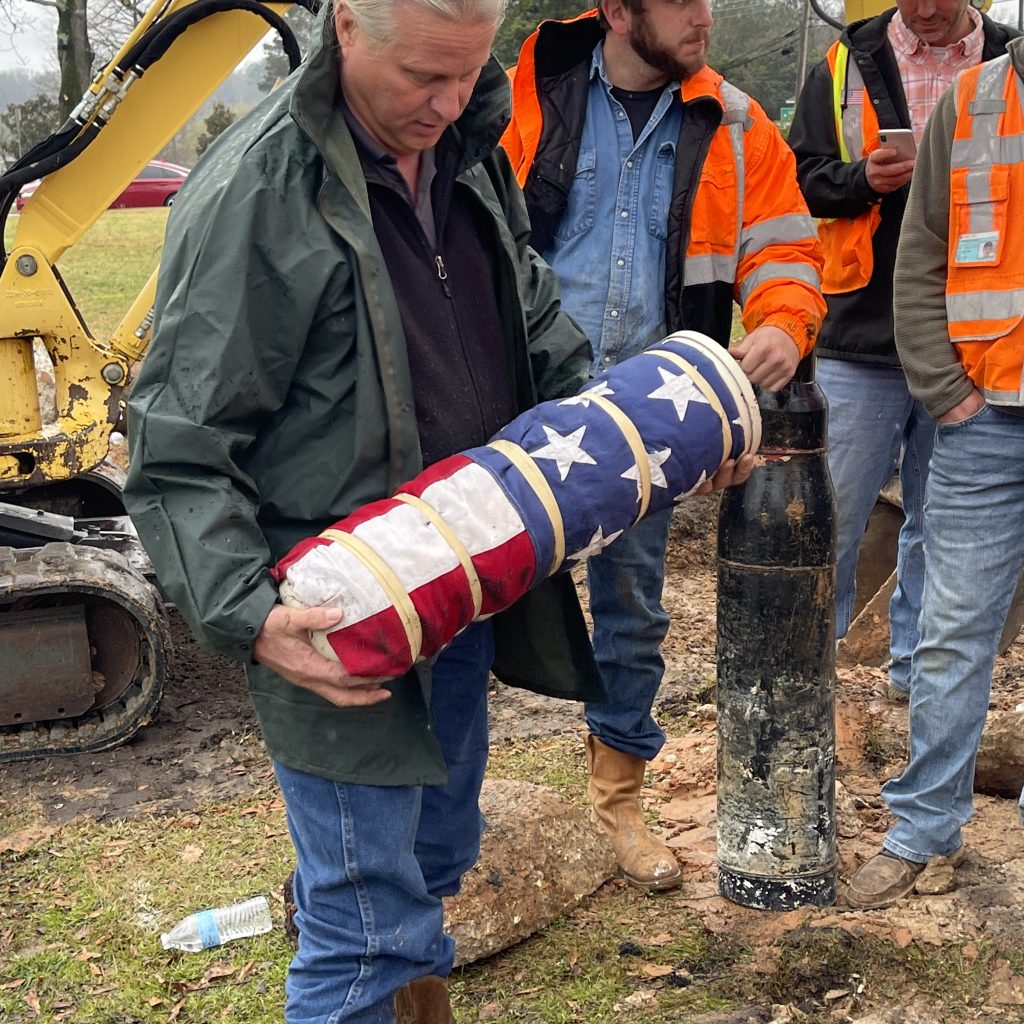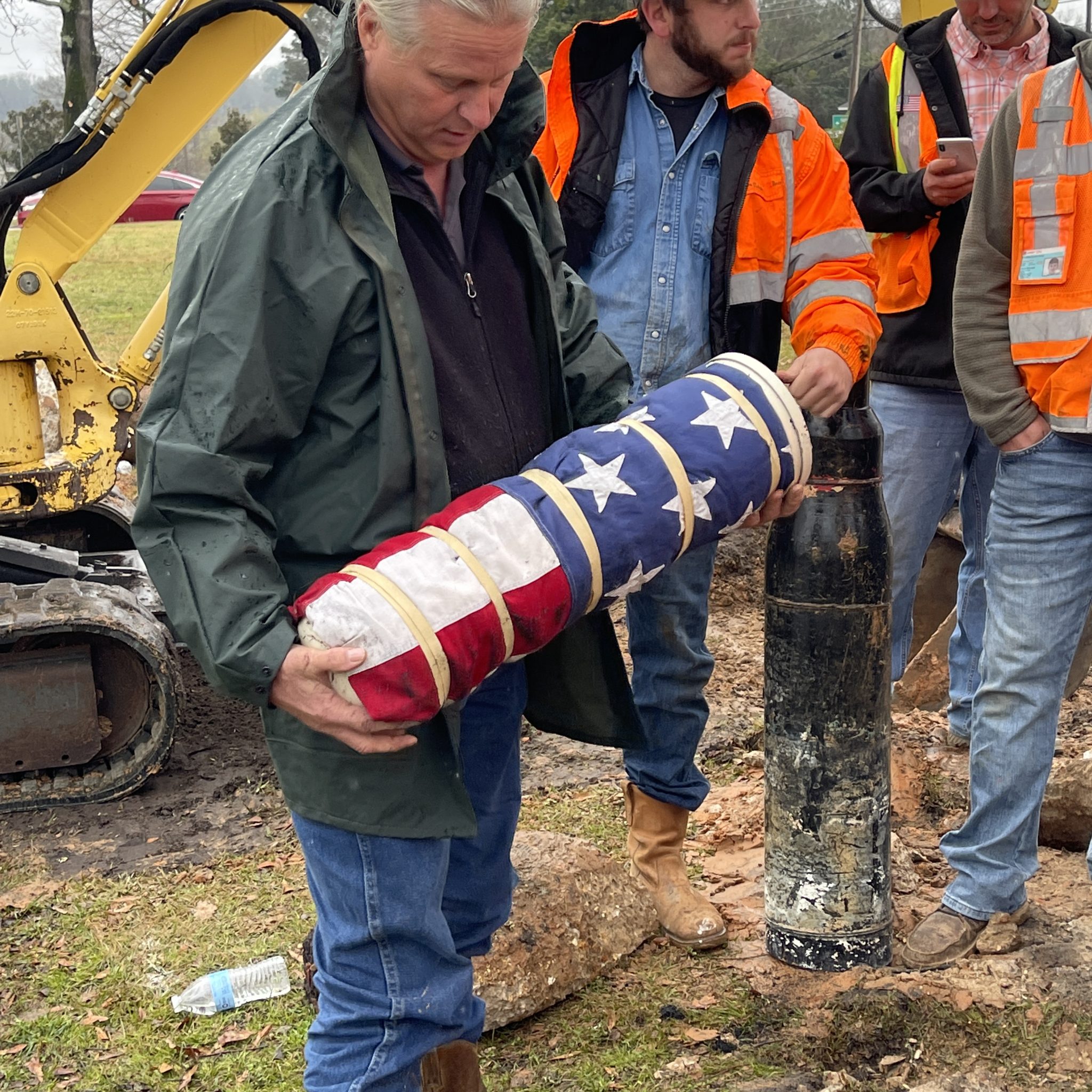 While city workers were preparing the area around the gazebo in Jacqueline Park early Tuesday morning, a thought-to-be-lost piece of history was found once again.
In Minden back in 1976, The Greater Minden Chamber chose to bury a time capsule as part of their bicentennial celebration of the signing of the Declaration of Independence.
The capsule and its contents were taken to the Dorcheat Museum, and the decision on what to do with them remains to be seen.
Webster Parish Convention and Visitors Commission acquires historic Miller-Inabnett property in central Minden
Nick Cox, Tourism Commissioner for Webster Parish Convention and Visitors Commission and Vice President of the Webster Parish Police Jury, along with the six tourism commissioners are pleased to announce the lease and soon-to-be acquisition/purchase of the historic 11-acre Miller-Inabnett property located in central Minden, Louisiana.
The Miller-Inabnett property, also known as Miller Quarters, sits just off the edge of Minden's historic downtown and has recently undergone major improvements intended to help kickstart the city.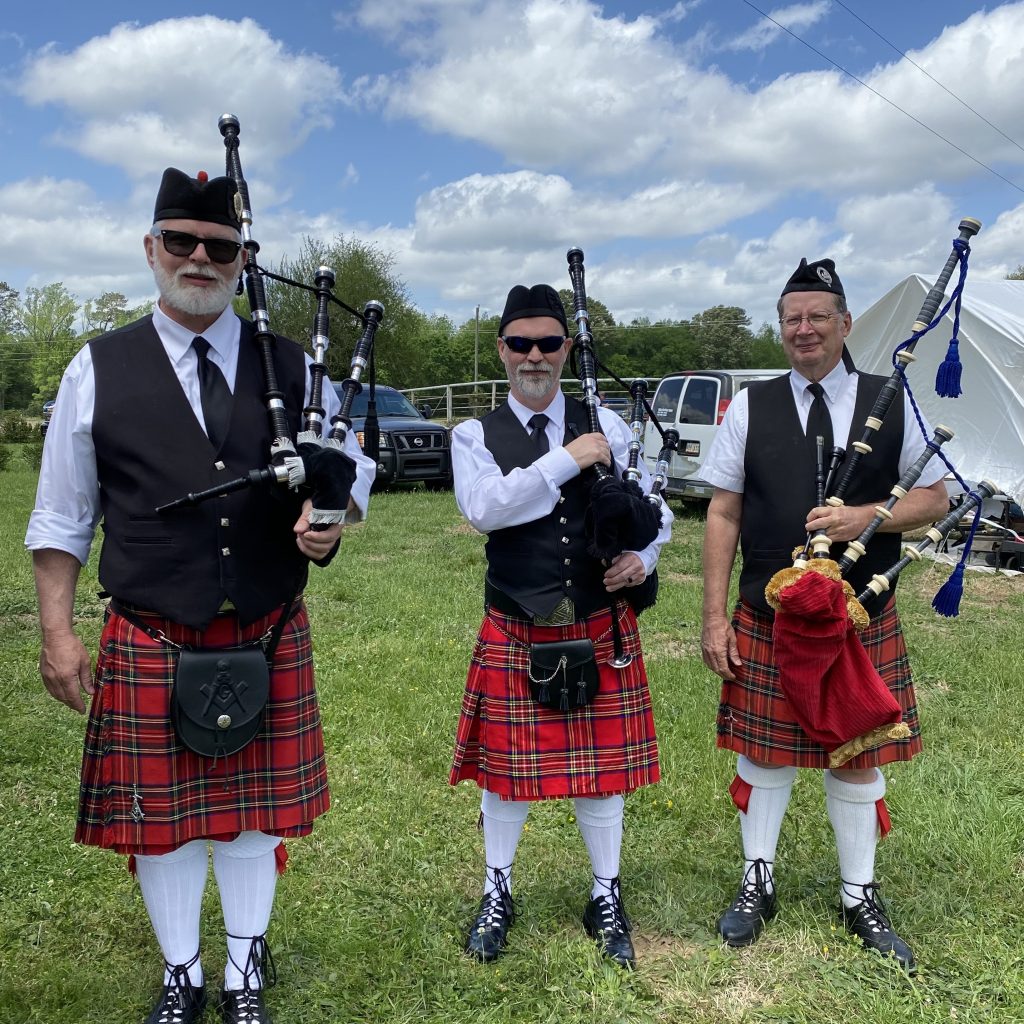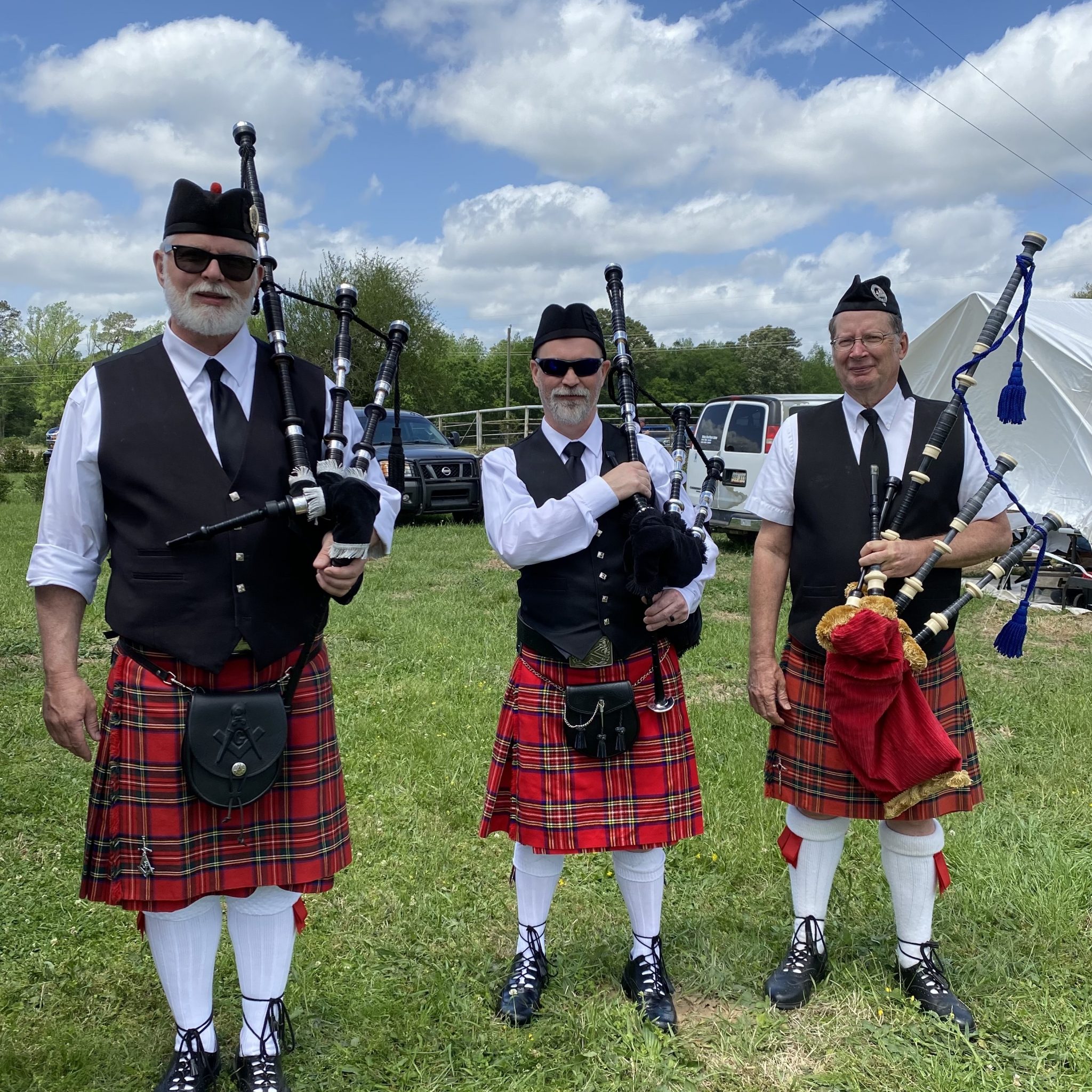 There was a great turn out for the Scottish Tartan Festival this year, with many interesting exhibitions and vendors plus wonderful spring weather too. Tartans of many different clans were represented, and numerous people dressed with the spirit of the festival in mind.
There were traditional pipers and modern bands, many dancers, and the parade of clans displaying their names and tartans. People watched cattle herding, blacksmithing, flintknapping, and kilt making. Folk young and old enjoyed the tales of the storytellers and the demonstrations with the broadsword.
Each year the Scottish Society of Louisiana Highlands does a wonderful job of putting together a festival that is engaging, fun filled, and educational. Overall, it was a beautiful day for the festival and many people came out to enjoy the sights and, perhaps, to learn something new about their Scottish heritage.
Over 1500 archers come out to first ASA competition at Camp Minden
Archers from across the country met at Camp Minden Thursday, April 21 through Sunday, April 24 for the 2022 McKenzie Archery Shooters Associa- tion Easton/Hoyt Pro/Am Tour, an event that will kick off a 10-year run at the 15,000acre facility west of Minden.
Suspicious package shuts down downtown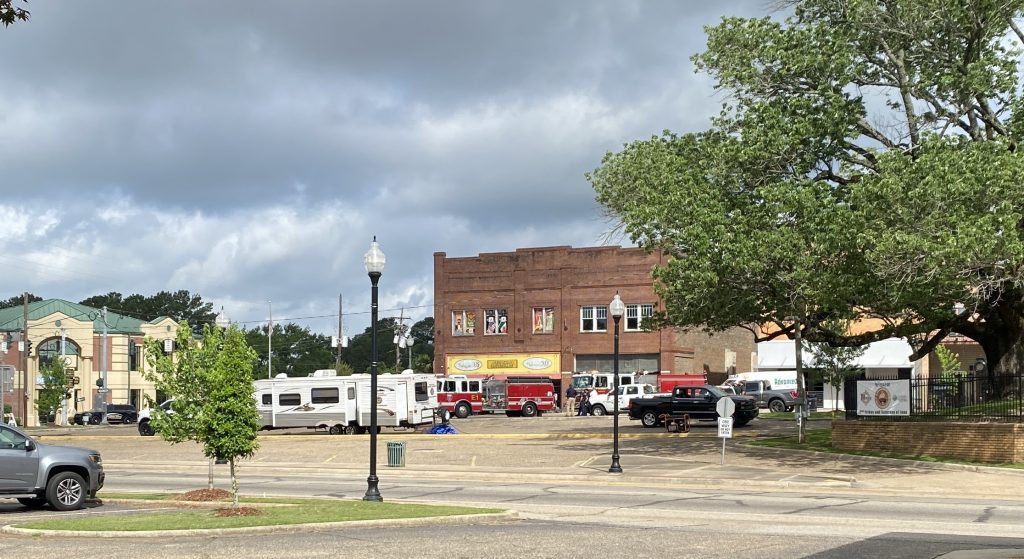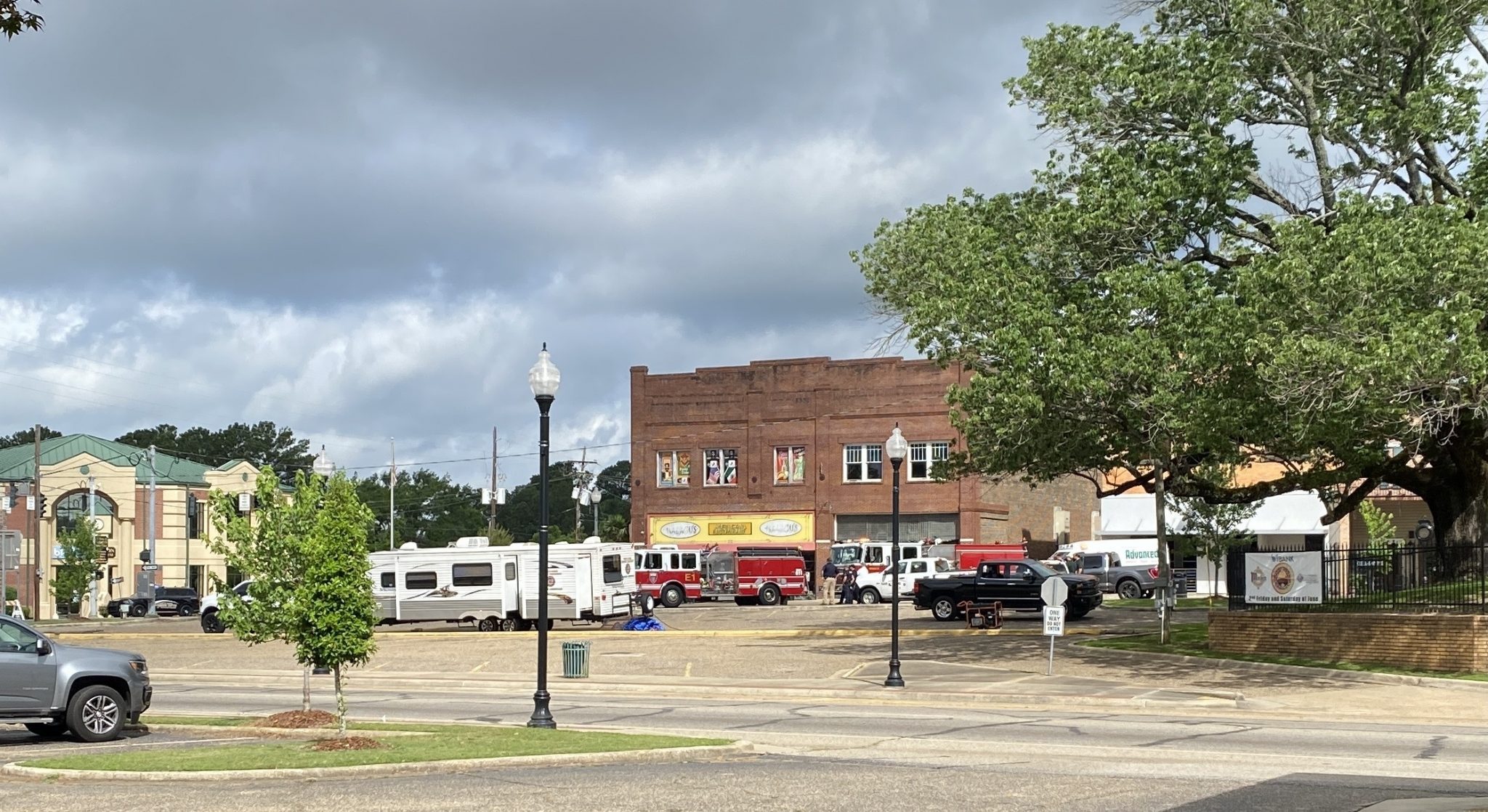 A suspicious package was found on the steps of the Webster Parish courthouse Tuesday morning. Downtown is currently blocked off while sheriff's deputies wait for the bomb squad to arrive. "They X-rayed it and saw a suspicious looking spring," said Chief Cropper of the Minden police. "It didn't look like a detonator, but what they're going to do is blow it up." The person who left the package (and then returned to modify it) was caught on video, and authorities are currently working to identify the man from the video.
Minden native Ethan Jeffus recognized as Louisiana Ambassador by Lt. Governor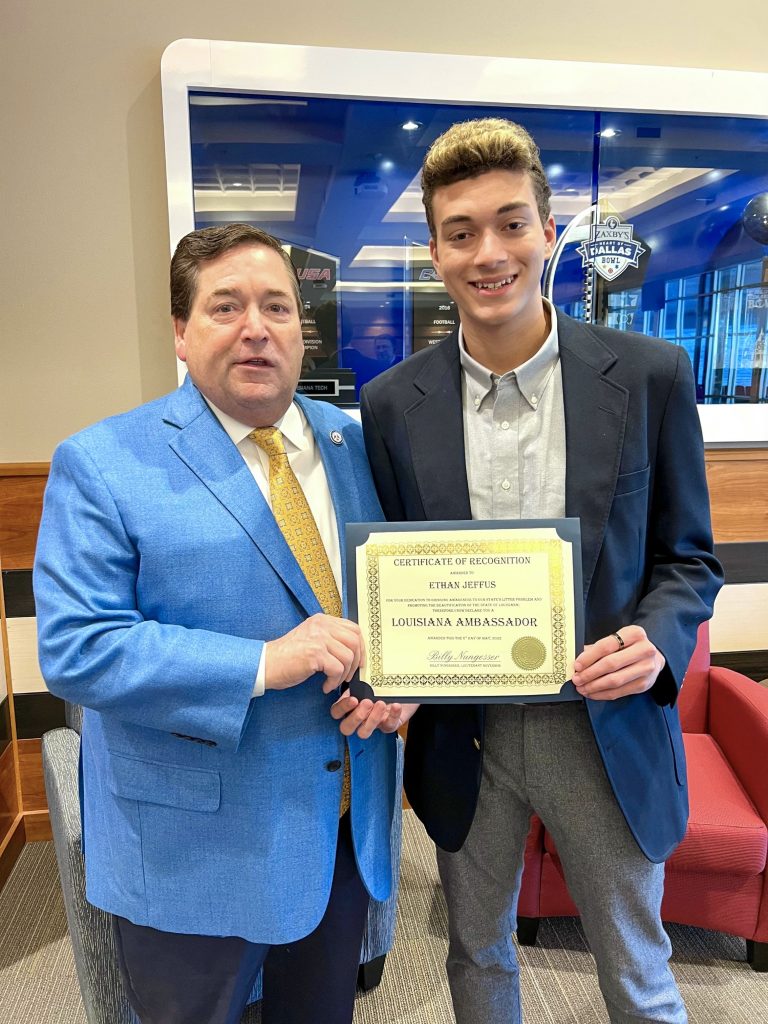 Minden native Ethan Jeffus was recently recognized by Louisiana Lt. Gov. Billy Nungesser as a Louisiana Ambassador. This title is reserved for those that go above and beyond in their efforts to better their local communities. The Certificate of Recognition presented to Jeffus states that he was recognized for his "dedication to bringing awareness to our state's litter problem and promoting the beautification of the state of Louisiana."
Minden Medical Center hosts blood drive for Cotton Valley explosion victims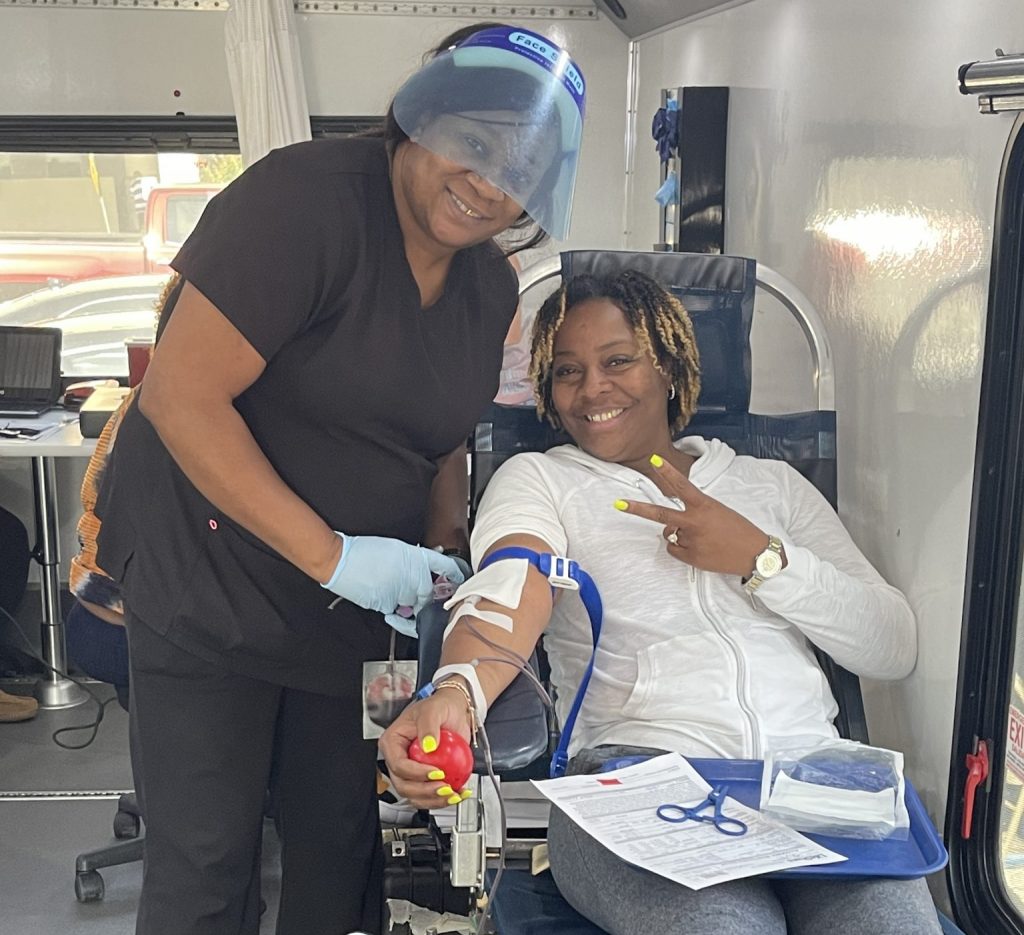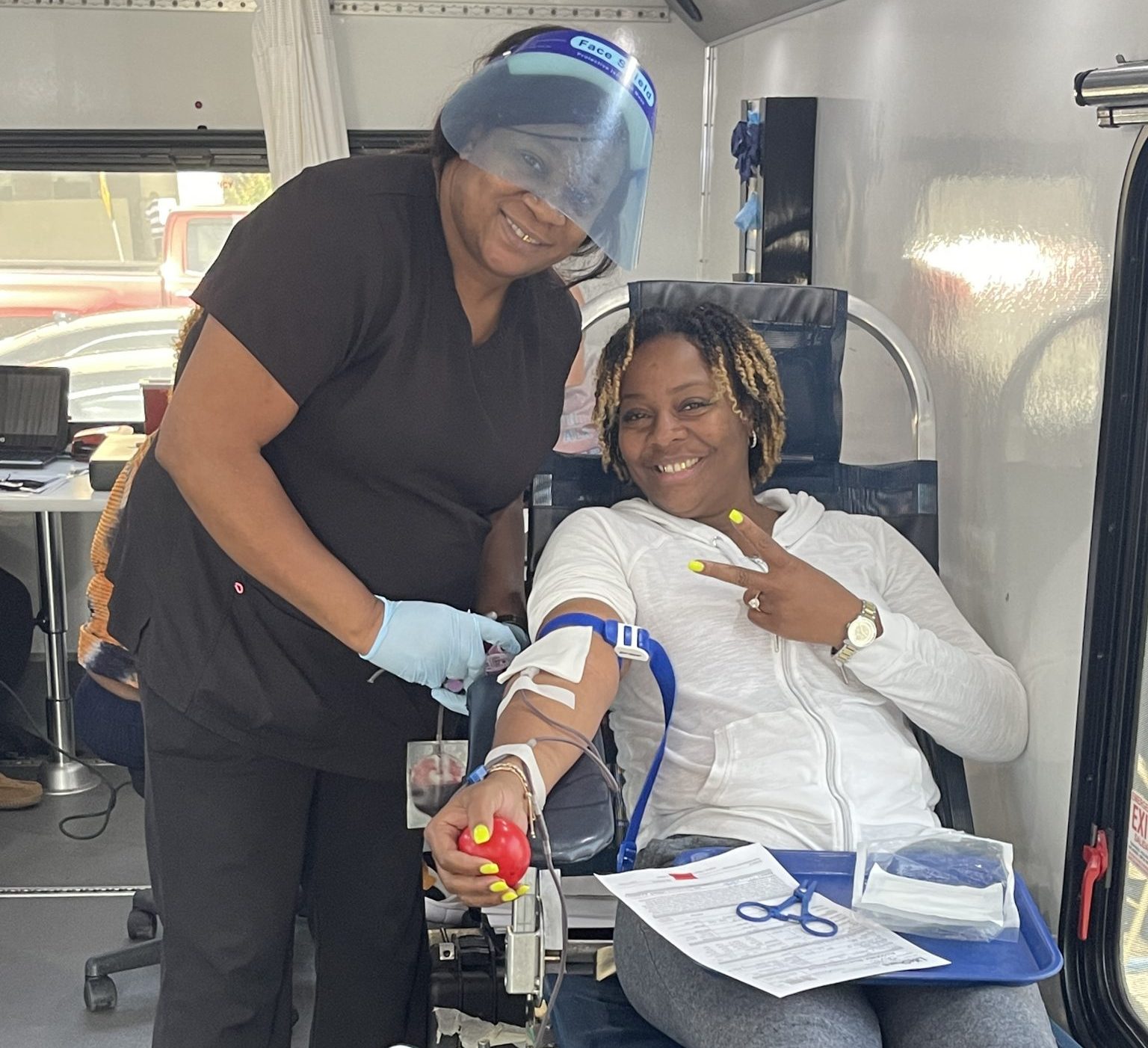 Given the tragedy that befell three Webster Parish citizens as a result of the recent explosion that took place in Cotton Valley, Minden Medical Center has decided to help out by hosting a blood drive starting early Thursday morning.
"We wanted to do something to help these guys in their time of need. They are an extension of our MMC family and we help our own. It's not something big, but it's something we can do that has a big impact, not only for these guys but others who need blood as well," said Mandi Hart, Business Development Director.
Pearl Street jams out at block party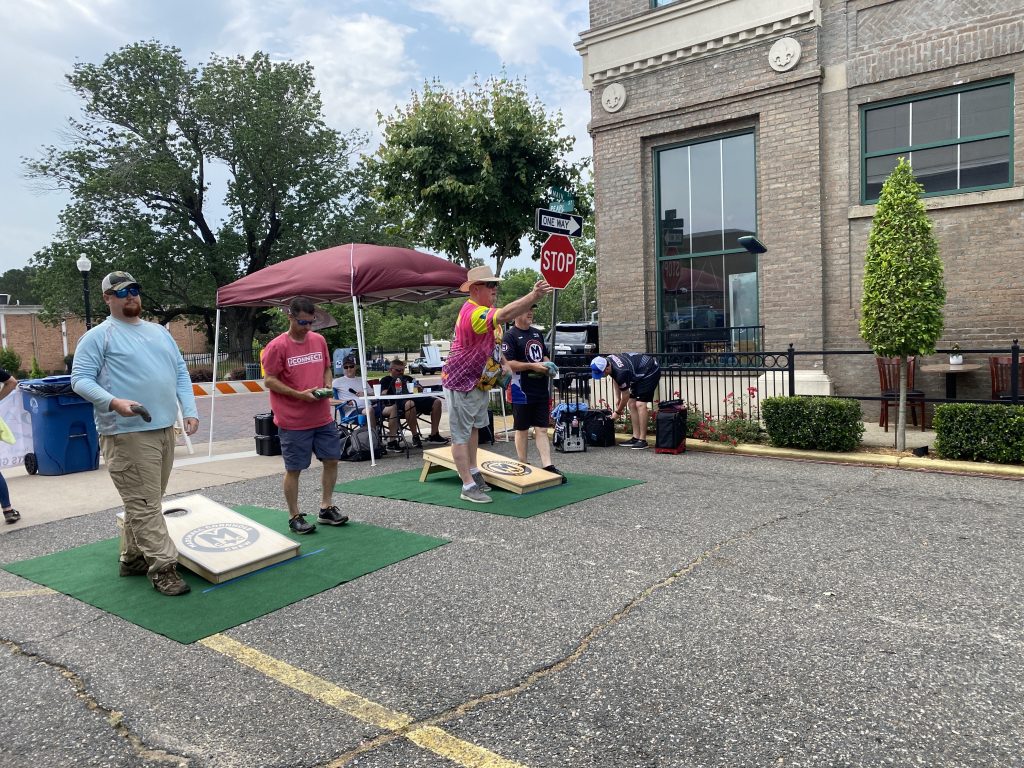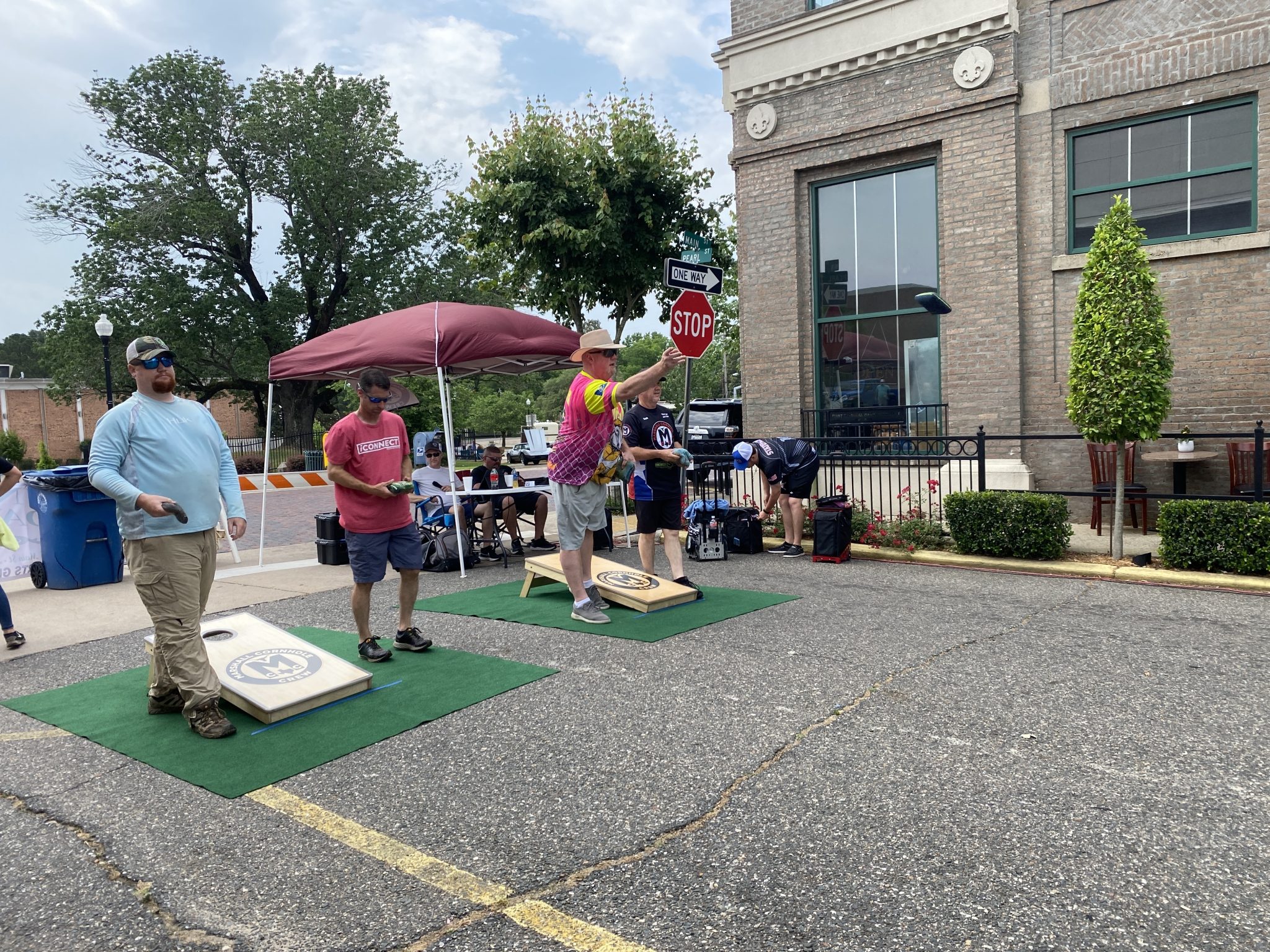 Roma's Italian Bistro and Under Dawgs Sports Grill hosted their second Pearl Street Block Party on Saturday. The main event was the cornhole tournament, but there was a live band and a car show as well.
The weather was fair, if a bit windy, and the people of Minden enjoyed watching the competition, strolling by and checking out the cars that were on display, and listening to live music in the evening. The Pearl Street Block Party succeeded in giving the Minden something fun to do on a Saturday afternoon.
Minden's Mayor Terry Gardner announces cancer diagnosis
Mayor Terry Gardner posted a video to the City of Minden's Facebook page with the solemn announcement that he has been diagnosed with both pancreatic and liver cancer.
"This is probably one of the hardest videos that I've had to put out there. As most of you know, I have been undergoing some medical tests and various treatments. I want the citizens to know that I have pancreatic cancer. As well as liver cancer," said Gardner.
Project Reclaim of Minden named a 2022 Ascend Math Gold Medal recipient
Kevin Briley, CEO of Ascend Education visited Project Reclaim on Thursday in order to present them the 2022 Gold Medal Award.
The Gold Medal Award was established in 2010 to honor the schools or districts that best demonstrate a dedication to ensuring that all students become successful at math. The strategies employed by this year's Gold Medal honorees made use of Ascend Math, an online individualized math instructional resource, to address unfinished learning, accelerate math learning and outpace growth targets.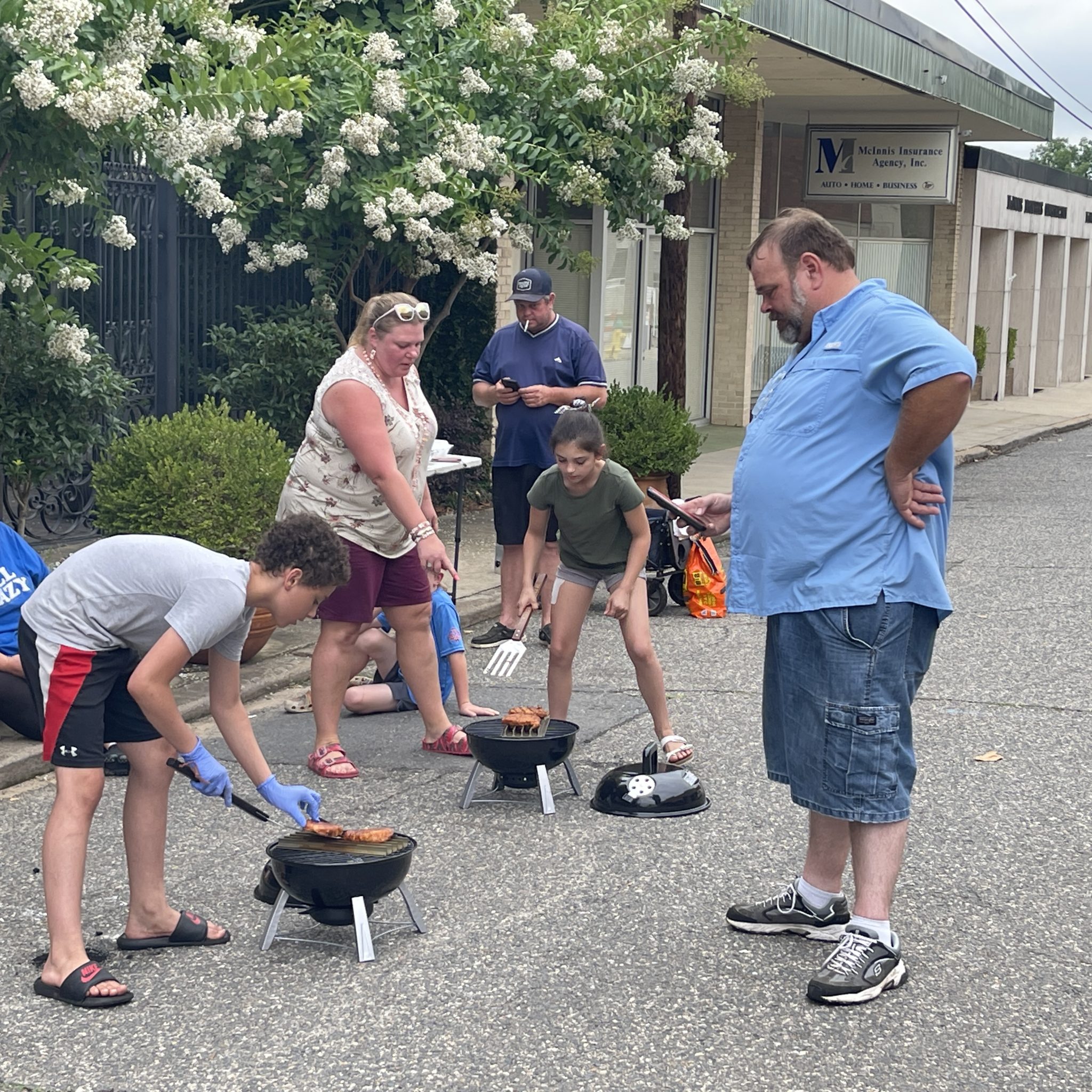 This weekend saw the return of one of Minden Main Street's most anticipated annual events, Grilling on Main 2022. Competitors from all over set up along Main Street for a chance to show what magic they can work on a grill.
There were a variety of competitions for the grillers to enter, so whether it was the heat from the weather, grill, or competition, there were multiple ways for competitors to work up a sweat this year!
Former District Judge Kitchens passes
Graydon Kelly Kitchens Jr. — family man, lawyer, and judge — passed away this weekend surrounded by family and loved ones. Kitchens has been a fixture of Minden since he was born in 1936.
"The sweetest, kindest, wisest, funniest, Godliest daddy any girl was ever blessed to have is with Jesus tonight," said daughter Amy Kitchens Butler.
Graydon Kelly Kitchens Jr. was beloved by many and will be missed.
It's unusually hot for this time of year and, unfortunately, this trend is forecasted to continue throughout the summer. This time of year, temperatures are normally in the low 90s. Instead, temperatures have been climbing into the upper 90s.
Anna Claire Lemoine places in Miss Louisiana competition
With 29 candidates competing for the title of Miss Louisiana, Anna Claire Lemoine was named third runner-up in the Miss Louisiana pageant that was held June 17-19. Miss Lemoine, a graduate of Glenbrook School, represents our town as Miss Minden for 2022.
Minden Mayor Terry Gardner passes away
Terry L. Gardner, Mayor of the City of Minden, passed away on June 28, 2022, at the age of 68 from complications related to his recent cancer diagnosis. Mayor Gardner informed the public of his cancer diagnosis by video on May 24, 2022. He took office on January 1, 2019, which was one of the proudest moments of his life. He loved his city and was honored to serve as mayor.
Terry L. Gardner was a mentor to many young people and lived by the motto: "Everyone deserves a second chance in life, or sometimes two or three." He believed that everyone has a place in life and he did anything he could to guide them in the right direction. He had a passion for giving back to his community and supported many worthwhile organizations. Terry held many civic and volunteer positions during his lifetime. He was an active member of the First Baptist Church of Minden where he served as a Sunday School teacher for ten years. Terry L. Gardner was a very outstanding and kindhearted individual and served as a well-respected role model to many in our community.
Mayor Terry Gardner — Minden's biggest fan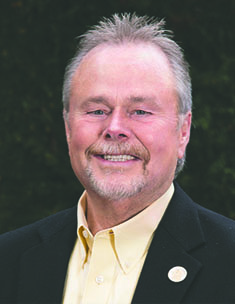 Terry Gardner wore a lot of different hats. He was, of course, Mayor for the City of Minden, but also a savvy businessman, a husband, a man of God, and a dear friend to many. Even before his time as Mayor, he was a notable community figure, contributing his time and efforts on countless boards and in multiple organizations all with the intent of bettering his home and the lives of those who live here.
With someone who was so active throughout the community, it's hard to quantify how big of a hole his passing has left in the hearts of many who live here, and even beyond the city limits.
A sentiment he could often be heard expressing was that, as Mayor, he wanted to leave Minden better off than how it was when he first took office. This was a philosophy he applied not only in his capacity as mayor, but also in the lives of those who were lucky enough to know him.
Champion Life gives away over 100 bikes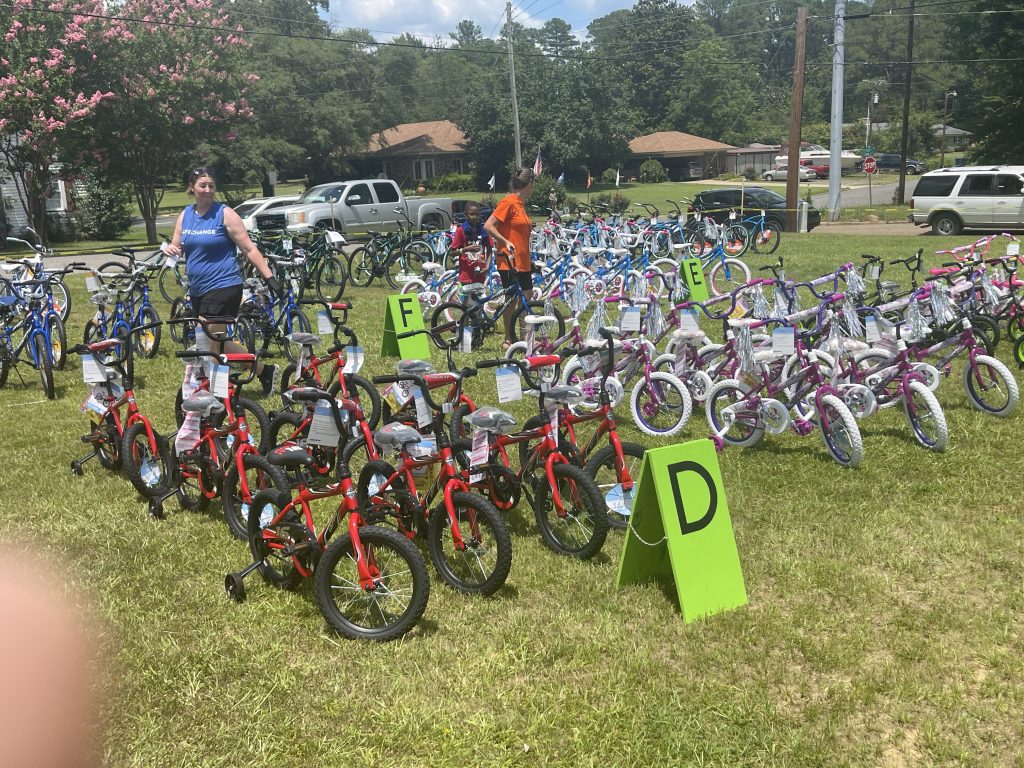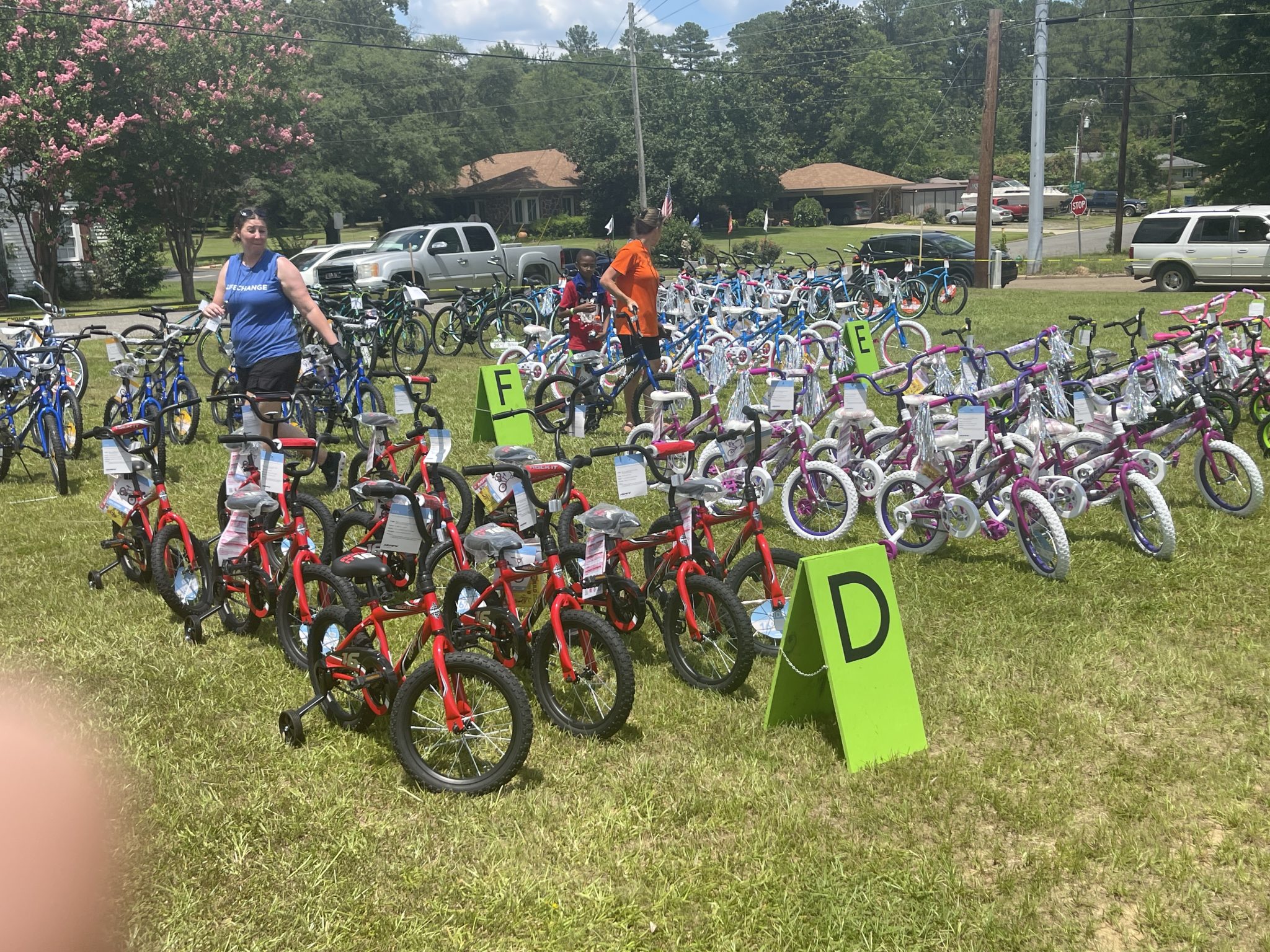 Champion Life, a Christian organization based out of Florida came over to Minden and held activities along with a free bike giveaway to bring some summer fun for the local kids. Over 100 bikes were given away and Champion Life stated out of the 488 registered attendees, they were able to lead over half of them to a life with Christ.
No mayor, no pro tem: council finds themselves in "legal quagmire"
Tuesday's city council meeting was a non-typical one to say the very least. Most obviously, the late Terry Gardner's untimely passing left a vacancy in the position of mayor. While there is typically a contingency plan in place for such circumstances, regarding the position of mayor pro tempore, at the start of this city council meeting, Minden did not have one.
This put the council in what City Attorney Jimbo Yocom called a "legal quagmire," because any laws or ordinances addressing what to do in the absence of a mayor presume that the position of mayor pro tempore is filled. Since Minden at this time did not, it put the council in a weird spot.
Air testing for Imperial dry cleaning contaminants continues
Air testing for contaminants related to the Imperial dry cleaning facility continues.
On April 22, 2022, businesses in the vicinity of the Imperial Cleaners and Laundry building were notified by the Department of Environmental Quality (DEQ) that contaminants had been detected in the soil. The notice listed the contaminants found as perchloroethylene (PCE), trichloroethylene (TCE), cis- and trans-1,2-dichloroethene, and aliphatic hydrocarbons. At that time, the employee who was distributing the notices said that contaminants were found in the soil, the groundwater and, within the building, in the air.
According to one of the DEQ employees who was conducting the air testing, the preliminary results from inside the buildings in the Tier 1 area have been very similar to the outside ambient air, but the report is not yet complete.
Davis Officially Sworn in as Interim Mayor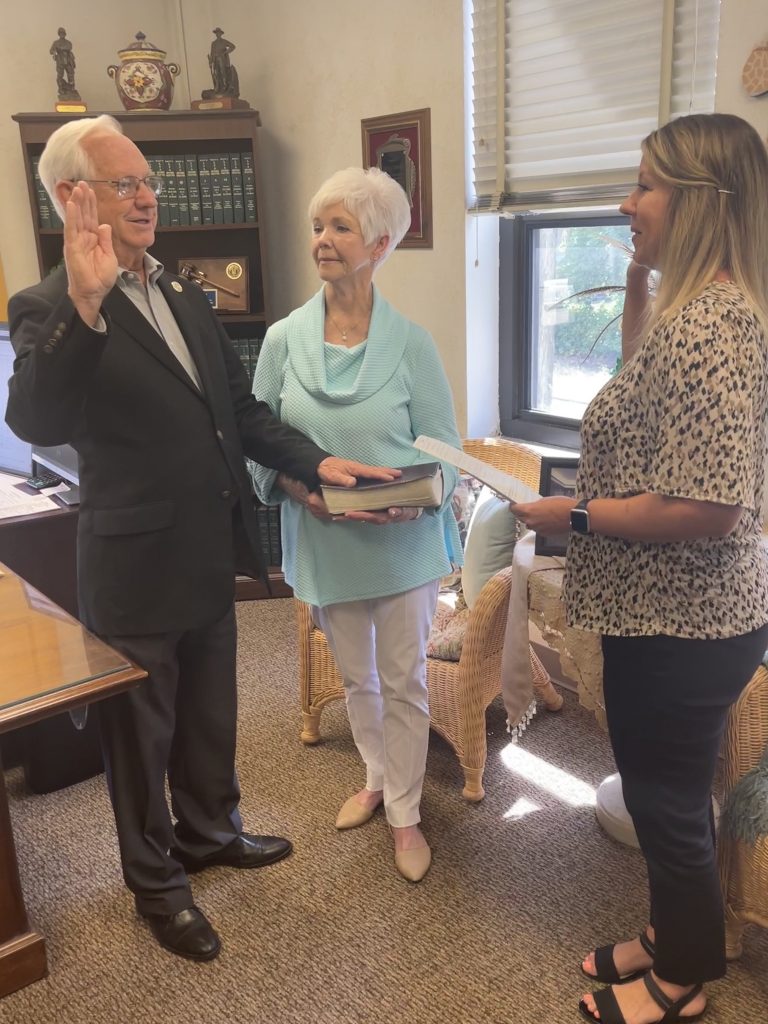 Tommy Davis, appointed as interim Mayor of Minden by Gov. John Edwards, was officially sworn in as mayor Tuesday morning by Holli Vining, Clerk of Court for Webster Parish.
Girls Night Out a roaring success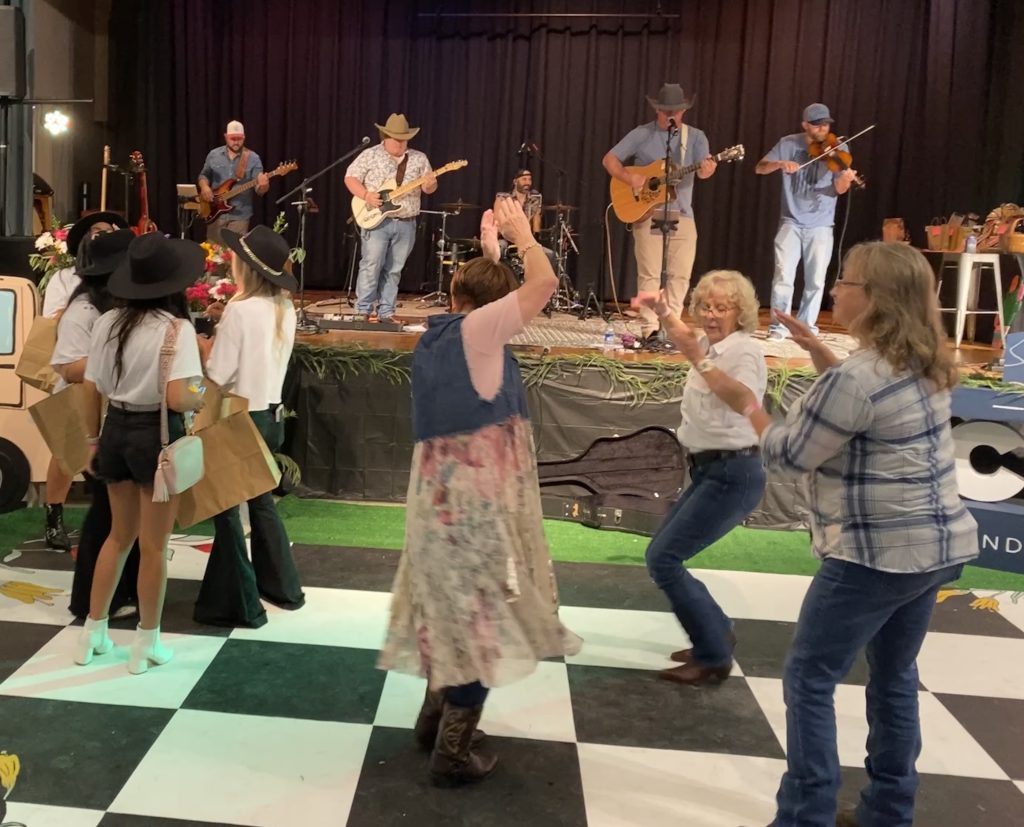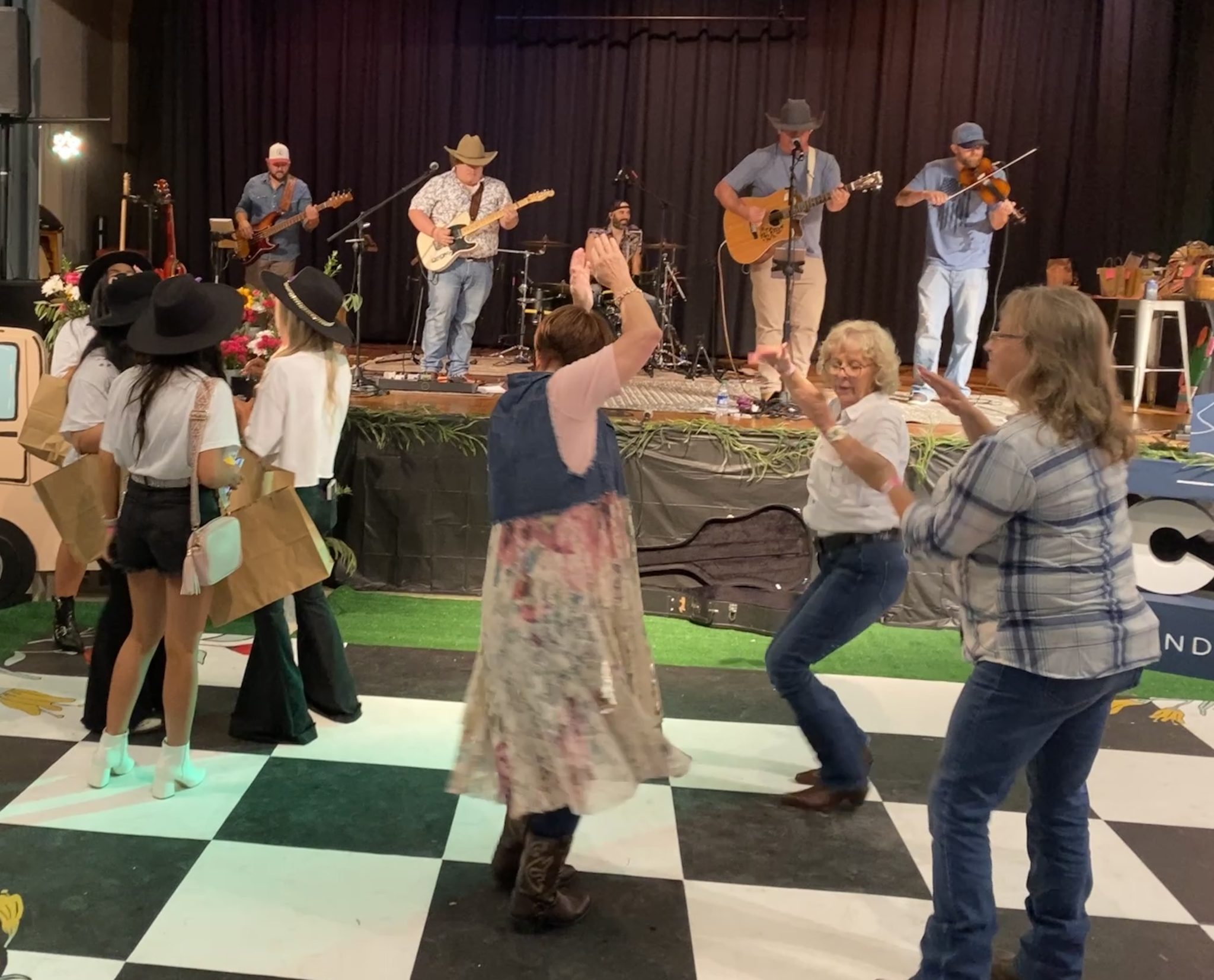 Let's Go Girls – Girls Night Out was a roaring success at the Civic Center on Saturday. Hundreds of ladies came out to eat, drink, dance, and shop during this fundraiser which was sponsored by the Junior Service League (JSL).
The theme of the event was Nashville, and almost everyone dressed up to celebrate the motif. Members of the JSL went all out decorating the Civic Center for this event, creating numerous fun props for photo opportunities, shopping niches, and food and beverage stands. Waiters in western attire circulated throughout the crowds while a live band entertained the dancers.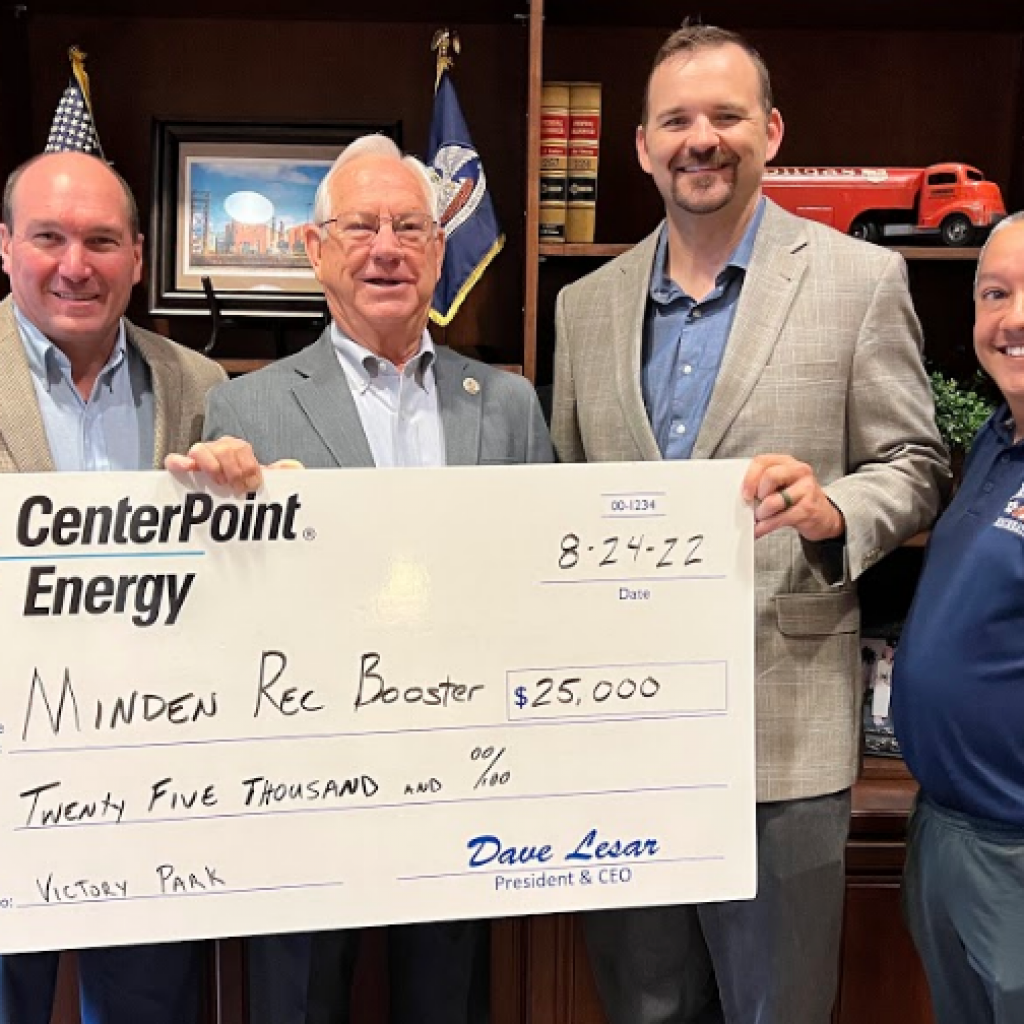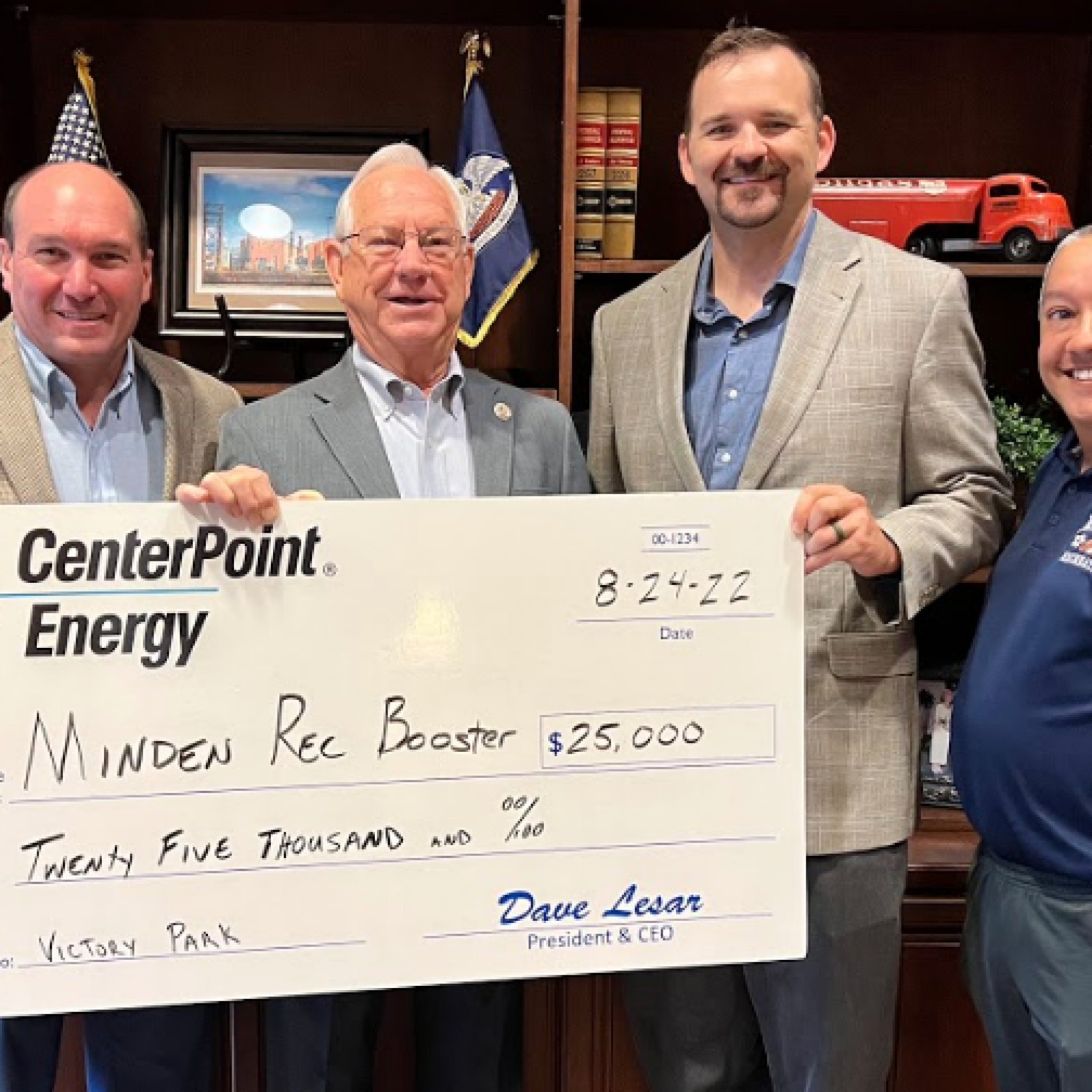 The Minden REC was recently awarded a grant from CenterPoint Energy for $25,000.
Funds from this grant will be used to install an open fitness court at Victory Park, replacing one of the existing tennis courts.
15 Under 40 Class of 2022 announced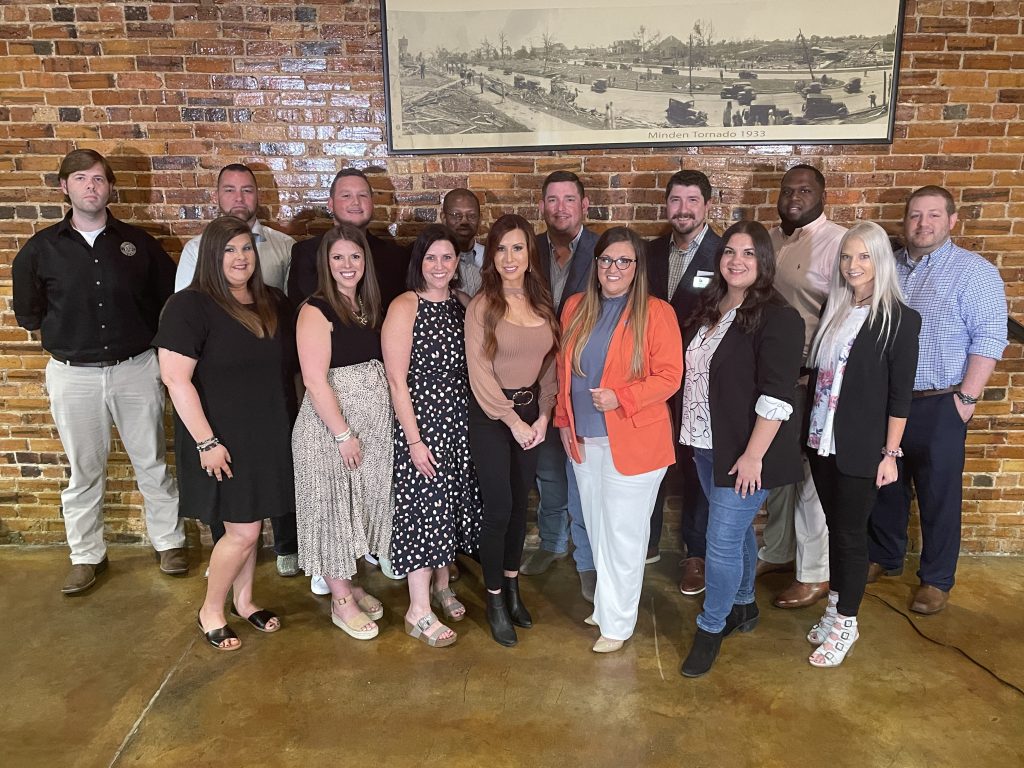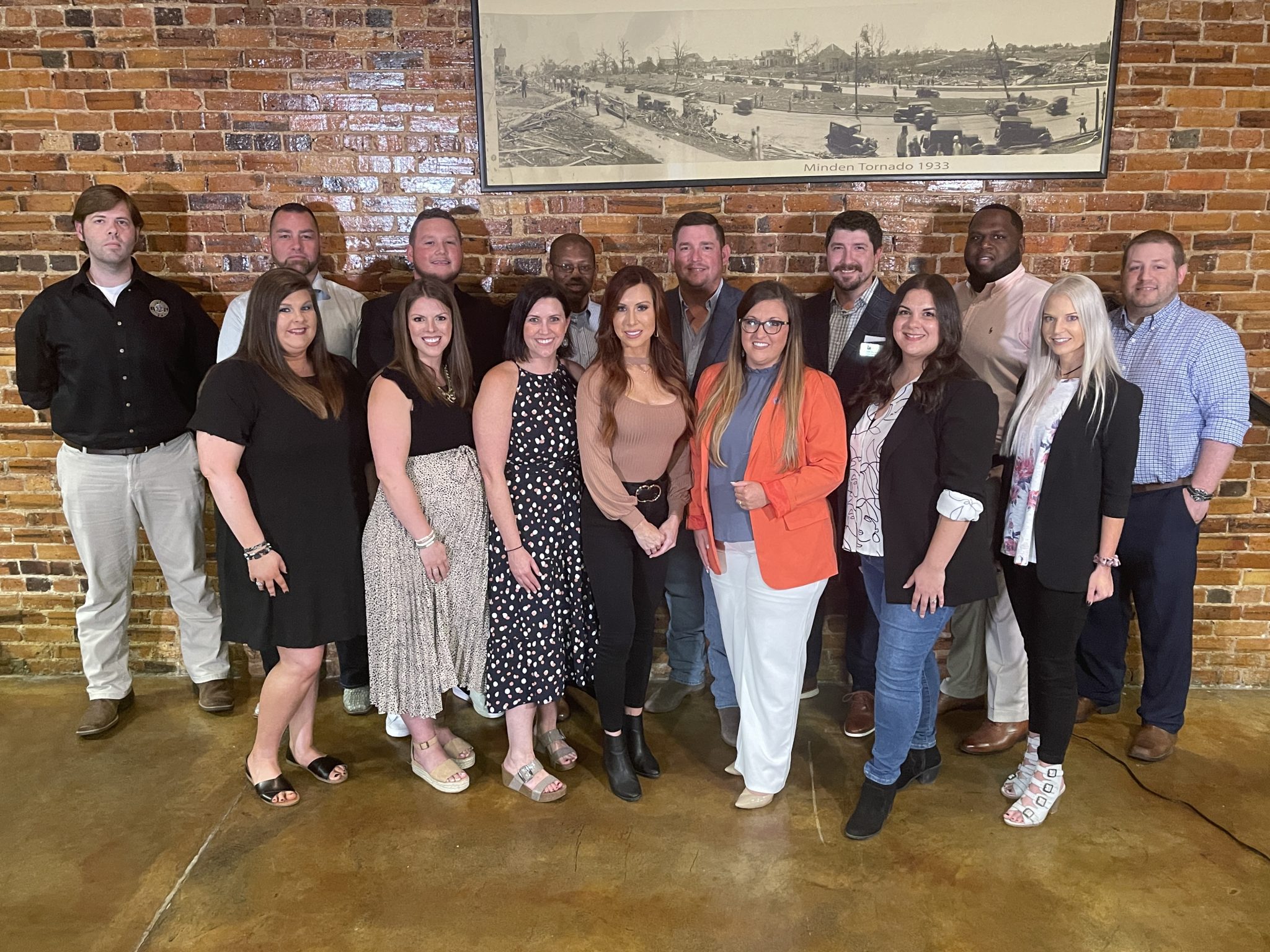 Fifteen young business leaders and entrepreneurs have distinguished themselves with their service to the community, and the Greater Minden Chamber is recognizing that service by nominating them for this year's 15 Under 40 Top Young Professionals.
The 15 Under 40 Class of 2022 includes, Steven Burdeaux of the City of Minden, Brandi Cade of Cultural Crossroads, Travis Chapman of Energy Transfer, Jordan Colvin of b1Bank, Dustin Divelbiss of All Hours Fitness, Lauren Gros of Webster Parish Schools, Bailee Hurley of Muddy Bottoms, Nathan Jones of the Webster Tax Assessor's Office, Savannah Jones of Webster Parish Libraries, Brian Meeker of Edward Jones Investment, Carlton "Buddy" Myles of Seafood Empire, Nathan Richardson of Claiborne Parish Schools, Phillip Smart of the City of Ruston, Dr. Danielle Thomas of Main Street Medical, Christopher Winget of the Webster Parish Clerk of Courts Office.
Webster High School Cradle of Champions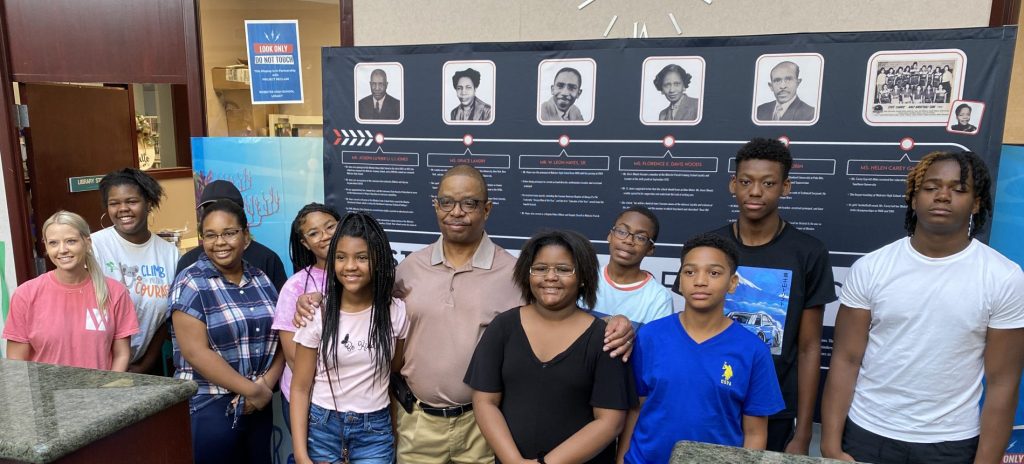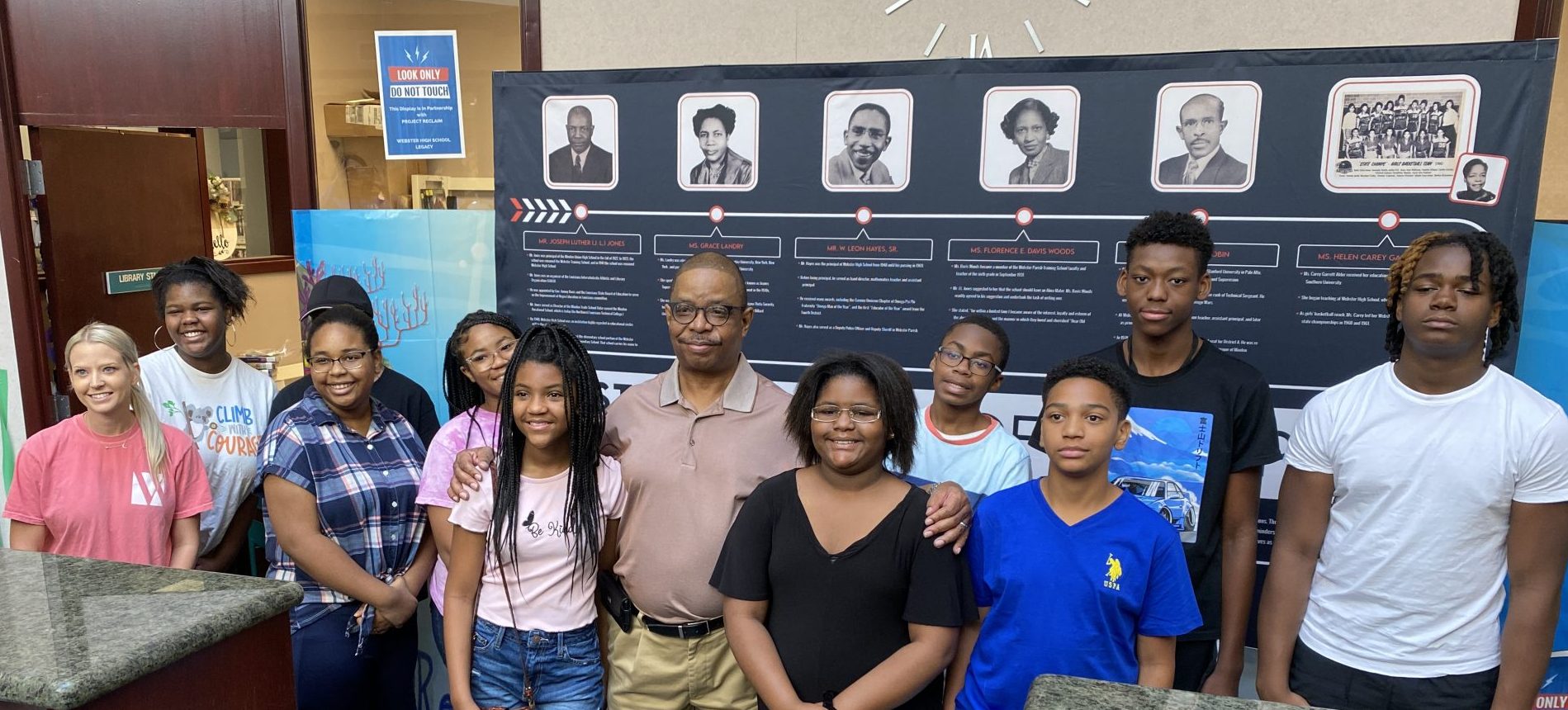 A group of Webster High School alumni realized that there was a need to bring attention to the greatness that had walked the halls and attended Webster High School. After being approached with the idea, Ron Anderson along with his nonprofit organization Project Reclaim and the fellow WHS Alumni including Darrell Hampton, Con L. Flournoy, Terry Combs, and Vernadia Smith, went about the creation of the Webster High School Cradle of Champions, collecting photos and snippets of history about those who attended the school and the legacies they left behind.
SROs will give Webster Parish schools more security
At a special meeting of the Webster Parish School Board on Monday, board members voted to approve funding to supply every public school in our parish with a School Resource Officer (SRO).
Rolling Out the Fun at the 14th Annual Show & Shine
The Minden Vintage Car Club hosted its 14th Annual Show and Shine this past weekend with numerous makes and models being brought out for display all along downtown Minden. There was a wide variety of categories for these car owners to compete in, as well as a Kiddie Car Show for the young ones.
Tie One On has big turnout for Dorcheat Museum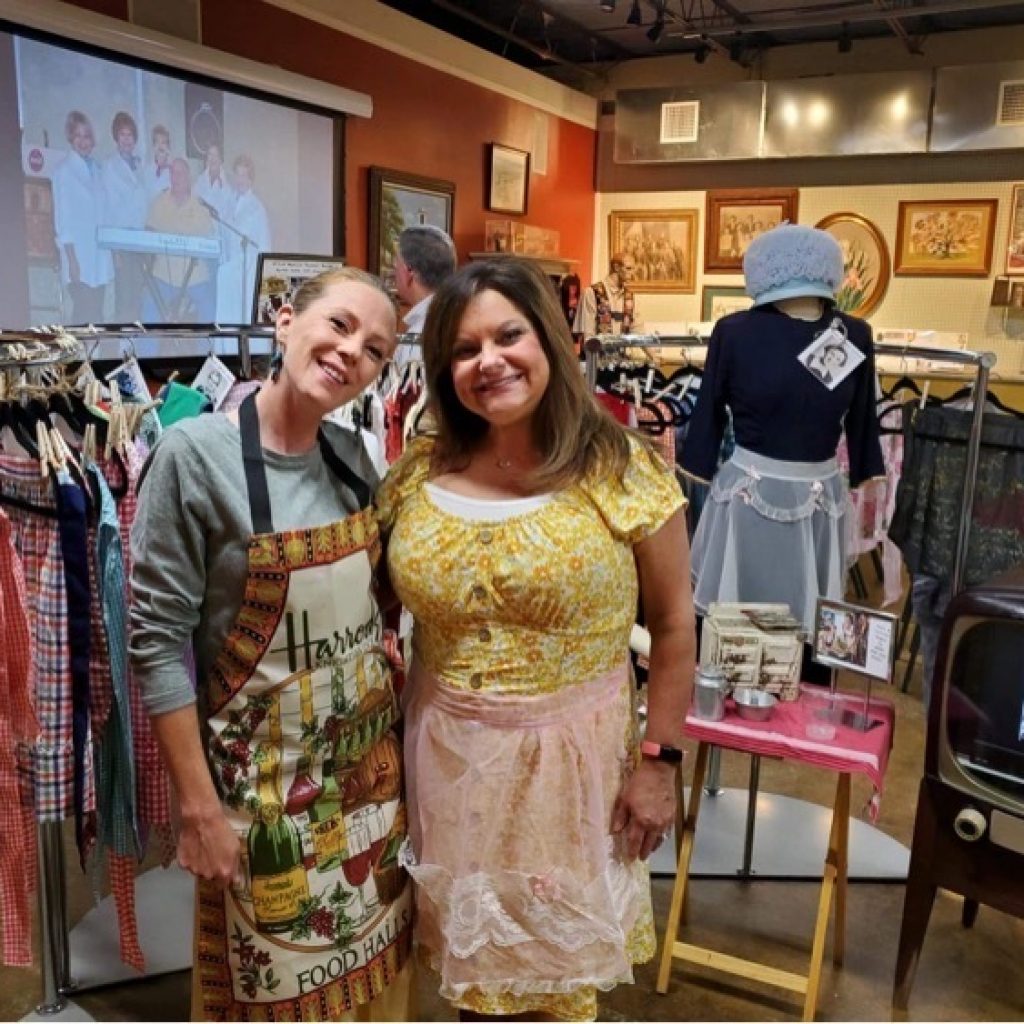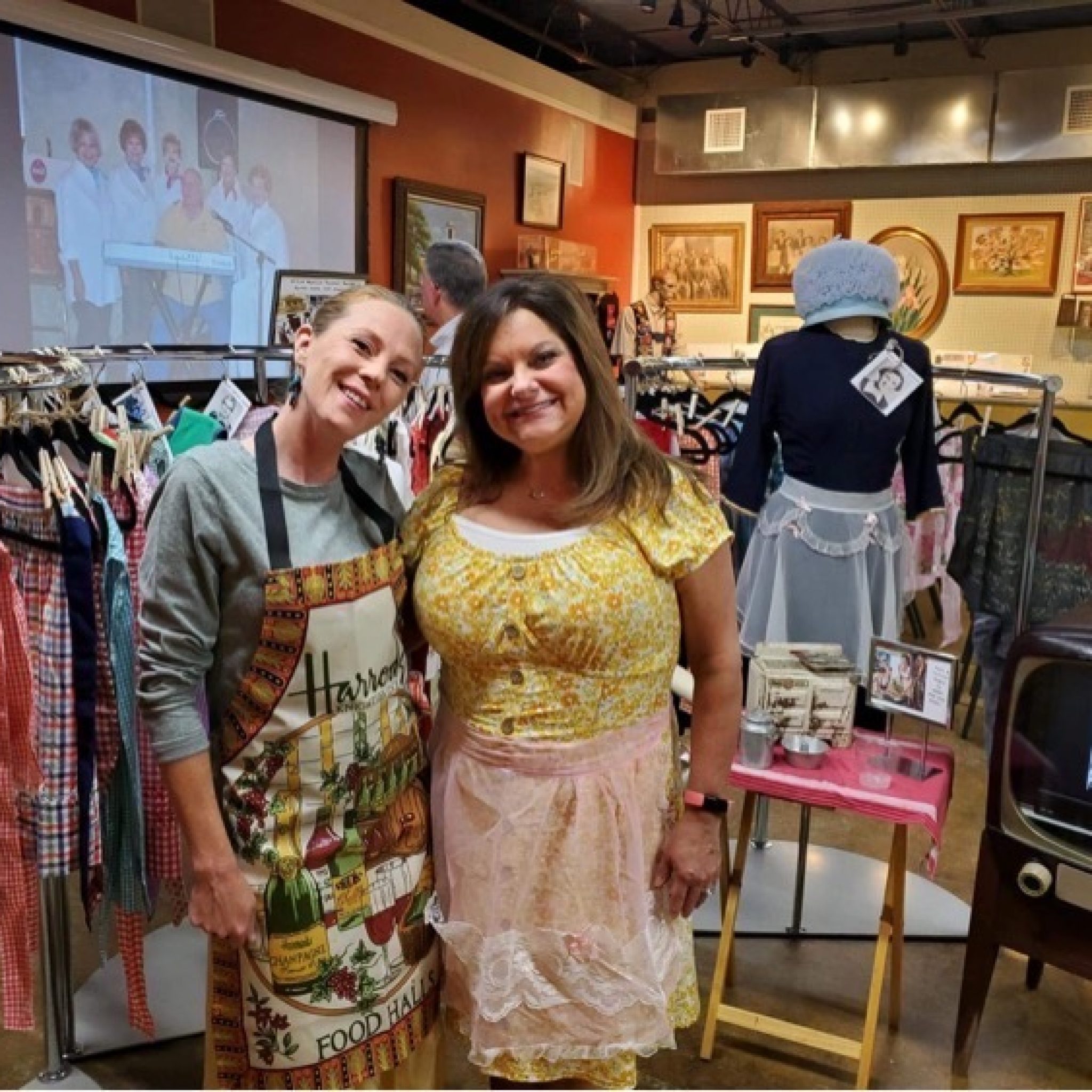 According to Dorcheat Museum staff Schelley Francis and Jessica Gorman, "We are just now finalizing our numbers for the September 12, 2022 Fundraiser. Even a week later we still have money coming in. This is a GREAT problem to have for us. Right now we estimate over $20,000 raised for our Webster Parish museum."
The event was centered on the vintage Apron Exhibit that was in place for several months. This temporary exhibit was such a fun thing to see and put together. A great full-color cookbook was produced from the handwritten recipes and stories from the Apron submitters. The purchase of this special "Tie One On" cookbook is just another way to help support the museum.
Teachers still enjoy freedoms of religion and speech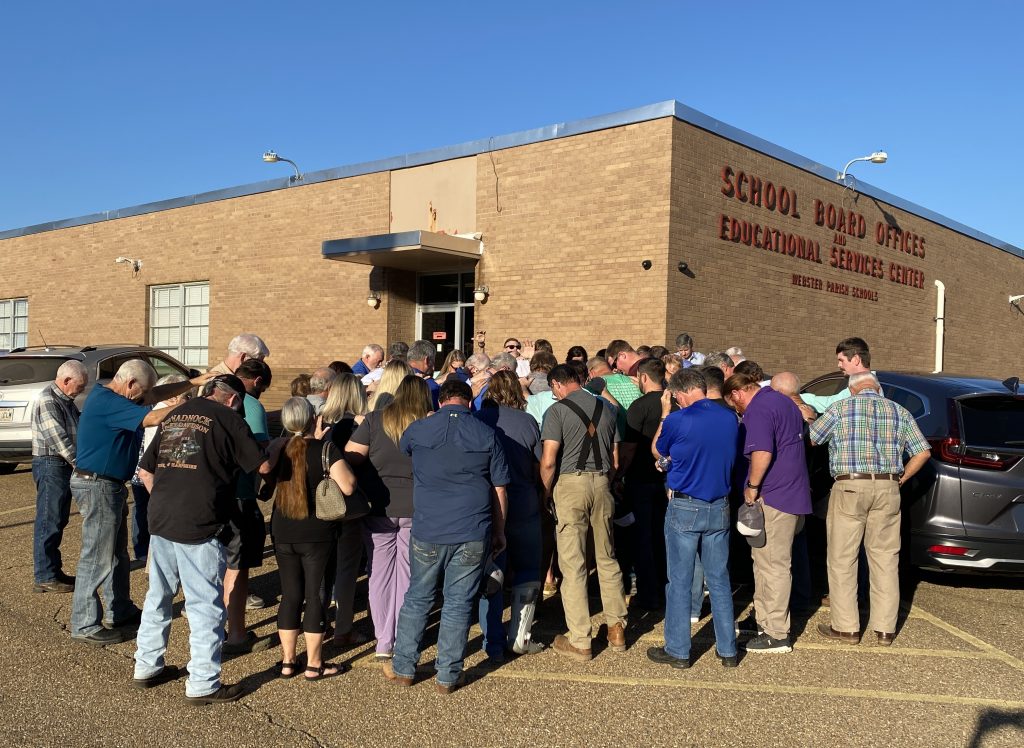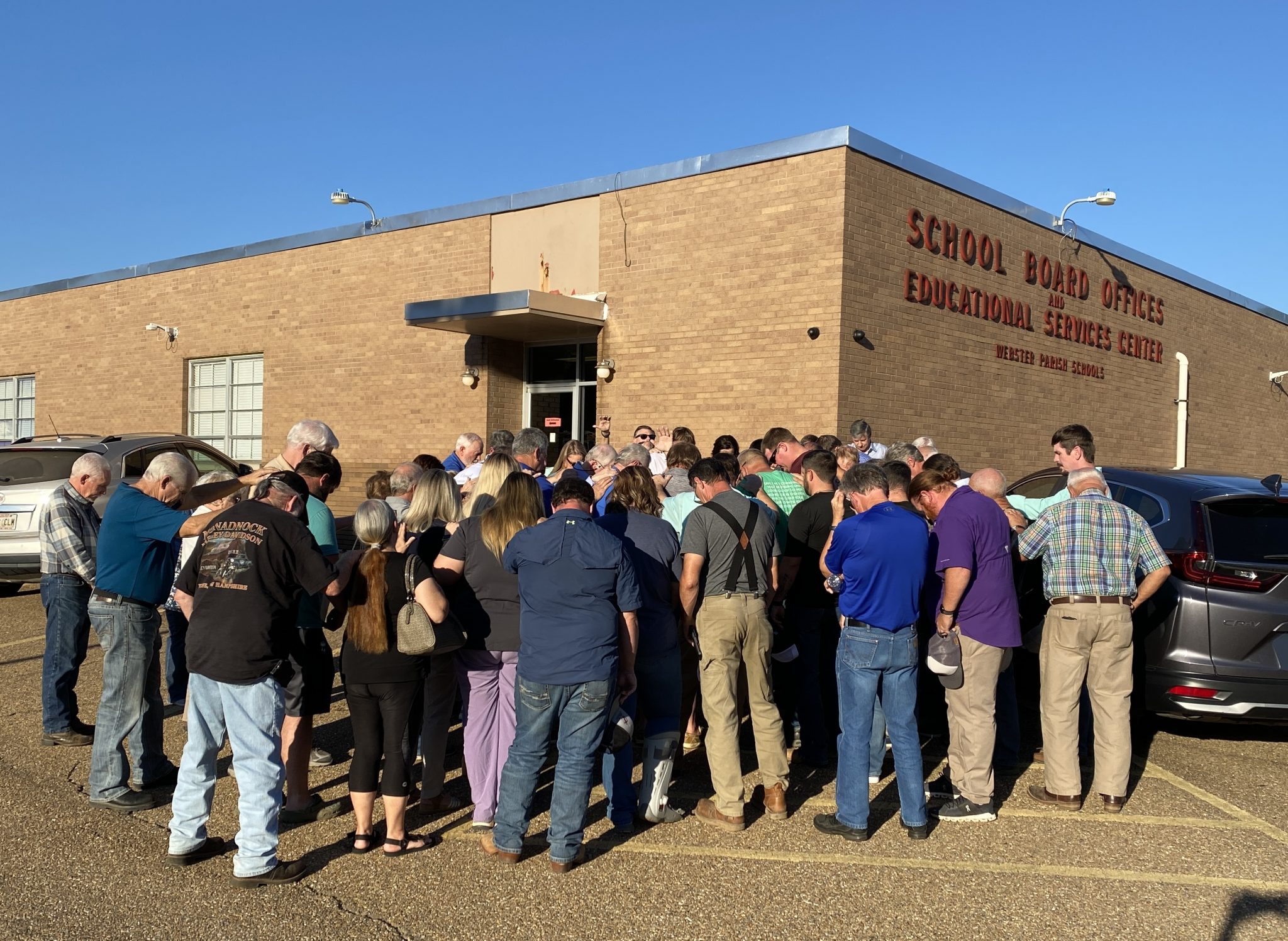 During the October school board meeting, Chris Plants addressed the board regarding the religious freedoms of teachers in Webster Parish.
Plants, a member of the Christian group named Men of Courage, reported that teachers were coming to him with concerns regarding their religious freedoms in their workplaces. "Teachers started coming to me saying they couldn't put their Bibles on their desks, and they wanted to," said Plants.
In summary, teachers' freedom of religion and freedom of speech are not infringed upon by their workplace. The same applies for students. The only real stipulation is that any religious activities that students engage in on school property must be student led, not teacher led.
Webster Parish Fair and 4-H Livestock Show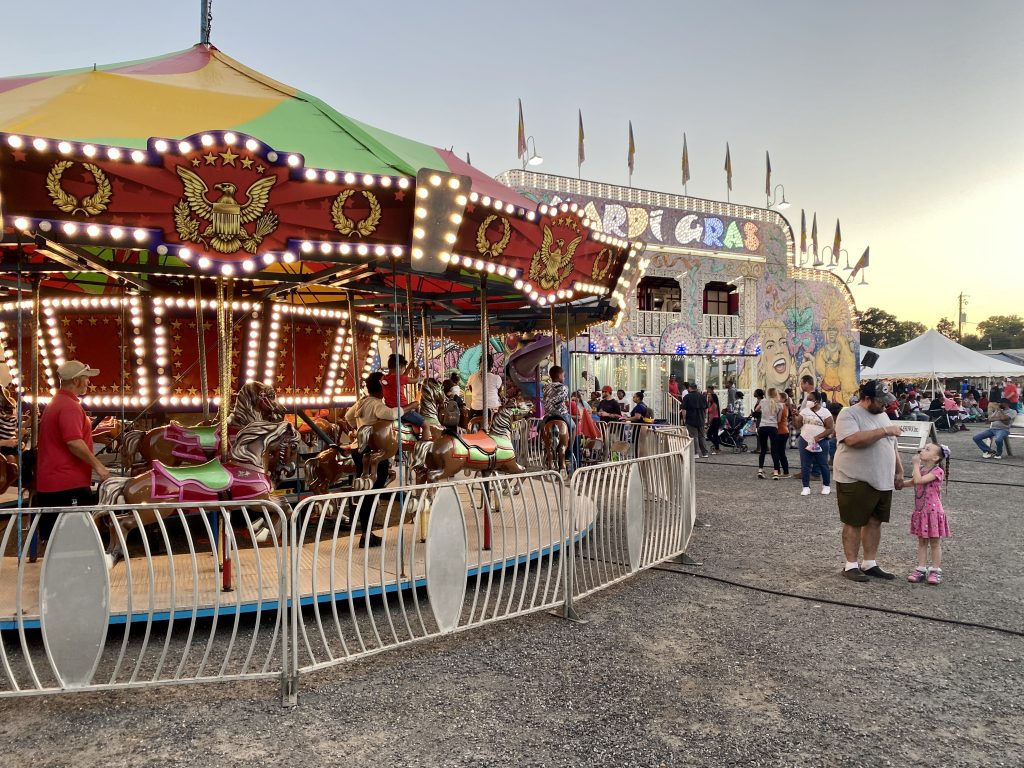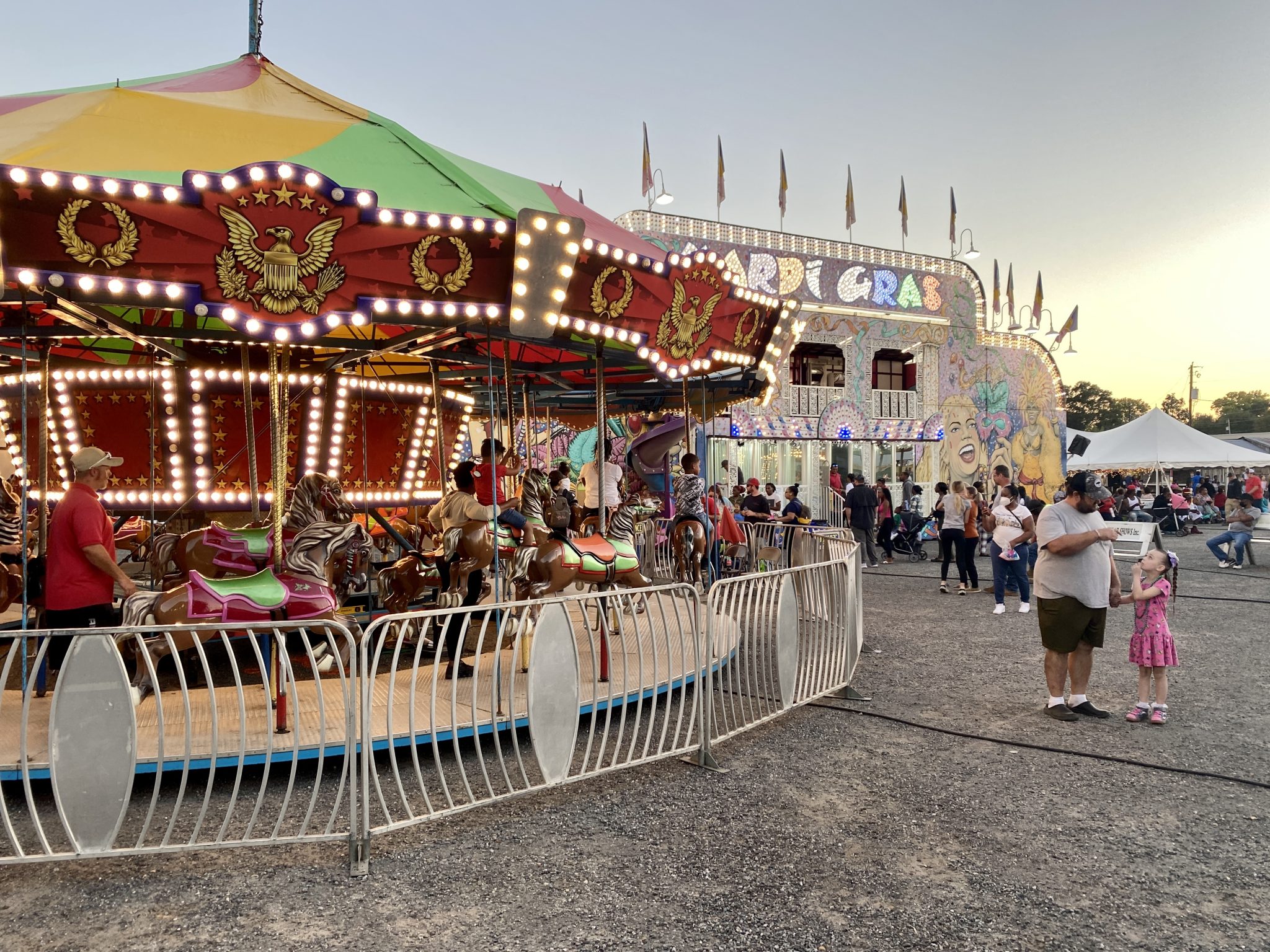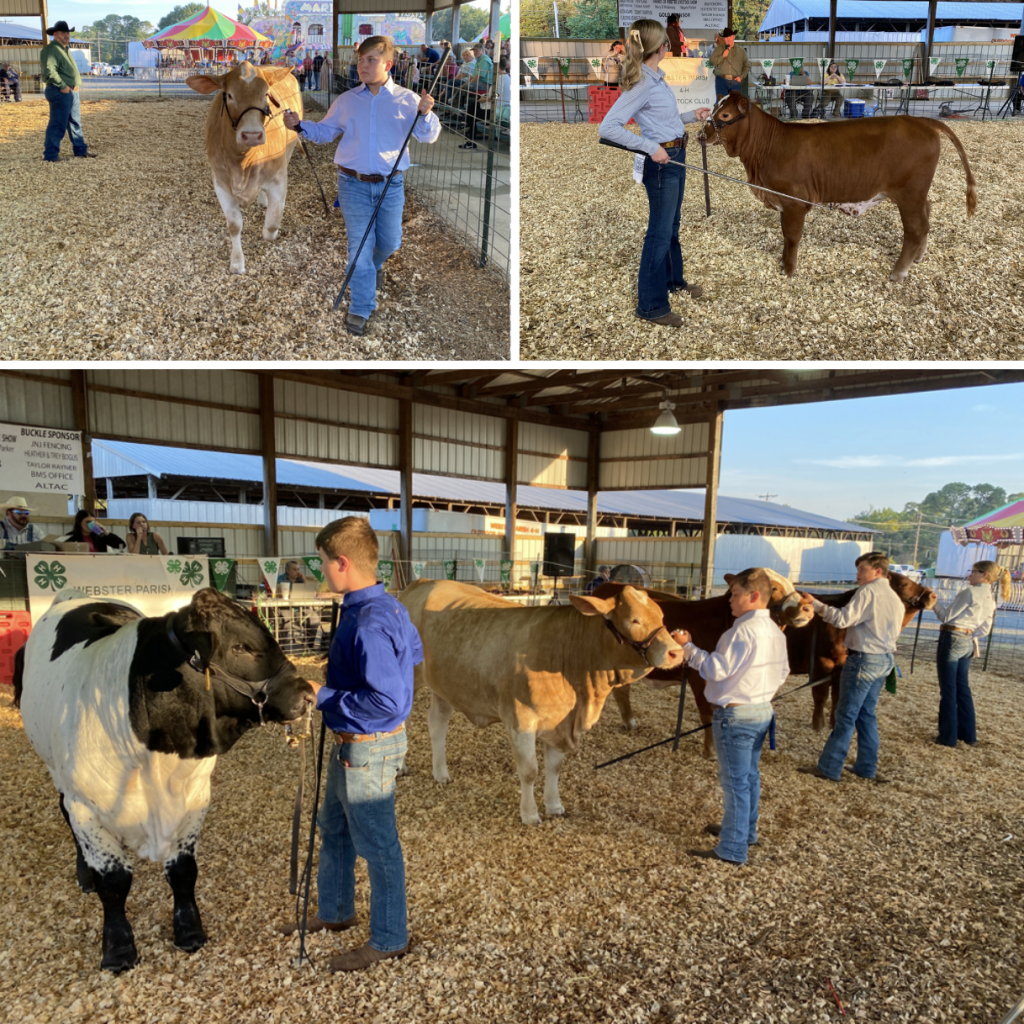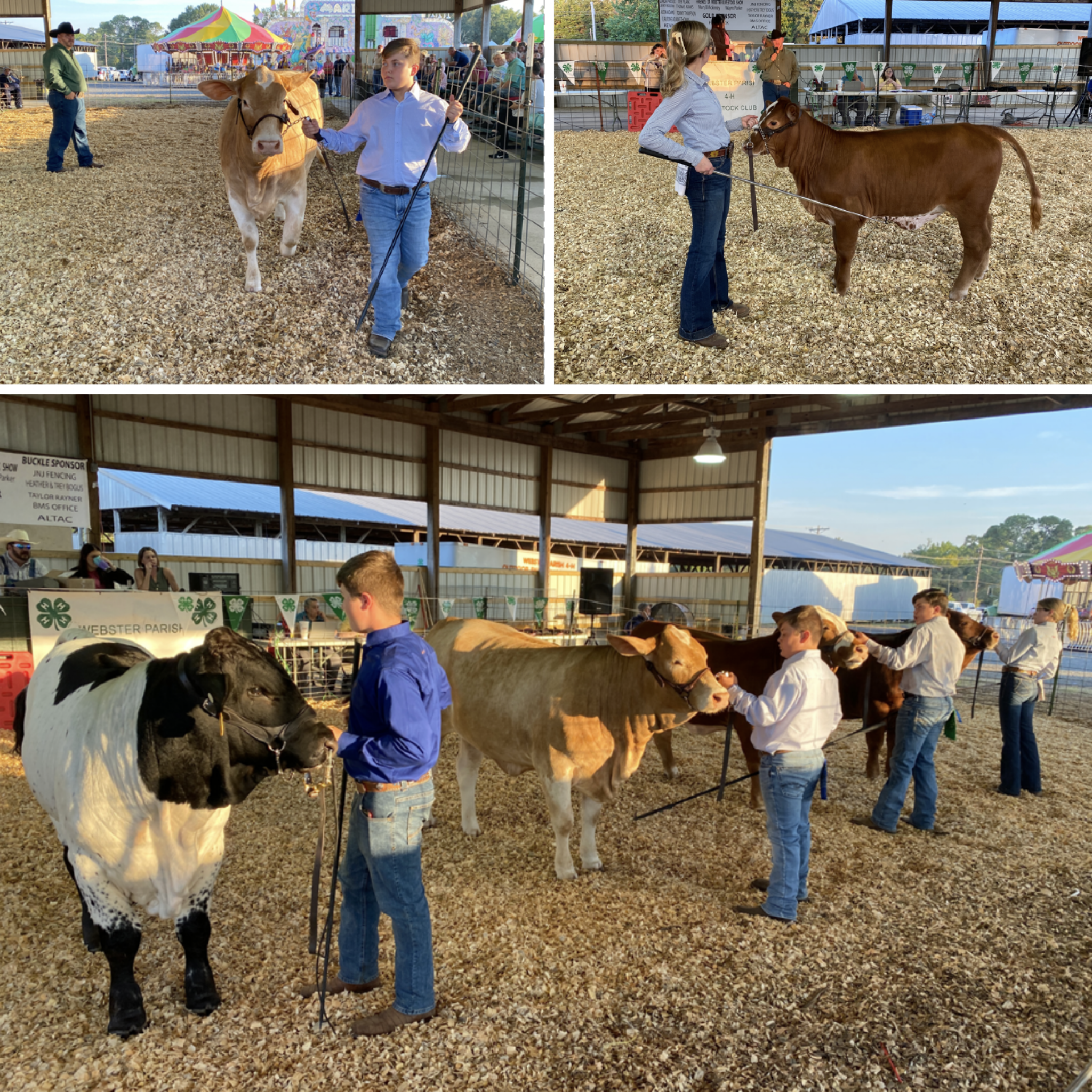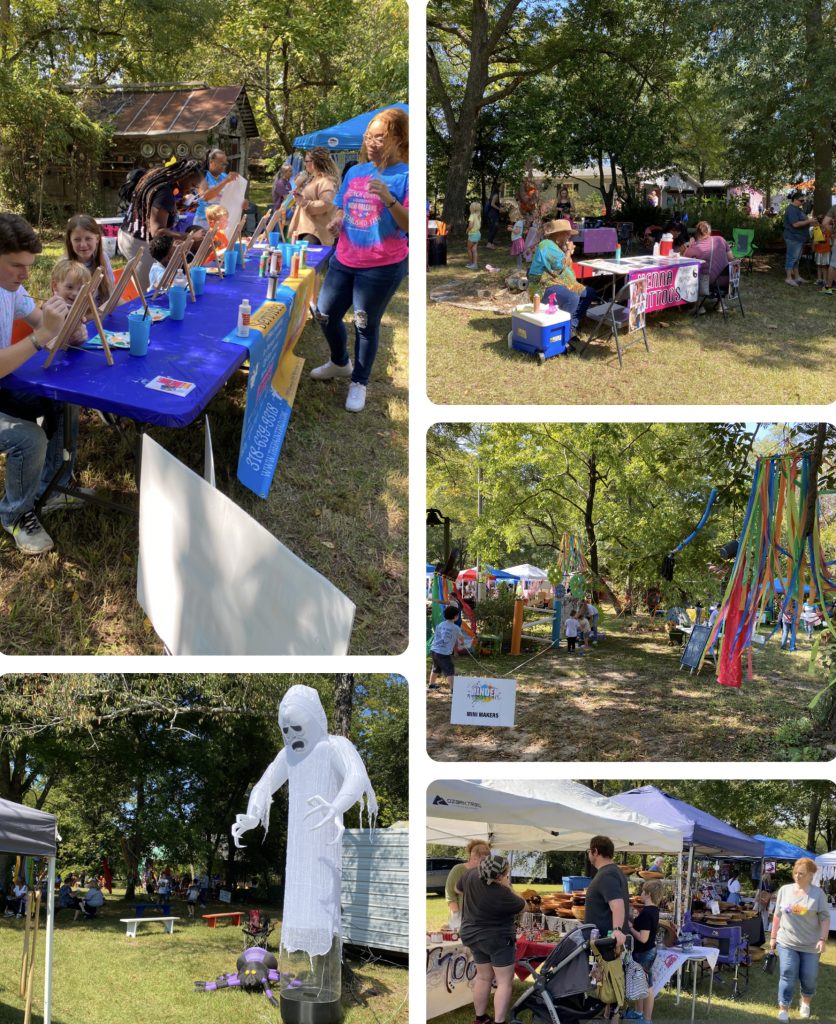 The people of Minden turned out to enjoy this year's Maker's Fair at the Farm of Cultural Crossroads. The fair provided free interactive demonstrations from vendors such as Pottery Noels Community Arts Program, Ivy Woods (demonstrating glass blowing), the Paint Pad (adult make & take art), Turn Up Dance Fitness Minden, Webster Parish Libraries, You as a Wire Hero with James Marks, LSU AgCenter, Create it Hannah (Henna tattoos), Jelly the Clown (balloon sculptures and face painting), and the Cultural Crossroads mini makers interactive exhibit. That evening the Farm also hosted their 3rd annual Halloween-themed art competition and Haunted House.
Press-Herald changes frequency
Specht Newspapers, Inc., publisher of the Minden Press-Herald, has announced the local newspaper will reduce its print frequency to once per week on Wednesdays, beginning Nov. 1, 2022.
Tartan Festival receives grant from Webster Parish Convention and Visitors Commission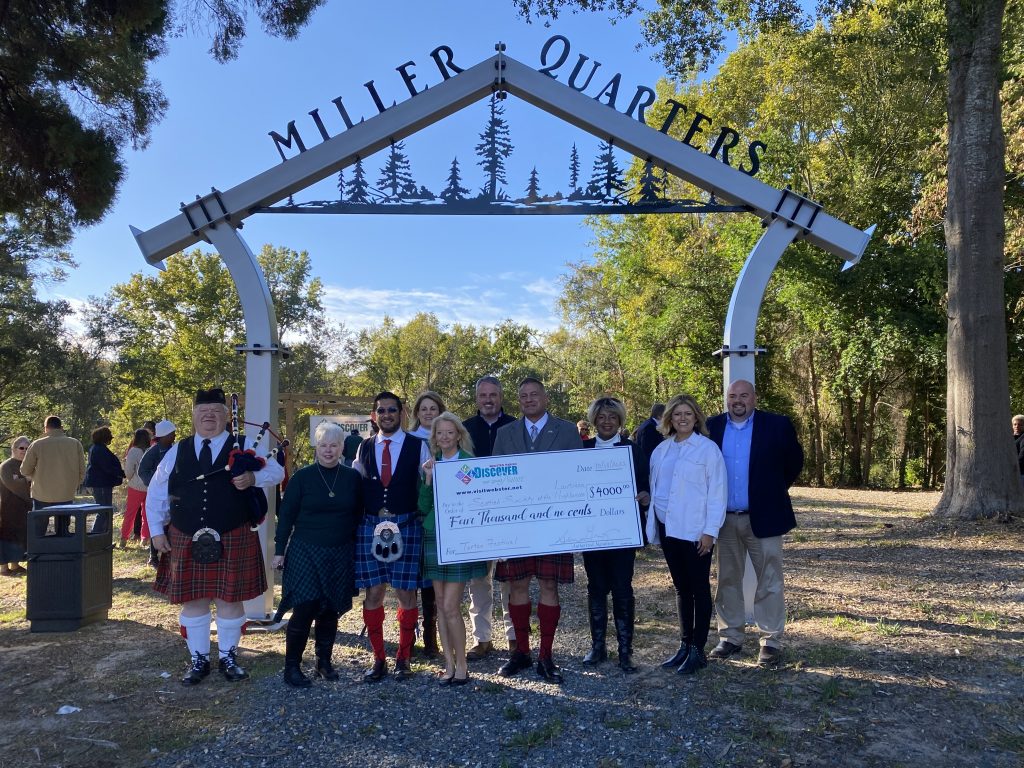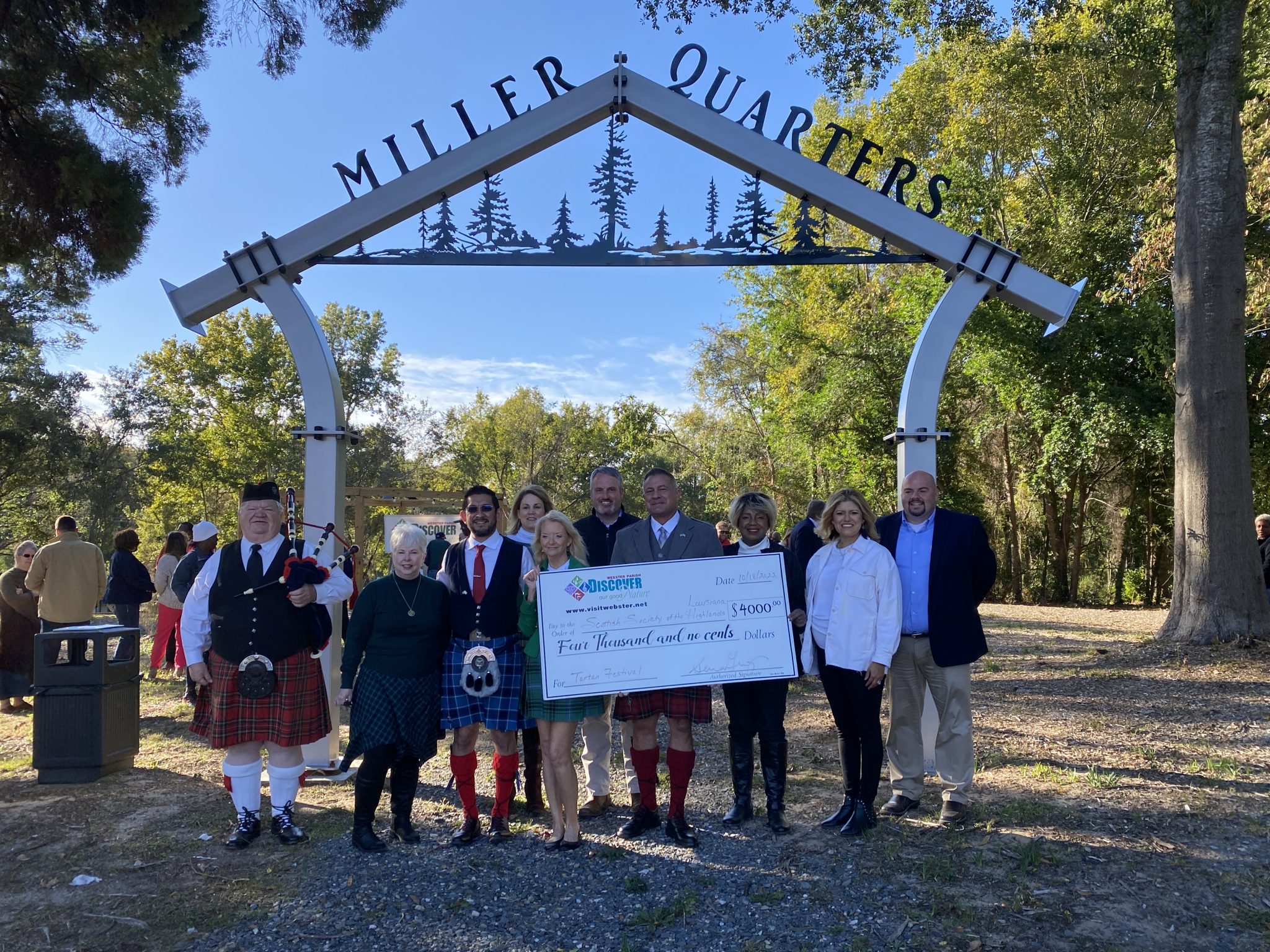 The Scottish Society of the Louisiana Highlands received a $4,000 grant on Tuesday from the Webster Parish Convention and Visitors Commission. This was also an opportunity to announce that the Tartan Festival, which previously was held at Scotland Farms on Hwy 79, will be moved to Miller Quarters in downtown Minden.
A great weekend for Trade Days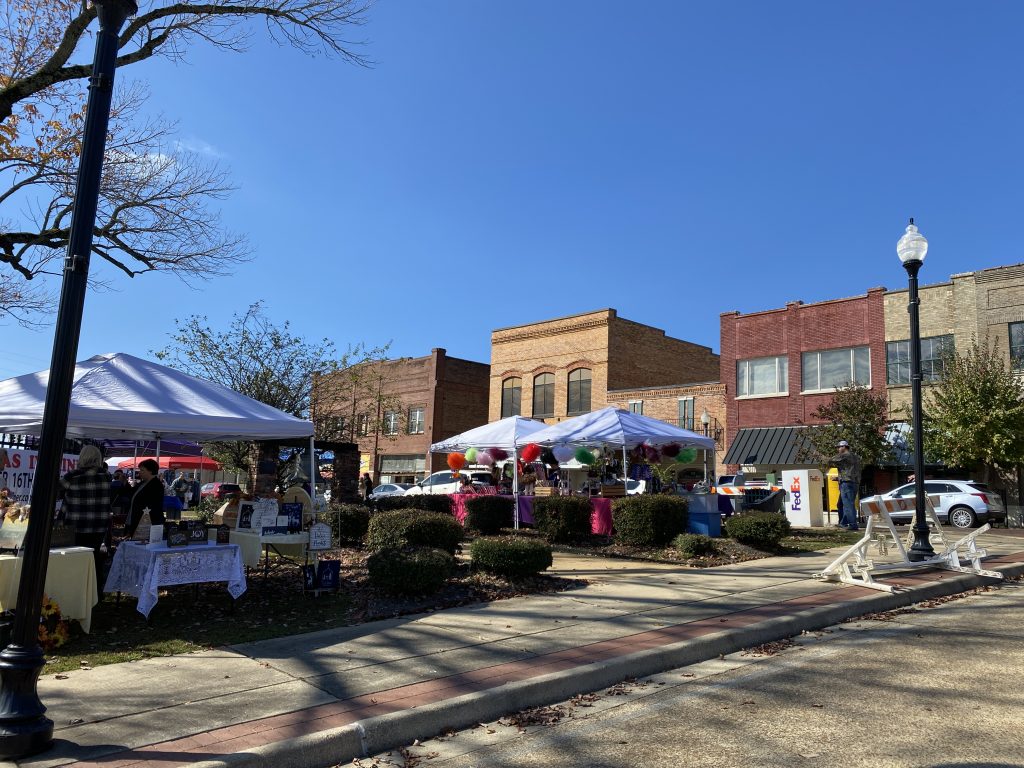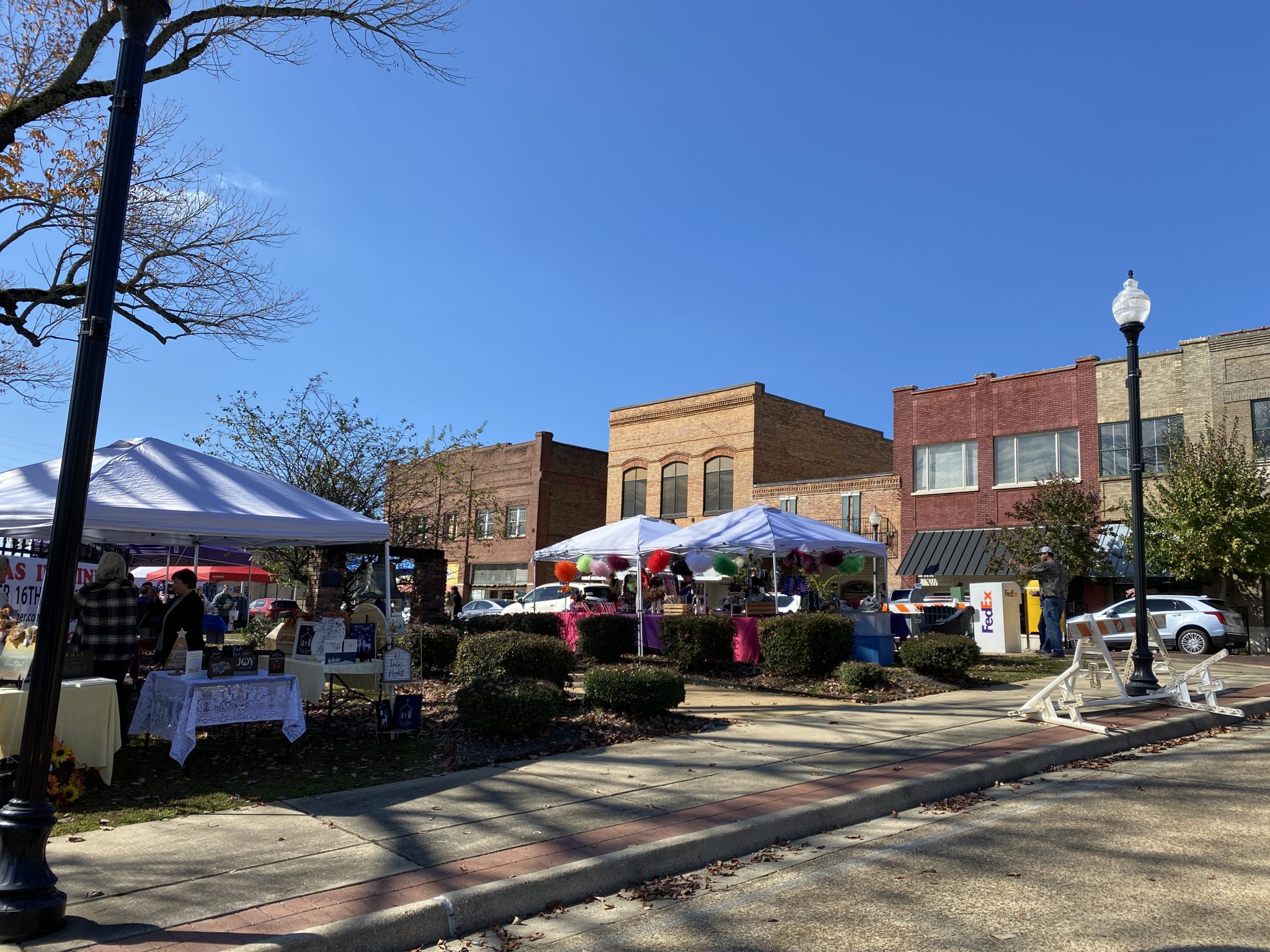 Main to Main Trade Days enjoyed excellent weather and crowds this weekend.
Amateur and professional traders lined the highways and Main Streets of Webster Parish with a variety of wares, both new and used. People were selling clothes, beauty products, furniture, food, art, and much much more. This event has been a big draw for people around Webster Parish and the whole of northwest Louisiana for 23 years now.
Nick Cox prepping for taking office next year
Nick Cox after having won the election for Mayor of the City of Midnen is already hard at work getting familiarized with the inner workings of the city so that it will be a smooth transition when it comes time for him to officially take over the position on Jan. 1 of next year.
"I spent some time up there today getting briefed and figuring everything out. I'm very fortunate to have Mayor Davis there to help get my bearings straight," said Cox.
Nick Cox officially takes over the role as Mayor of Minden on January 1, 2023, with the swearing-in ceremony taking place later this year on Dec. 29, 2022.
City of Minden recognizes Glenbrook varsity football team at city council meeting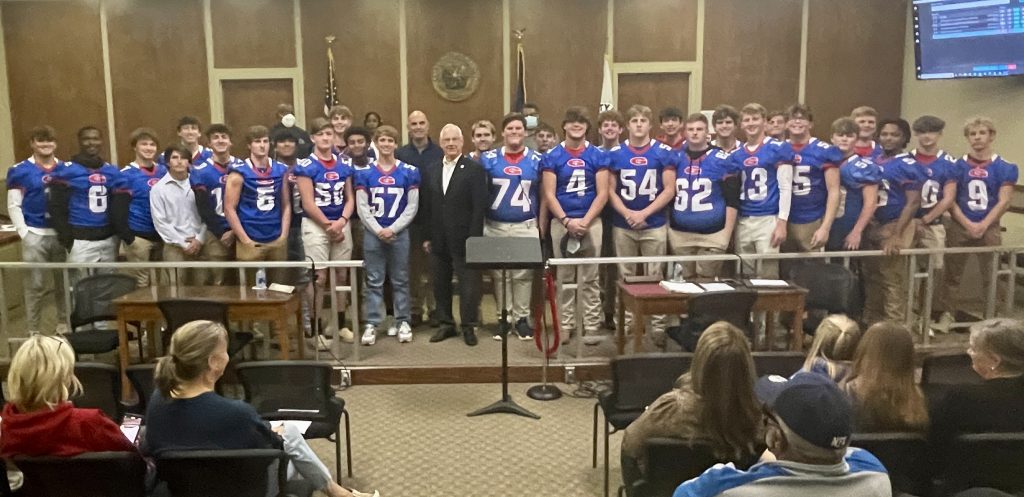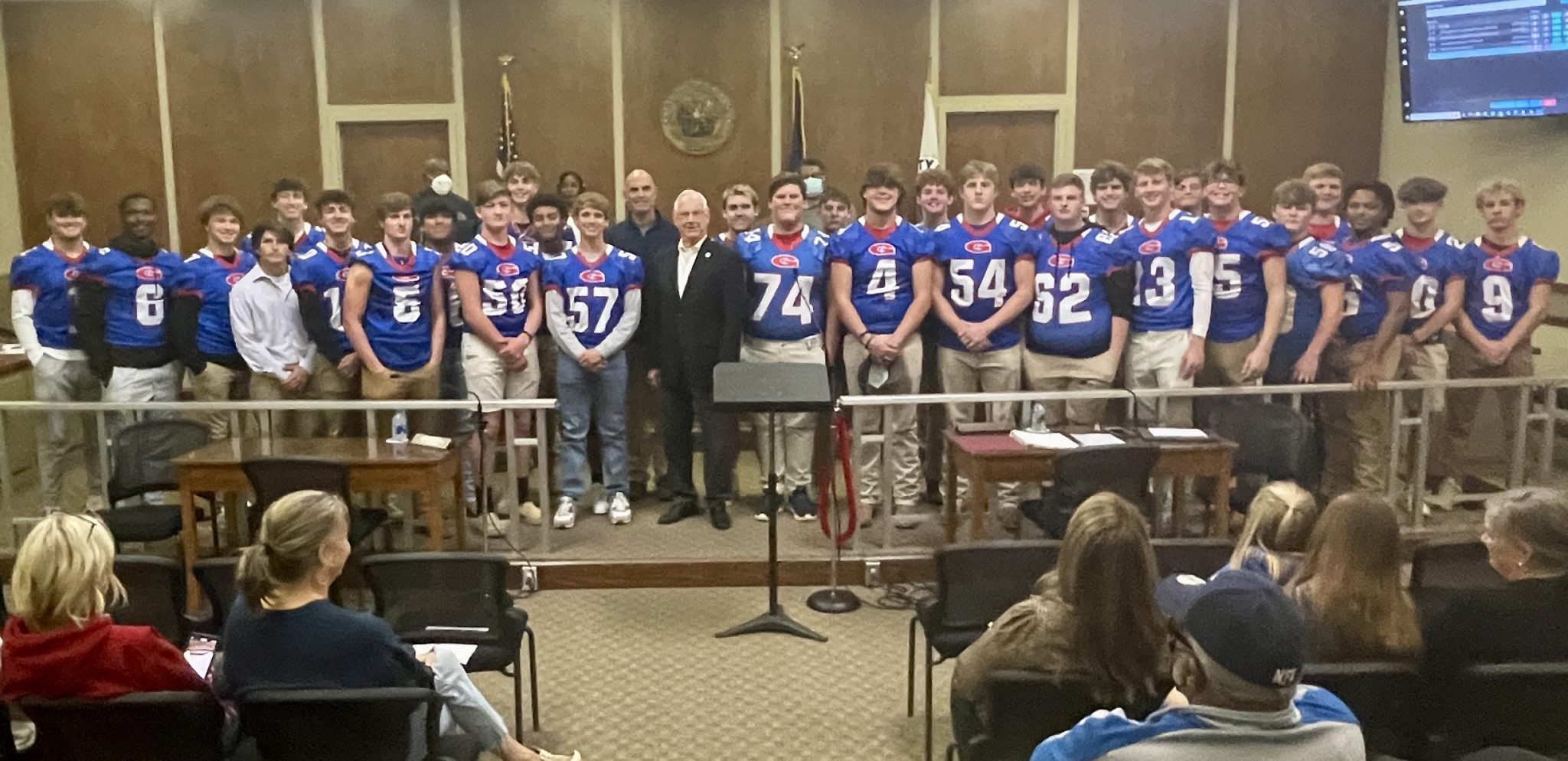 The City of Minden recognized the Glenbrook Varsity Football Team at the recent December city council meeting for making it to the Louisiana High School Athletic Association quarterfinals. Mayor Tommy Davis read a proclamation detailing their accomplishments.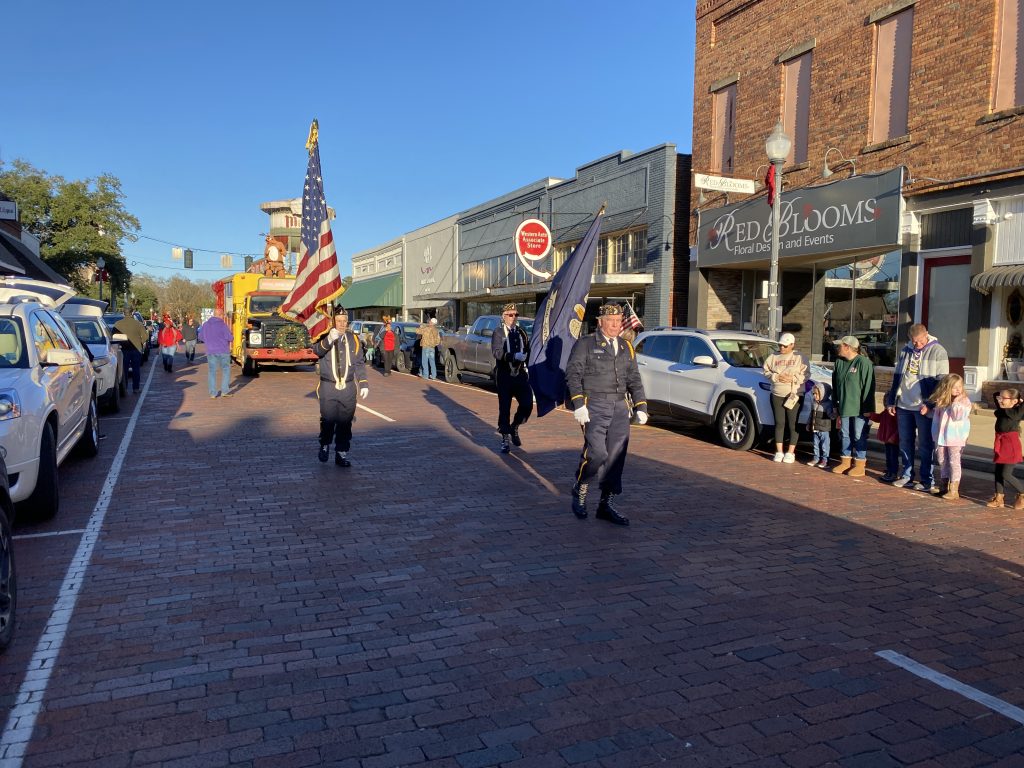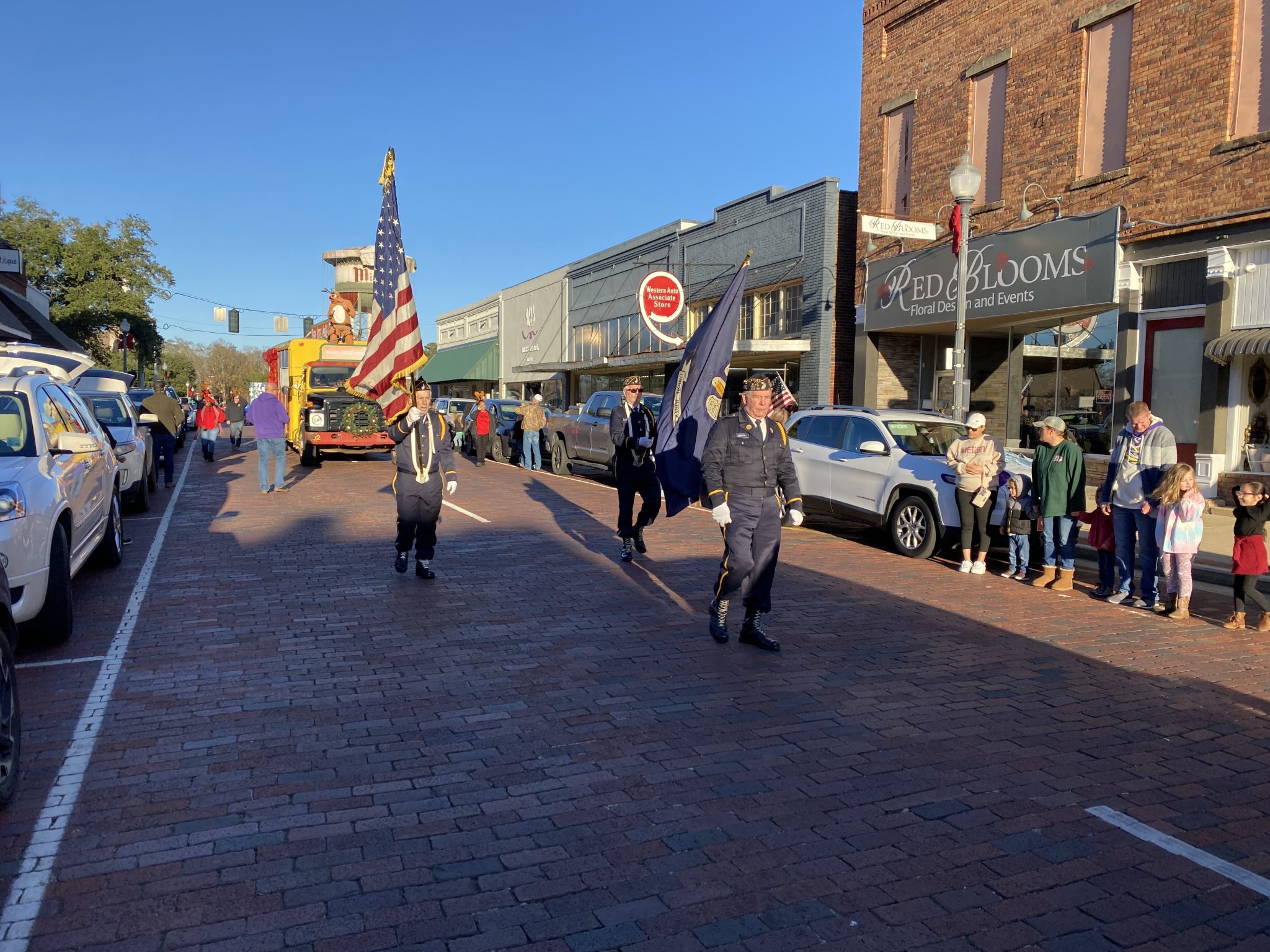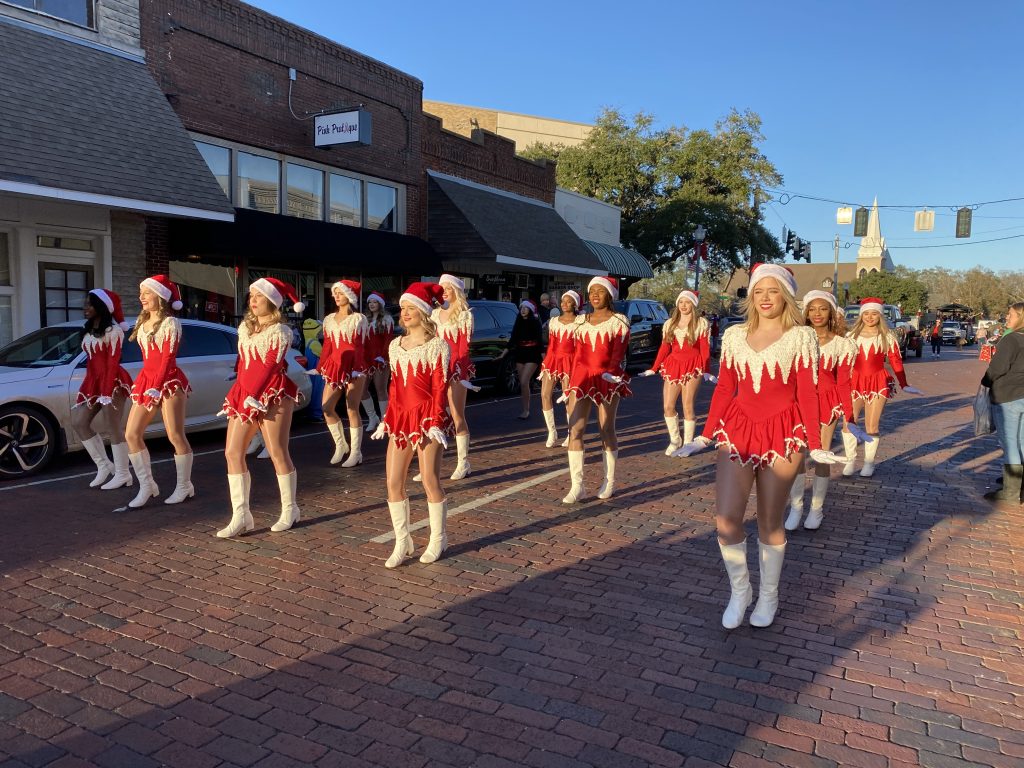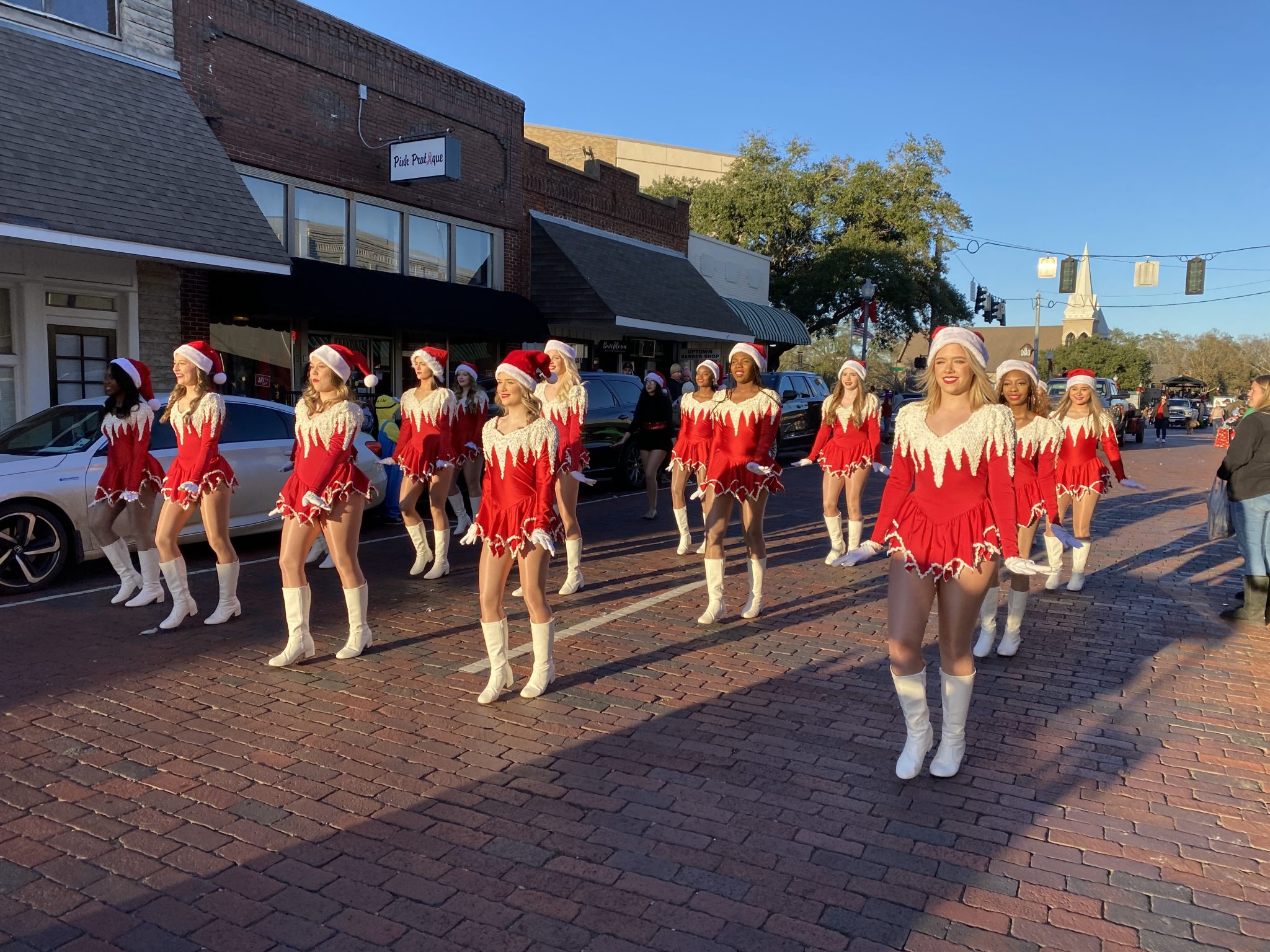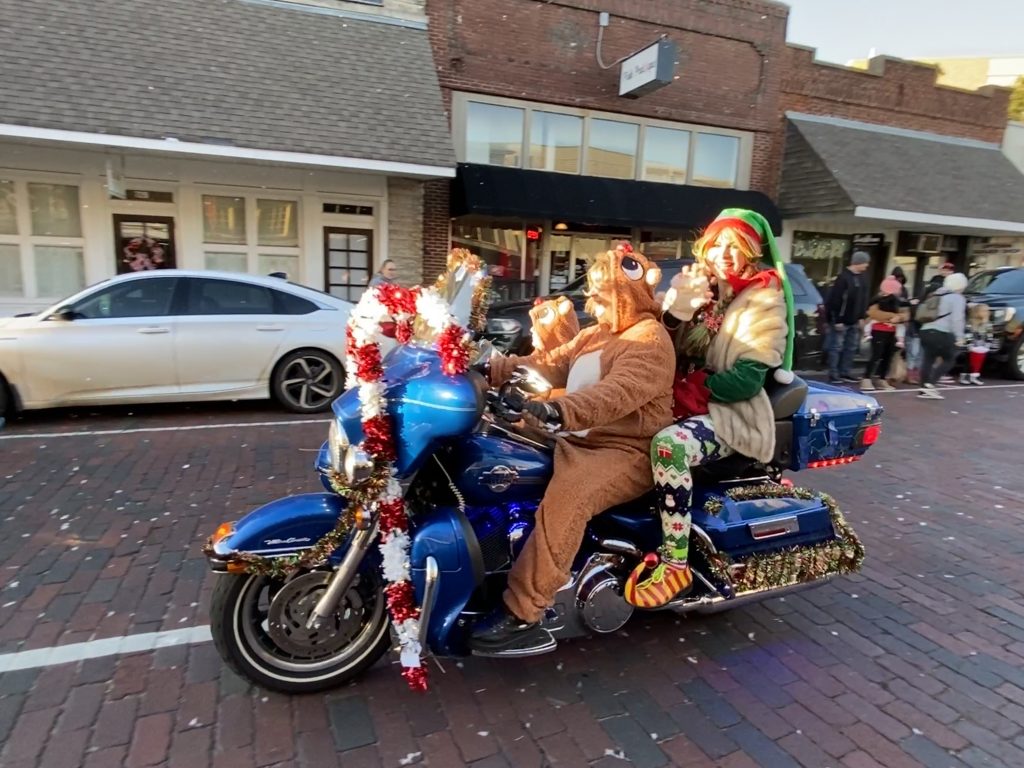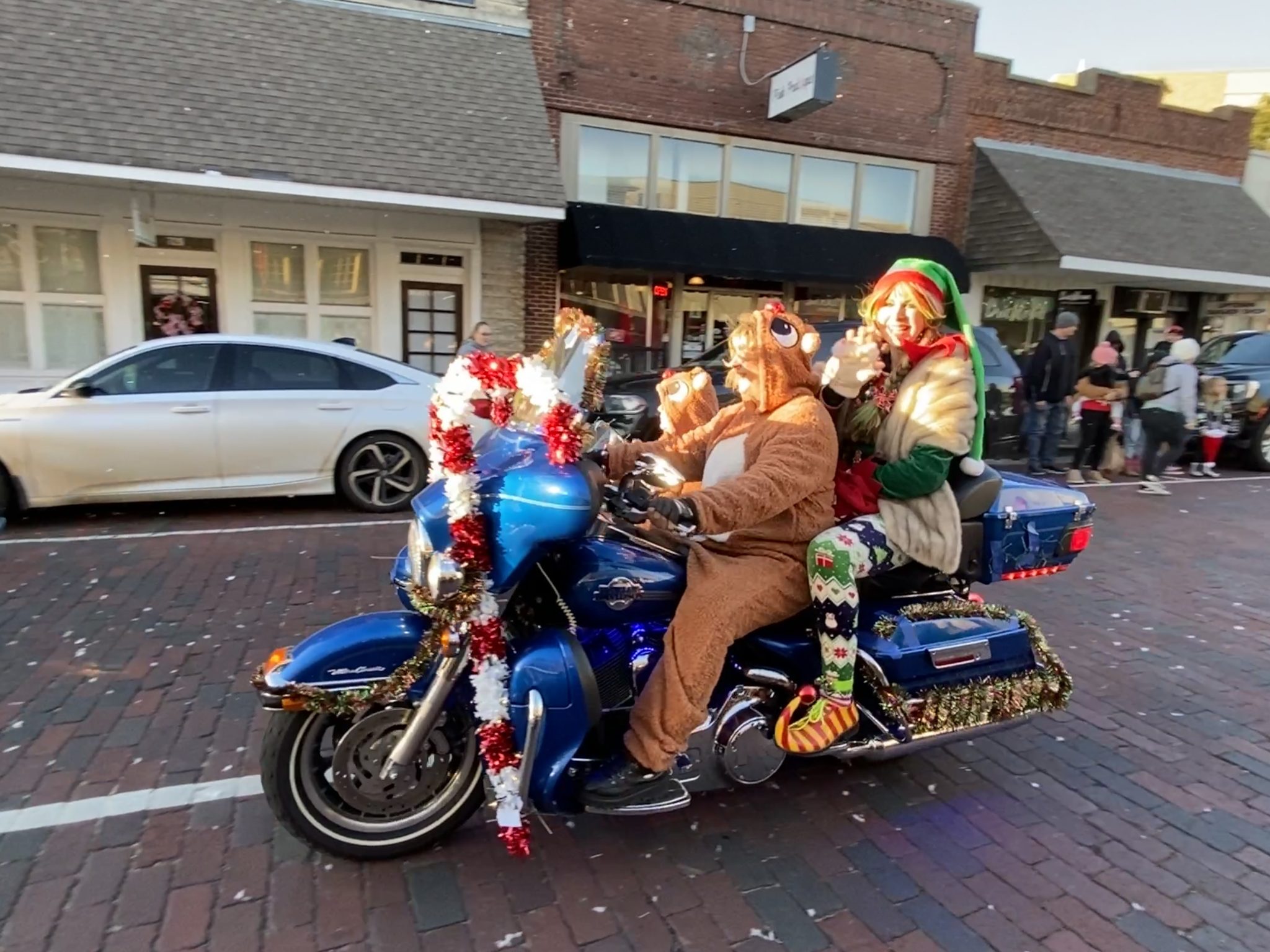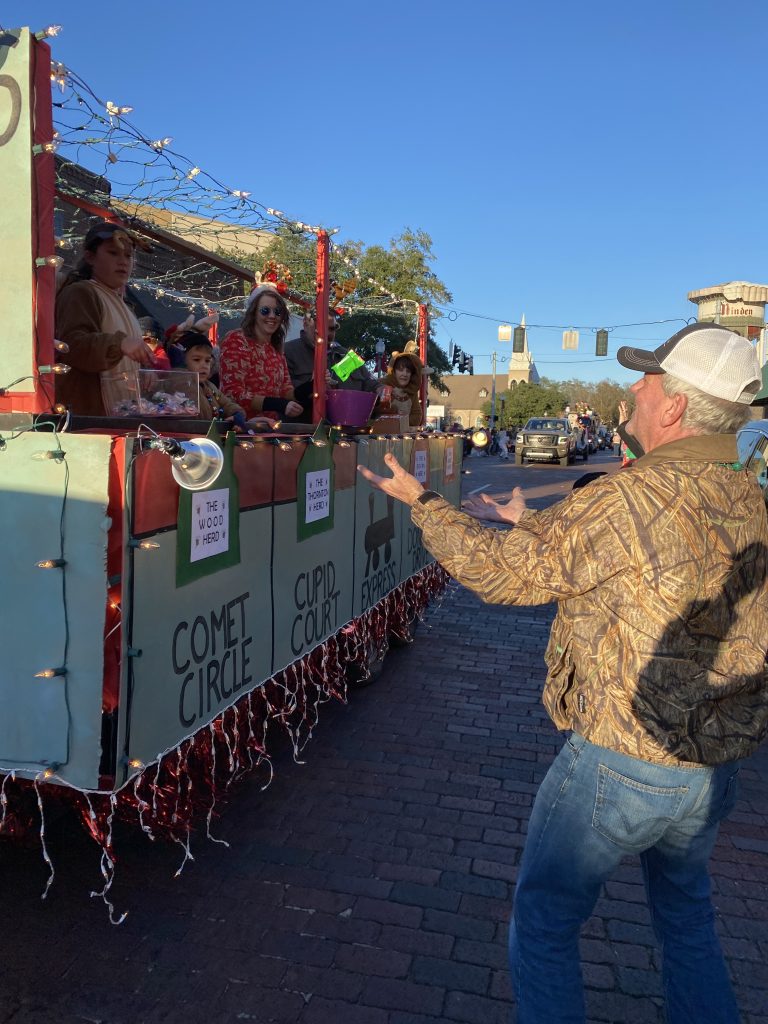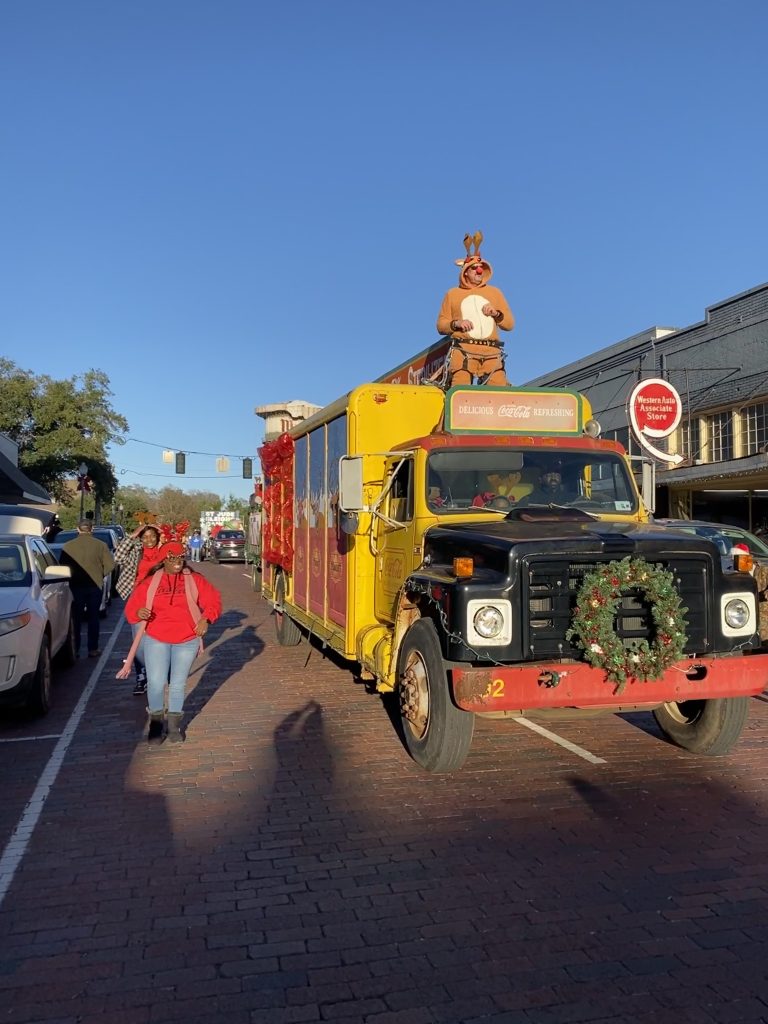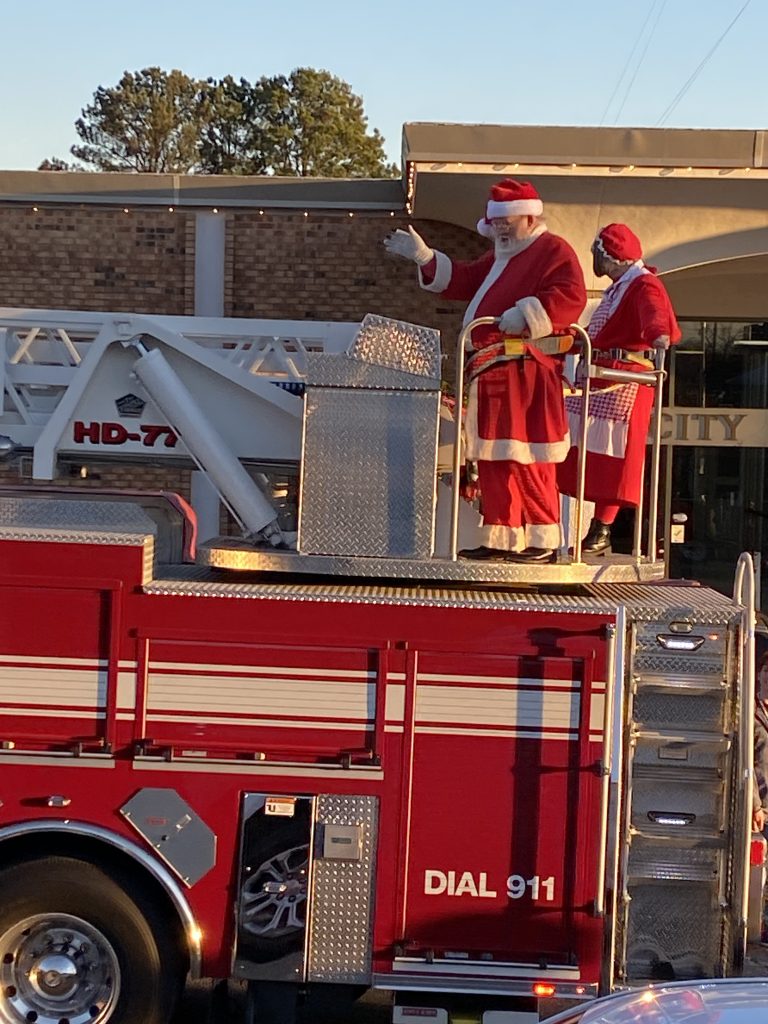 Christmas in Minden 2022 was a big hit, drawing happy crowds for a variety of events.
The parade kicked off with the color guard and ended with Santa and Mrs. Claus.
After the parade, the people of Minden were treated to a fireworks display that was held in the courthouse parking lot.
The night finished up with the movie Rudolph the Red-nosed Reindeer being shown in Miller Quarters Park, with refreshments being sold by GLOW, a youth group of St. Rest Baptist Church.